In the sixth article as part of community voices for international grants and fellowships, Ritika shares her experiences of international collaborations and path to winning a Rhodes Scholarship at the University of Oxford.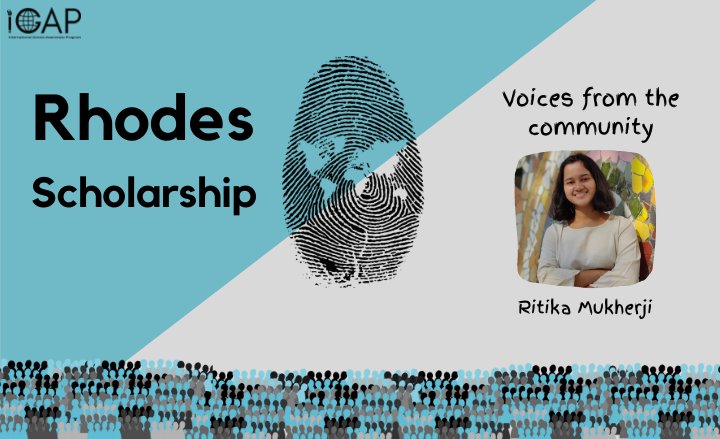 A routine Google browsing session and a long chain of hyperlinks led me to Jessica Kendall-Bar's website. Her science was so amazing, and her art so refreshing that I wrote to her to express my wonder. I wanted to assist this researcher, who was living my dream, at the University of California, and earnestly hoped to learn from her someday. My email was answered almost immediately, and since then I have been interning with Jessica's team studying sleep in Northern elephant seals.
I learnt fascinating things starting from polysomnography – a method to study sleep – to scientific art and data science. Besides, working with Jessica's close-knit team has unraveled the rigorous, administrative and human side of science to me. In parallel, a science-writing stint on stem cells with a lab based in Leipzig University in Germany helped me further establish a global work ethic. Around the same time, I became part of an Indo-Dutch collaborative programme getting a chance to interact with Dutch social science students. This international and inter-disciplinary atmosphere gave me a more holistic view of the grand challenges of the world.
Armed with these experiences, which helped me narrow down my area of interest, understand and convey it better, I began making a bunch of graduate school applications. In August 2021, I braced for my application for the Rhodes Scholarship that funds graduate level studies at the University of Oxford.
The COVID-19 pandemic had hampered my practical lab experience, like it had done for most undergraduate students, and I had no academic publication to my name. My coursework felt incomplete, and while I had secured some dream internship projects at fantastic labs in India, I couldn't pursue them due to the lockdown. Things seemed to be going downhill on the academic front. On the brighter side, the pandemic had blurred the lines between national and international learning opportunities. Students from all corners of the world could collaborate, work, and grow sitting at home, via the internet.
The Rhodes application and interview process spanned over 4 months with a written round followed by three rounds of online interviews. The process forced me to think deeply, look at the big picture of sleep studies – something I was focused on – and introspect on why my academic and research interests matter. It was transformative since it led me to question what makes me unique, how I can make a difference with the skills I had acquired.
In the absence of solid lab work and publications, my only weapon was self-awareness stemming from an introspective mapping of my abilities and a deep thought of the research questions I wanted to pursue. I was lucky to get the mentorship of one of the leading sleep study researchers at Oxford. Through online meetings, we refined the probable research questions and were ready with a broad study plan in case I was chosen to work in their lab in future. This may have been one of the important factors that proved helpful in convincing the interview panel that I was already invested in the research and had a future plan in hand, thus paving my way to be a Rhodes Scholar-Elect, 2022.