Starting her career as a nursery school teacher, Shobha Anilkumar went on to earn first an MSc and then a PhD degree while working full time and bringing up two young children. In this next article in our PhD Café series, Shobha writes about her journey and the highs and lows along the way.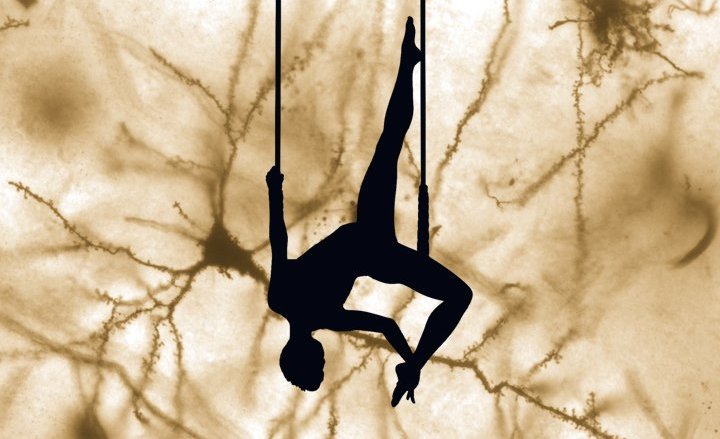 Love for being around kids led me to accept a job as a nursery teacher when a friend's colleague went on maternity leave. I loved the job and even if I missed a single day, I used to get calls from parents mentioning that the kids are missing me. My family noticed this engrossment and asked me to take a serious call on my career choice.
That's when the Human Brain Bank at National Institute of Mental Health & Neurosciences (NIMHANS) advertised for the post of a Junior Scientific Assistant. The notion of getting a prestigious central government job was the driving force for me to apply. I got through the application process and accepted the job.
NIMHANS was a different world altogether and I felt like a little fish in a big pond. Human Brain Bank was part of the pathology department and S.K. Shankar was the principal investigator. He was a perfectionist and though many people were scared of him, I felt lucky working with him. Some phrases he hated were ​'may be', ​'could be', ​'I don't know'. This taught me to think deeply and to be prepared from all perspectives before having a discussion with him.

On the road to a Master's degree
I only had a Bachelor's degree to my credit when I joined the department. I was exploring options for a Master's degree when my family got me married. I thought that my Master's options were gone and I would have to focus on the family as I was the eldest daughter-in-law in a very orthodox family. Days passed by. Then one day during a casual discussion, I mentioned to my husband that I was planning to pursue a Master's degree when our marriage took place and now it was a distant dream.
After a few months, he told me that Annamalai University is an esteemed university and asked me to register for a Master's degree there. The next day I spoke to my boss and he agreed and asked me to apply. I applied and had to attend 60 days of crash course and practical classes in the University campus, which is in Tamil Nadu. This was challenging because I had to convince my in-laws and also get leave from work. After some back and forth discussions at home as well as at the office, I got approval and packed my bags for the University.
During this period, I was 8 months pregnant and my family was disinclined to let me stay in a hostel. That's when a close friend's parents came to the rescue. They said ​"Why will she stay in the hostel when we are here?" and took care of me for those 60 days.
Then I had to appear for my theory exams, and my delivery date was close. So, every day while going for the exam, all of my medical reports and a delivery-related bag would go with me, just in case I went into labour during the exam and needed to be admitted to a hospital. My sister would sit outside the examination hall, waiting for me.
But my baby was waiting for me to complete the exam. I completed my exam on Monday and my daughter was born that same Wednesday. So that's how my first year of Master's ended. When I finished my second year, my daughter was not in the womb, but on my lap.
With an MSc in hand, the next step was a PhD. But since the pathology department at NIMHANS focused on clinical research, there was not much chance for someone from a basic science background to pursue a PhD here. Hence, settling to being satisfied with a Master's degree, I continued my work in the brain bank.
A new innings
One Saturday afternoon in 2004, the telephone rang. I picked up the call and I hear someone saying ​"Hello" in an American accent. ​"I am Sumantra Chattarji (Shona) from the National Center for Biological Sciences (NCBS)," said the voice, ​"And I got to know about you from your old colleague and I am offering you a job," My reflexive reply was, ​"But I am not looking for a job." ​"That's fine, but we should chat," said Shona and asked me to come over to NCBS.
My visit and discussion with Shona changed my entire mindset. At the time I was pregnant with my second child. When I told Shona this, he said, ​"It is all the more reason that you should consider the job as there is a beautiful Child Care Facility here".
I think you can guess what my decision was. I did join NCBS, but not immediately, as I had responsibilities back at the brain bank. I completed my tasks and handed over the job to my successor before going into maternity leave.
I joined NCBS in June 2005, when my son was five months old. When I joined the lab, there were a number of projects with morphology as a major focus. As soon I joined I learned the Golgi-Cox technique. Initially, I had to travel back to NIMHANS regularly to use their microtome for sectioning, but then I found an old microtome at NCBS. I was told that the machine was not working, but I fixed that antique piece and moved our sectioning work to NCBS.
The Golgi technique that was used in the lab was tedious and both money and time-consuming. I spent almost six months standardising and modifying the technique to be more efficient in terms of time, money and quality. Now, there are six publications from the lab using this technique.
Those first few years were like a marathon. At home, I was equally busy, handling the responsibilities of weddings of siblings on both sides of the family. My day used to start at 3.45 AM with cooking and packing lunch for my husband who had to leave by 6 AM and then getting the kids ready to leave home by 8.30 AM. At some corner of my brain, the three letters ​'P' ​'H' ​'D' lingered, but I never had time to think about it much.
On 23 February2013, Shona called me and told me that Apoorva Sarin (Director, InStem) had suggested that given my hard work, I should register for a PhD. I cannot forget that moment. I registered at Manipal University and though I already had some data, I started my projects fresh. I used to plan major behavioural experiments during my kid's vacation so that I could come to the campus by 7 AM. And for analysis, I used to go back in the evening. With wonderful support from all directions, I finally completed my project and defended my thesis on the 27th of May, 2019. With this fulfillment of my long-time dream, I am now exploring my next journey.
Lessons learned
Here are some things that I want to share with my young colleagues.
Plan your day and don't get disappointed by negative results. They may, in fact, contribute strongly to your project. Don't be too stubborn or emotional about your hypothesis. Build a strong background in the area of the project that you join and see whether you can take forward some projects based on your seniors' findings. In parallel, work on your own ideas and by the end of your 3rd year, try to have a story ready for a publication. This will help in deciding what other experiments you need to perform to complete the project within the given time period.
My humble request is, ​"Please come out of the lab and spend at least a good 30 minutes every day playing on the lawn". This is an amazing way to rejuvenate. Do not compromise on your playtime. Don't say, ​"Where is the time?" You have the time, you just need to prioritize what's important!
I conclude with this nursery rhyme, which all of us could bear to keep in mind in our adult lives:
Work while you work.
Play while you play.
This is the way
To be happy and gay!
---
Did you enjoy this article? Please let us know in the comments below.