Sangeeta Nath is an Assistant Professor at Manipal Institute of Regenerative Medicine, MAHE, Bangalore. She is one of the Young Investigators selected to attend YIM 2020 in Mahabalipuram. In this invited article, she writes about the many turns in her journey as a scientist that finally led her to work on a problem that had fascinated her for years.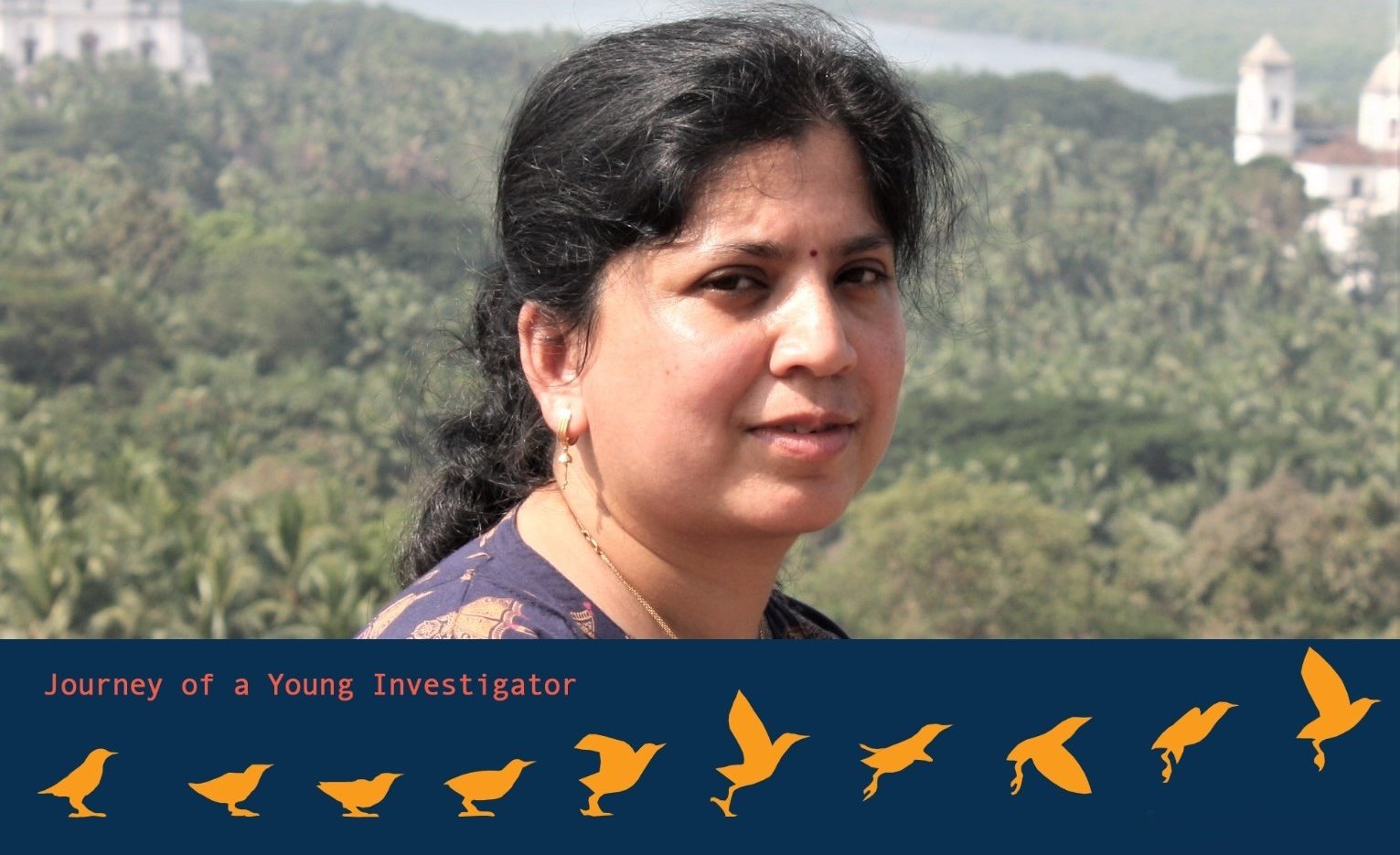 One has to travel through a series of experiences — ups and downs — to reach a career path where one can pursue his/​her passion or interest. I am not an exception — my path was neither smooth nor linear. Looking back, I can clearly see that every time I felt stuck, I found a way to take a turn and continue pursuing my interest.
At school, I was not very clear about which way my life would take me. I was still not ready to explore places that were not near my house, so I joined an undergraduate course in pharmacy at Jadavpur University, Kolkata. This was the beginning of my journey in the field of bioscience. The pharmacy course exposed me to the excitement of molecular biology and biochemistry. So I decided to pursue MTech in Biotechnology after finishing BPharm at the same University. During my MTech, guest lectures by Debasish Bhattacharya of Indian Institute of Chemical Biology (IICB) influenced me deeply and I joined his lab to do my PhD.
My PhD work focused on how proteins form aggregates. I continued my postdoc in a related field at KU Leuven, Belgium, in Yves Engelborgh's lab. The work was exciting and successful in terms of publications but I wanted more. I wanted to understand how protein aggregates in the brain gradually lead to the development of diseases like Alzheimer's and Parkinson's.
While working in Leuven I got an offer from the geriatrician Jan Marcusson and pathologist Martin Hallbeck in Linkoping University Hospital, Sweden. I decided to work with them, despite knowing the risk of taking a diversion from a biophysics research lab to work under a team of physicians. The very first day, they explained how protein aggregates start forming in one part of the brain and progress gradually through the connected areas. It was a fascinating discussion and gradually our complementary thoughts and expertise evolved into our most cherishable work.
For the first time, we showed the direct transfer of protein aggregates from one cell-to-another and how they gradually cause toxicity within neurons. Interdisciplinary ideas helped me develop an independent research pathway and I served as the corresponding author on two research papers published during this time. I was also elevated to a permanent research-staff position by Linkoping University due to my accomplishments.
I got intrigued by observing under the microscope the transfer of protein aggregates from one cell-to-another via thin neurite-like connections. During this time (2009 onwards), a couple of research groups also started to report cell-to-cell transfer of neurodegenerative proteins via thin continuous membrane connections or membrane nanotubes, which they termed as ​'tunnelling nanotubes'. My hunch was that the formation of these tunnelling nanotubes is linked to the toxicity of lysosomes, a cellular organelle. My inquisitiveness about lysosomes led me to work with Karin Ollinger and Katarina Kagedal at Linkoping University, two lysosome experts.
At this point, I got obsessed with the science of understanding how cells communicate with each other. However, I always set my family and daughter as my first priority. When you see a little baby growing gradually in front of your eyes, then life is not only about career or science. We, as a family, were contemplating coming back to India. Subsequently, we moved our base to Bangalore, the software capital of India, and like a dutiful wife and mother, I started from scratch in a new city.
I was getting job offers in Bangalore, but not the one I wanted. Then, coincidentally, I got an offer from Institute of Stem Cell and Regenerative Medicine (inStem), Bengaluru, for developing methods of imaging by visualizing movements of a single protein on the cell membrane, in collaboration with Satyajit Mayor of the National Center for Biological Sciences (NCBS) and Akihiro Kusumi of Kyoto University, Japan — a pioneer in the field of single-molecule microscopy. Immediately my mind jumped to membrane structure and I realized the tremendous potential that super-resolution imaging might have in understanding the relatively unexplored area of membrane nanotubes.
While single-molecule microscopy seems like a different field from protein aggregates and neurodegenerative diseases, I got many of my answers on tunnelling nanotubes from Satyajit Mayor's classic works on membrane and endocytosis. The work gradually started engulfing my thoughts.
All of a sudden, one fine day, I read a review article by Chiara Zurzolo, a pioneer in the field of ​'tunnelling-nanotubes'. In the review, two of my publications got pivotal attention with overviews on the spread of pathology by lysosome and tunnelling nanotubes. I had been thinking obsessively over the years about the link between lysosomes and tunnelling nanotubes. The article moved me to take the decision to re-start my work on tunnelling nanotubes.
I started applying in academic institutes in Bangalore and reached out to Gopal Pande who heads the Manipal Institute of Regenerative Medicine (MIRM) only a couple of kilometres away from NCBS. MIRM is a constituent institute of Manipal Academy of Higher Education (MAHE) which is a National Institution of Eminence (IOE). My seminar in MIRM was well received. The enthusiastic response of the faculty and students impressed me and I decided to apply for a faculty position there. To get an Assistant Professorship, my CV had to be approved by the core research committee of Manipal. I can never forget the support I got from my collaborators and mentors who sent me wonderful recommendations to support my application. Finally, I got an offer to join with a seed fund to establish my independent research lab.
I can't deny that I have received unflinching support from my colleagues in MIRM and MAHE of Manipal. My cell culture lab got set up within 4 months of joining the institute. Whatever I asked from my colleagues and the Dean to begin my lab, I received almost immediately. I already have some preliminary results from my new lab. Additionally, I am enjoying teaching and mentoring some enthusiastic and bright MSc students who always keep me on my toes.
Now that I have got the platform I needed to pursue my research, I am fully charged to begin experiments for understanding how cells communicate with each other via tunnelling nanotubes. However, this is also the beginning of new challenges. The field is relatively underexplored by Indian scientists, even though it is an internationally flourishing area of research. I know the research path I want to follow, but overcoming difficulties and challenges beyond science is still a learning curve for me.
Many more challenges lie ahead – e.g. getting funding to set up appropriate infrastructure for a beginner in the field, establishing my observations as relevant to disease mechanisms and basic cell biology principles etc. However, I earnestly believe that my diverse expertise will have an enormous impact in revealing a relatively underexplored area and I will not lose my passion in moving forward and finding new ways to overcome difficulties in this journey.