Sudhir Ranganath is an Assistant Professor at the Department of Chemical Engineering, Siddaganga Institute of Technology (SIT). He is one of the Young Investigators selected to attend YIM 2020 in Mahabalipuram. In this invited article, he talks about the role his mentors, collaborators, and scientific network have played in facilitating the process of setting up his lab.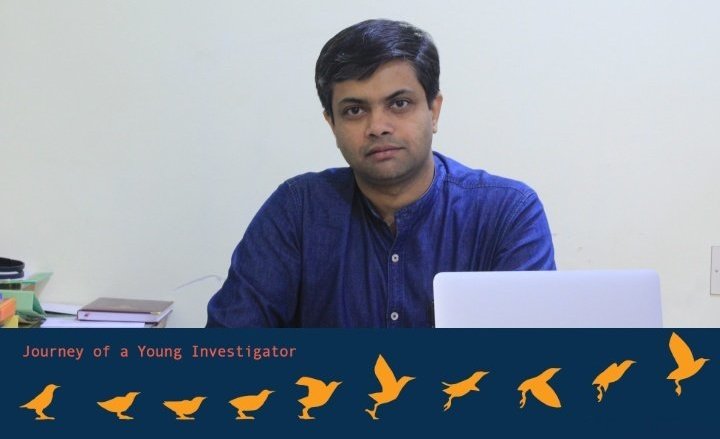 The lack of research culture and the thrust given towards innovation in private engineering institutes in India is a matter of concern, though it is changing slowly. Under such conditions, a YI has to rely on trust-building and networking skills along with technical skills to get going. Here is my brief story.
A tough decision
I had already made a tough decision towards the end of my postdoctoral stint at Harvard — of coming back to India and working at my bachelor's degree alma mater (Siddaganga Institute of Technology (SIT), Tumkur), purely for personal reasons. My plan was to do minimal teaching and establish a research lab focused on developing biomedical devices, including biosensors, drug delivery devices, and therapeutics. I then started wondering how would I achieve this feat in a privately-funded academic institute with no infrastructure for performing biomedical research. While this was a formidable challenge, I relied on my prior research experience and the mentoring/​networking support I had.
The first task was to convince my institute's management that I would stay put and contribute to the institute's research output, given my track record and the possibility of offers from IITs or NITs. I was offered the position with an extra year of probation (3 years instead of 2) probably with a slight sense of caution that I might not stay too long. After joining the institute in 2015 and after a few months of adaptation, I developed a roadmap of my research activities but soon realized that the infrastructure was totally absent. Nevertheless, I was resolute in letting the management know that I needed a good amount of seed funding, given the capital-intensive nature of biomedical research.
A chance encounter
Six months into my job, the director of my institute invited me to attend an informal interaction with a renowned professor from the US. This chance meeting changed everything! The professor introduced himself as a chemical engineer working on ocular drug delivery, ocular pharmacology and fluorescence spectroscopy and I was so excited to hear that our interests matched. He was also impressed with my track record and motivation to do cutting-edge research and after a few Skype discussions, he saw in me a potential collaborator.
I persisted in discussions with him for about 3 to 4 months, and we then jointly wrote a proposal for establishing a research lab at my institute focused on ocular drug delivery and diagnostics. Things moved slowly when it came to getting approvals from the management. However, after about a year, we could convince the management to provide me with about Rs 50 lacs as seed money. Here, I would like to highlight and complement my institute's vision and belief system in its faculty members, without which I would never have been the first faculty in its 65-year-long history to get such large seed funding, that too so early in service. Simply put, they trusted me to deliver.
Getting the research infrastructure ready
Getting a hefty seed funding was only the beginning and the challenge of setting up a research lab was daunting. Fortunately, space was not an issue and I earmarked about 30 ft x 40 ft of lab space. I also noticed that our department lacked a dedicated central analytical instrument facility and a seminar hall. Even though I was the junior-most faculty in the department, I did not hesitate to put forward my views to the authorities of getting these infrastructure developed and we got them approved. A big area was earmarked for my lab, instrument facility, and a seminar hall, and was constructed in about 8 months.
I had to work from scratch, starting from lab design to furniture to layouts. It was particularly hard because chemical synthesis, cell/​molecular biology studies, microscopy/​fluorescence spectroscopy work, cell culture and modelling/​simulation work needed dedicated and separate spaces and I had to chalk out a plan to accommodate them separately without wasting space. Here, my previous lab experiences and a great deal of guidance from my postdoctoral advisor (who is a biologist) helped. By the end of 2016, the lab was ready to be occupied.
Strategizing my first moves in a new research lab
Setting up a vision for the lab
One of the most critical aspects of starting a new research lab is to identify target areas of research. The golden rule is to never choose exactly what you did in your postdoc or PhD because your advisors will be your primary competitors. However, this rule has exceptions. You can always borrow skills from your PhD and postdoc experiences. I knew clearly that I would harness my expertise in drug delivery, biomaterials, nanotechnology and chemical engineering for biomedical applications including ocular pharmacology/​drug delivery/​biosensing, given the tremendous support and expert advice at my disposal from my US collaborator. With this clear vision, I named my lab as Bio-INvENT Lab which stands for Biomedical Innovations via Engineering & NanoTechnology lab, which is appreciated by many for the ingenious use of words.
Getting the first set of equipment and manpower onboard
With the seed funding, a few critical sets of equipment were procured and were set-up in a temporary lab space (since the new lab was still under construction). A critical challenge still remained — getting quality students to work on my ideas because most of them prefer to join premier public-funded institutes such as IITs or IISERs. In private institutes like SIT, students rarely join a lab unless they see the potential for a productive PhD and a reasonably good advisor.
With this limitation, the only option I had initially was to work with undergraduate students. I and my US collaborator spent hours interviewing them for projects and finally, my first batch of 12 undergrads was onboard. Even though they could contribute little initially, experiments were initiated. Again, by chance, I was approached by an SIT alumnus for PhD guidance. She had prior knowledge and interest in drug delivery and was keen to work on cell culture, and I readily accepted her as my first PhD student. Together, we then slowly recruited more undergraduate students and in early 2017, we moved to the new lab.
Running and sustaining a new research lab
The lab was now fully functional with a PhD student and several undergrads. I made a point to talk to undergrads about my projects and what they would gain from working with me, which led to motivated undergrads joining the lab and we slowly made progress.
As projects and working hands grew, I needed a sustained rate of funding to run the lab. Though I had procured some critical equipment, we needed many more to become self-sufficient. My institute allocates annual research funds for each department and I make a point to get it every year. Later, after a brief interaction with a few scientists from Bhabha Atomic Research Centre (BARC) who had visited SIT, I wrote a proposal and submitted to Board of Research in Nuclear Sciences (BRNS) which got approved after a year (mid-2018). This was my first competitive extramural grant of about Rs 30 lacs (for three years). My interactions with my US collaborator continued and based on our ideas, I wrote another grant proposal to the Science & Engineering Research Board (SERB) which was approved towards the end of 2018. Just after a year of establishing the lab, I had about Rs 65 lacs as extramural funds.
I also ensured that weekly lab meetings were held and students presented their findings cogently which helps them develop scientific communication skills. With a very productive bunch of graduate and undergrad students, I decided to apply for a few innovation/​entrepreneurial grants such as the India Innovation Growth Program University Challenge 2019. We worked really hard on the proposal and the presentations and got a grant of Rs 10 lacs among more than 2500 applications nationwide in the middle of 2019.
In addition, every year my lab's undergrad students have been securing Karnataka State Council for Science & Technology (KSCST) grants for projects from the Government of Karnataka consecutively for the last four years. Multiple awards to my students at conferences at IITs, NITs etc. have been a norm in the lab, thanks to these highly self-motivated kids. We also started publishing high impact research articles/​review papers and book chapters regularly. These smaller successes have also motivated me to keep learning new skills and keep abreast of the latest happenings in the field.
In summary, a steady flow of ideas, funding and active manpower has now been established after three years of hard work!
In addition to these, sustained networking with researchers and industries worldwide and forging collaborations with them have led to multiple ideas and projects. The cross-disciplinary nature of research in my lab necessitates my collaborating with doctors, pharmaceutical scientists, material scientists and basic biologists/​chemists. Another advantage of networking is that you get to write invited reviews/​book chapters and also to serve as editors and reviewers, thus expanding your professional reach and credibility. The Young Investigator Meeting (YIM) is one such fantastic platform for networking and I advise all would-be YIs to attend YIMs.
Lastly, my vision for the lab was to not only develop ideas and test them, but also to bring them into the market. Hence, we have now started pitching business proposals based on the ideas developed in the lab in national entrepreneurial competitions. Also, I have recently begun a start-up venture along with a few of my engineering buddies focused on developing process chemistry for pharma industries. During the initiation of this venture, I and my partners learnt and assimilated entrepreneurship skills. I see this as an exercise to facilitate bringing my ideas into the market and create social impact in the field of healthcare. We have also hired my own students in the start-up.
In summary, the mentoring and trust that I received from my higher-ups during my student/​postdoc days has come a full circle, in the sense that I am now in a position to trust and mentor my students towards success. I hope this continues.
This article is dedicated to all the Bio-INvENTees, collaborators and faculty colleagues for their everlasting support and to the gracious management of SIT and funding agencies, who have funded for the establishment of the lab and its ongoing research activities. Being in my hometown and only 5 mins away from the lab, I enjoy the fullest support from my family too, be it late nights or weekends!
I still have a lot to achieve as a researcher and innovator, but if this story of mine helps someone get critical cues and points to ponder upon in their journey as a YI, I will be satisfied writing it. So, all the best to the current and future YIs.