Vaishnavi Ananthanarayanan is an EMBO Young Investigator and a Wellcome Trust/DBT-India Alliance Intermediate Fellow. She attended YIM2014 as a post-doctoral fellow (PDF) and is an organiser for the upcoming YIM2020. In this invited article, she writes about her experience of transitioning from a DST-INSPIRE faculty fellow to an Assistant Professor at Indian Institute of Science, Bangalore.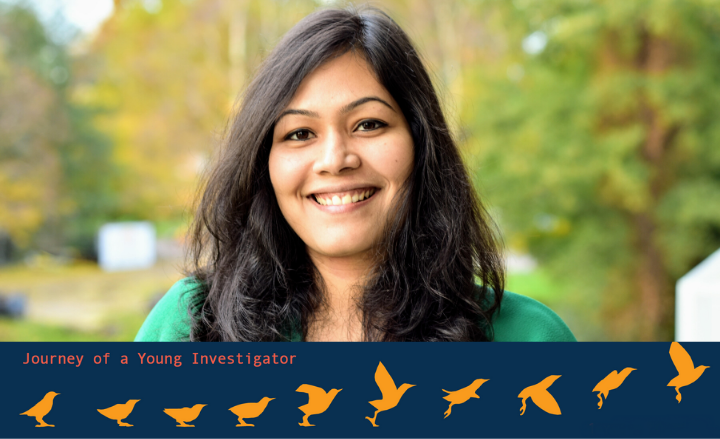 Armed with a dual degree in Biological Sciences and Computer Science from BITS, Pilani (Goa Campus) and a fruitful stint at Microsoft Research India, I set out to do my PhD at the Max Planck Institute of Molecular Cell Biology and Genetics, Dresden, in 2010. I had great fun working towards my PhD and realized I loved cytoskeleton biophysics. I was part of a wonderful lab, made friends for life, and had an amazing PhD mentor who let me write and submit my thesis from home in India. It was during this time that I learnt of the various funding schemes available to early career researchers in India.
The DST-INSPIRE Faculty Scheme particularly caught my eye since I was eligible to apply – ​"It provides attractive opportunities to young achievers (in the age group of 27 – 32 years) for developing independent scientific profiles and intends helping them emerge as S&T leaders in the long term." It was quite a revelation and a moment of epiphany to me that I could, in fact, embark on an independent research track without (what I had thought was mandatory) postdoctoral training.
What logically followed was a simple proposal application on DST's online INSPIRE portal. After a rather painless round of interviews, and a wait of a couple of months, I received formal confirmation of having been awarded the INSPIRE Faculty Award.
I had applied through the regular route and did not already have a host institute in mind. But fortuitously, I had been selected to attend the Young Investigators' Meeting 2014 which was to be held only a couple of weeks following the announcement of my award. True to its USP, the YIM gave me the opportunity to interact with several institute representatives and present my 5‑year research plan as a part of the INSPIRE Faculty Award.
A direct result of my YIM experience was an offer from a soon-to-be independent Centre at the Indian Institute of Science (IISc), Bengaluru, which was then only a PhD programme – the Bioengineering Programme. G. K. Ananthasuresh and Sandhya S. Visweswariah, who head the Centre, chose to take a gamble and support a fresh PhD Graduate. A fellow INSPIRE Faculty Fellow and I were given infrastructure and administrative support, and most importantly, complete research independence.
While I was forewarned by several well-meaning scientists about multiple issues including the differences between doing science abroad vs in India, my inexperience due to lack of postdoctoral training, limited exposure to the realities of pursuing research in India, and a host of other scientific and non-scientific issues, my (naïve) optimism did not wane. I sought to develop a research program centred around quantitative cell biology of the cytoskeleton, combining my expertise in microscopy, image processing and analysis, cell biology, and biophysics. I thus joined IISc in June 2014 with little more than the INSPIRE Faculty Award and a healthy dose of enthusiasm.
While I had proposed to use mammalian cell culture models in my research, I quickly understood setting up the cell culture lab in our Centre would take more time than I had bargained for. Hence my trusty friend, the fission yeast, which I had worked with in my PhD, was called upon. Preliminary experiments were done, and two other grants were applied to, both of which relied on the fission yeast model system. Thankfully, both of the grants (the Innovative Young Biotechnologist Award from DBT, and the Early Career Research Award from SERB) were funded.
I was glad to be doing a majority of the experiments alongside my first students. This is where the INSPIRE Award was a boon – while it gave me a shot at independent research at the level of an Assistant Professor, I was not required to fulfil the obligations of an Assistant Professor in her formative years, be it in faculty meetings, comprehensive exam committees or other administrative responsibilities. While this might be seen by some as a disadvantage, I was genuinely happy — I was free to concentrate solely on my research.
The first year zoomed past with setting up the lab, acquiring more funds, and performing the first set of experiments proposed. The second and third years were productive, with one review article and three research articles from my independent lab. On my third work anniversary as an INSPIRE Fellow, I gave a chalk talk following my formal application and presentation for an Assistant Professor position at the Centre for BioSystems Science and Engineering (BSSE), IISc. Finally, in October 2017, I officially joined BSSE as an Assistant Professor.
Of course, I made several mistakes (and still do), but the lessons I learnt would most likely be hard to come by being a postdoctoral fellow in a lab that has been established already. There were no illusions about doing science in an Indian setting and I am grateful to have had first-hand experience early on in my career. With the INSPIRE Award, I knew there were no guarantees regarding my future prospects at IISc or elsewhere, but I valued the opportunity to work on something that genuinely interested me.
For potential applicants for the INSPIRE Faculty Award, I have the following pieces of advice from my limited wisdom:
Apply as soon as you know you would like to pursue an independent research career: The INSPIRE Faculty Award is ideal for candidates who are within 2 years of their post-doctoral training. Any longer, and the candidate is already eligible to apply for regular positions, defeating the INSPIRE Faculty Award's purpose.
Know what is expected of you: Institutes/​departments differ in their policies when hosting INSPIRE Faculty Fellows. Be sure to understand what is offered to you as a Faculty Fellow and what is expected of you.
Do not hesitate to ask for help: There is often a misconception that as the leader of a research group, one has to be independent in the truest sense and not rely on help from peers or seniors. This couldn't be further from the truth. Reach out to people in your Department or Institute for sharing of equipment, consumables, or even just for advice. I am thankful to a number of people within IISc, across the country and abroad for having come to my rescue when I was in a pinch.
Be open-minded: One might be required to do everything from reformulating the original research question due to unforeseen circumstances, to meeting changing expectations for a regular position at the host institute. Most of these issues are rather fluid, and at the risk of sounding clichéd, take things one day at a time.
While there are several structural issues that still need to be sorted with the INSPIRE Faculty Fellowship (the most prevalent among these being late disbursal of funds), I am not aware of any other fellowship that gives a newly-minted PhD Graduate the chance to head her own lab and to define her own research questions. I, for one, have benefitted immensely from ​'going solo' just after my PhD.
---
Did you enjoy this article? Please let us know in the comments below.