Amit Agarwal is a Research Scientist at Chest Research Foundation, Pune. He is one of the Young Investigators selected to attend YIM2020 in Mahabalipuram. In this invited article, he writes about the unique challenges faced by a scientist in a private research institute in India, and some strategies that young PIs can use to overcome them.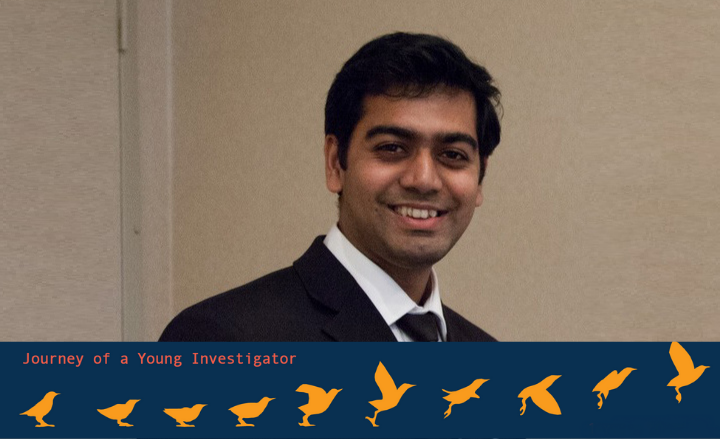 When I started thinking about my career aspirations after completing my bachelors in Pharmacy, I was sure about getting into research. However, I would have never imagined running my own laboratory. As with most pharmacy students in India who are interested in research, I aspired to someday head the R&D department of a pharmaceutical company.
I completed my MS in Pharmaceutical Sciences from the University of Southern California, Los Angeles, and continued in the same laboratory to complete my PhD in Molecular Pharmacology and Toxicology. It was while doing my doctoral research that I came to appreciate the importance of scientific freedom and the ability to choose my own area of research.
At the end of my doctoral studies, I was hoping to catch a break from hard-core research, as I was exhausted from the daily grind of thinking of experiments day and night. As I was initially hoping to get into a pharmaceutical company, I had tried to develop some corporate pharma skills by taking courses in Regulatory Science during my PhD. This helped me easily find a job in a commercial ethics committee to help small clinicians and non-institutional researchers get their research proposals reviewed for following ethical guidelines while conducting human clinical research.
A year and a half in this position made me re-discover my love for research. My mind was itching for stimulating discussions and more complex problem-solving. I was looking forward to getting back into research with renewed vigour and excitement.
At this point, I got an opportunity to join Chest Research Foundation (CRF), Pune, who were looking for a basic research scientist to drive molecular research which would add onto their already accomplished clinical and public health research profile. This was a perfect fit for me given my basic research background in cigarette smoke-induced pulmonary impairment. I could test out my hypotheses in human clinical studies at CRF. 100% time dedicated towards research, scientific freedom to pursue research ideas and an opportunity to transform a primitive molecular research program [NJ1] into a pioneering one, were some of the most important considerations that led me to choose this opportunity. The institute being in my hometown, Pune, was the cherry on top of the cake.
When I tried to read and gather more information online on what I could expect while establishing my own research laboratory in India, I learned about some of the challenges associated with funding, resources, and bureaucracy, but none from a private research-dedicated institute perspective. I assumed most of these challenges would also apply to my position at CRF – which was true. But there were also other challenges, which I never thought about. Some of these were:
Delays in procurement of consumables
Planning research experiments is a dynamic process, which requires constant adaptation and change of plans. It may not always be possible to foresee the requirement of a chemical or a consumable. The vendors take anywhere between 4 – 12 weeks to deliver a product, once the order is released, as most of the consumables are procured from abroad. Adding to that at least a week to navigate your institutional process to get the order released, a sudden requirement of a consumable may set an experiment back by 2 – 3 months.
The only part in your control is minimising the institutional time required to place an order and following up with the vendor to ensure that they follow their promised timelines. Although this also applies to public-funded institutes, the problem there is mitigated by the fact that there are usually 2 – 3 groups working in similar research areas from whom you could borrow some consumables until your orders are fulfilled. Researchers from other institutes are mostly helpful in these cases, but it requires networking and effort to develop such relations.

Shared resources
Most of the research institutes in India and abroad with more than one basic science research laboratory have a shared resources facility so that each lab would not have to invest in capital equipment or instruments individually, along with their maintenance. These resources are usually shared, which not only helps in reducing costs but also allows for better utilization of the resources. As a single lab in a private research institute, these costs have to be borne alone which significantly adds to the budget. This could sometimes limit the number of available methodologies to interrogate a research problem.
Setting up collaborations
Another challenge for a researcher in a private institute is setting up collaborations with other research laboratories. Networking becomes all the more important for a researcher in a private institute given the smaller number of connections you can make through the institute or its researchers. Institutional policies may also direct which parties you can collaborate with and not.

Funding challenges
Applying for and generating funds is another serious challenge as some grant opportunities may only be open for government/​public research institutes. I have had at least one grant proposal rejected for the fact that my institute did not have other basic science researchers who could help me in case I reach a dead end. Thus, collaborations almost always have to be multi-institute which may add to logistical costs.
Recruiting student researchers
Being in a university campus or a national research institute may make it easy to attract student researchers who can pursue masters and PhD degrees while working in your laboratory. Private research institutes require affiliation to universities to be eligible to recruit students. The research staff at the institute also need to conform to the university's eligibility criteria to be PhD guides.
— — —
I would like to advise other young researchers planning to move to India and/​or starting a laboratory in a private research institute to network as much as possible. This is a one-stop solution to most of the above challenges. For YIs planning to move to India from abroad, it would help to inquire within your network abroad if they know any investigators in India who may be your potential collaborators. Attend local scientific meetings to meet senior investigators and get them excited about your research.
I would also suggest to the young researchers that they carry the best practices from wherever you move, be it from abroad or within India. From my personal experience, I realized that students in India do not take deadlines for presentations or reports seriously enough. However, students abroad usually have a midnight deadline for assignments and the first thing they get to learn is the strictness of this deadline. Building such systems could be daunting initially, but will contribute to the research culture in India and provide you with the satisfaction of helping transform the careers of those next in line.
---
Did you enjoy this article? Please let us know in the comments below.