Among the COVID-19 pandemic's many consequences is its impact on students and early career researchers all over the country, who have had to face new and challenging adversities, including breaks in experimental work, having to adapt to online education modes, and uncertainty over their future careers. A panel discussion organised by the Department of Biochemistry, JSS Medical College, Mysuru, attempted to address some of these issues.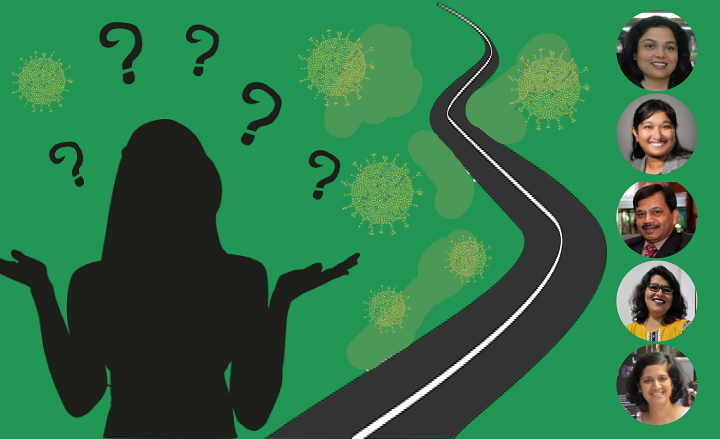 With the COVID-19 pandemic bringing to light several adversities such as fear of the unknown, uncertainty, and getting lost in the career race, academia is in immediate need to grow resilience and agility. To address various questions in the minds of undergraduates, postgraduates, research scholars and early career researchers all around the country, the Department of Biochemistry, JSS Medical College, JSSAHER, Mysuru, organised a virtual interactive session titled ​"Adversity Quotient In The Era of New Normal". The session mainly focused on strategies for adapting to the adversity and challenging the limitations posed by the current pandemic.
The panellists included Basavanagowdappa H (BH), Principal, JSS Medical College, Mysuru; Shubha Tole (ST), Professor, Tata Institute of Fundamental Research (TIFR), Mumbai; Swati Patankar (SP), Professor, Indian Institute of Technology (IIT) Bombay, Mumbai; Anindita Bhadra (AB), Associate Professor, Indian Institute of Science Education and Research (IISER) Kolkata, and Arya Soman (AS), Assistant Professor, Northwell Health/​Zucker Hillside Hospital, New York, USA.
The panellists provided insights into ways to utilize this unexpected time in a guilt-free manner, treating this adversity as an opportunity. Each one of us is capable of setting our ​'new normal' up for success, by getting involved with life in many possible ways. The following are the perspectives put forward by the panellists on the points that were discussed during the interactive session.
How do you define productivity at this time of crisis?
ST: ​"Productivity" needs to be defined as whatever furthers your journey in life. Focusing on data and papers is a very narrow view of productivity. Here is an opportunity to make the best of available constraints and engaging in ​"productive" activities that one would have never done otherwise; perhaps you have always felt guilty to divert your time to them.
Of course, if you are in a situation in which you have to be a caregiver, or there is some family stress you have to help out with, then those are your priorities. Helping your loved ones is the most productive thing for you at this moment. But if you have the luxury of taking this imposed lockdown time for yourself, this would be the perfect time to indulge in activities that promote self-growth.
Personally, I have been learning Kathak for some decades now, and I continue to do so via the Zoom classes conducted by my guruji, Sanjukta Wagh. I've spent time trying to write the todas and parans in taal, something I always wanted to do and never found time for. I began to learn to play on the keyboard recently, and I find my weekly classes via Zoom extremely rewarding as I make baby steps in learning to read western music — a challenge at my age!
In summary, when we all will look back to this very strange and difficult time, we will only have ourselves to answer to, as to whether we spent it in a manner that was worthwhile to us.
AB: In the given scenario, productivity for me is to stay safe and healthy. Catch up with your hobbies. Hobbies not only relieve your stress and boredom but also build your self-esteem so that you can appreciate activities outside of work. Importantly, a career break of a few months will not shatter the entire hardship endured prior to it. Henceforth, start appreciating small things and utilize this time to relax, refresh, and get recharged. If you have any doubts about your chosen career path, this would be the best time to explore other options through webinars, conferences, and workshops, to decide whether you need a switch. How one manages to keep mentally and physically in shape is all that matters in the end.
AS: Building resilience and agility is the key to staying productive in a phase of crisis. It begins with self-care and can range from focusing on physical health to re-framing one's thoughts to seek a positive frame of reference despite all the unknowns. Set well-defined personal goals for self-growth. In addition to academic goals, developing new skills, working on health goals or intellectually pouring oneself into something that is not one's area of work, would all still count in terms of productivity.
What are some challenges associated with virtual teaching and scientific research?
BH: The unprecedented outbreak of the COVID 19 pandemic abruptly paused all activities and caused disruption in every component of life. All students and researchers are anxious and stressed out because of an uncertain career break. As the spread of COVID-19 was anticipated, JSS institution planned, designed and executed academic transactions such that all the faculties were trained and teaching was made virtual.
Despite all this, the drawback in medical courses is that learning remains incomplete without dealing with live case scenarios. Nonetheless, innovative methodologies have been employed in teaching, including making videos and conducting online exams efficiently. In addition, the institution has strategically planned how well medical courses, in terms of practical/​clinical training, can be handled after the lockdown is relaxed, taking precautions and safety measures for the incoming students.
In general, academic institutions have geared up to discover solutions to the problems arising due to the crisis, simultaneously deciding to act quickly despite bureaucratic hurdles. The real challenge lies in designing excellent action plans to deliver the solution in a disciplined and efficient way. Don't waste this crisis and never stop learning.
SP: Constantly remind yourself that your institution cares deeply about you and is trying to level up the learning experiences. Looking at the brighter side, several quality webinars and online conferences are easily accessible now, which wouldn't be the scenario otherwise. Nourish this period by expanding the knowledge in the field of your interest and catching up on research papers you downloaded but never read. Professionally, stay in touch with your mentor and seek out help in understanding concepts.
AB: Stress, according to me, is not only caused due to worry about an uncertain break in learning but also because of piled up schedules concerning online classes, since so many webinars and work do not follow set schedules. Especially for women having younger kids at home, challenges have doubled. Undoubtedly for some, staying at home for a prolonged period might also be stressful.
With that said, the way to go forward is to consider yourself lucky that you are getting to spend this time with your family. This is something you will never get again, so make the most of this. Spend this time to learn new concepts, software, techniques etc. using online workshops, courses, videos that are available on open platforms. Publishers have also made many e‑books available during the pandemic so make full use of them.
How do you foresee post-pandemic career opportunities?
SP: Careers are highly dynamic these days even without the pandemic, which the younger generation has already accepted as normal. Uncertainty is a perpetual companion in every stage of a career; one has to befriend it. Fortunately, umpteen opportunities are at one's fingertips. Not being fixated on one career path and staying open to different options is the key to resilience.
ST: One of the customary fears in academia is about taking a hiatus from work. Particularly in our country, students are trained to ​"finish" their training and ​"settle down" with no breaks whatsoever, career breaks being considered as ​"wasting a year" or a sign of something gone wrong. But the paradigm is gradually shifting. For anyone who is at the phase of ending a degree program or a course, this would be a wonderful opportunity to engage in some reflection as to whether you're on the right path for you. Are the reasons you started down this path still appropriate for you, or do you want to change your direction based on your experience or situation? This pandemic has pressed the ​'pause' button all over the world, so you are now in charge of your time, and it's an opportunity that we don't usually give ourselves.
How important is it to seek guidance and have self-compassion?
SP: Be kind; don't impose too much on your schedule and demand so much of yourself that you are unhappy at the end of the day. Take time to connect with the family. In modern life where we are growing apart, busy in our schedules and devices, this extra time to be with family and developing close ties is a golden gift. This is a wonderful opportunity to learn to appreciate the human beings whom you are privileged to call your family and friends.
AS: Worries about the pandemic and the high degree of uncertainty are key causes for stress, anxiety and depression. Reducing risk, building healthy coping skills, and establishing regular routines will help contribute to resilience in this phase of crisis. Adhere to recommended infection control measures to reduce the risk of contracting or transmitting COVID-19. While doing so, remember that social distancing does not mean social isolation. Stay connected virtually to different support networks (e.g. family, friends, colleagues, spiritual or religious communities etc). Focus on self-care, with regular sleep, diet and exercise. Consider meditation or other mindfulness-based practices to steady your mind and thoughts. Finally, know that you are not alone, and one need not ever suffer in silence. Reach out and seek help if you are struggling physically or emotionally. All of us are sailing in the same boat, and we are in this together.
BH: The pandemic taught us many things, but foremost is the concept that ​"Health is Wealth". So, as a physician, I'd advise keeping a keen eye on overall wellness, both physical and mental. Get enough sleep, stay hydrated and physically active, putting aside all the negative thoughts. Stay connected with family and friends. Many faculties are ready to offer support outside of class so feel comfortable in seeking guidance. The sense of connection is the key to calmness. In any circumstances, reach out for help with no fear.
Could you define the role of science communication and outreach activities during this time?
ST: There are multiple online platforms for popular science writing, which demands both time and creativity thereby taking your mind off the pandemic. To mention just a few, there are opportunities for getting involved in public outreach of science, communicating one's work in one's native language, and creating a dedicated YouTube channel to enthuse young minds. Start small with the goal being to communicate (not ​"convince") as communication builds trust in science in the general public, which is the need of the hour.
AB: As researchers have no access to laboratories, this would be an excellent moment to involve ourselves in science communication. Apart from writing a research paper, you could utilize this time to bring out a beautiful science article conveying your work to the layman who is the actual taxpayer supporting the research.
What is one take-home message you would like everyone to take away from this discussion?
AS: Be kind to yourself and practice self-care. Gauge your well being every day, establish a regular routine for yourself/​your family, and take it one step at a time.
BH: Stay safe and stay healthy. Remain connected and be happy.
AB: Motivate yourself and pursue your passion.
SP: Make the best use of this time to widen your knowledge and empower your competencies.
ST: The situation is not in your control, but your approach to it is. You can see it as an opportunity to nourish your mind, or you can let your worries about the ​"time lost" eat into your peace of mind.