The Institute of Chemical Technology (ICT) Mumbai held the Biosimilar Workshop from 29th November to 1st December 2018 – it has been an annual event for the past two years now, yielding as a result of efforts by Ratnesh and Prajakata Dandekar Jain, faculty at ICT. The Leadership Conclave held on the concluding day of the workshop brought together stakeholders of the biopharmaceutical industry and the biotechnology funding government bodies for key discussions revolving around – 1. Skill development of life science students for industrial roles and, 2. Public private partnership (PPP) for infrastructural development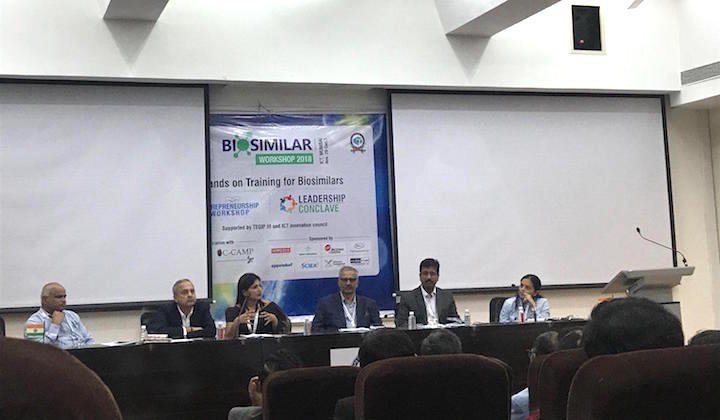 — — — — — — — — — — — — — — — –
The Indian biopharmaceutical industry, in the recent past, delved into biosimilar production. A biosimilar is a biotherapeutic product, similar in terms of quality, safety and efficacy to an already licensed reference biotherapeutic product. Oversimplifying — they could be considered biologically produced (not chemically synthesized) generics. Biosimilars can alleviate the social and economic difference prevalent in medical care today. These can challenge the reference products by improving patient access through affordability. The Biosimilars Council (division of the Association for Accessible Medicines) estimates that biosimilars could save United States as much as $250 billion, and boost access to treatments for an additional 1.2 million patients by 2025. The market for biosimilars has also been exponentially on the rise in India (projected to be $40 billion by 2030). Shreehas Tambe (COO, Biocon Biologics) states ​"Oftentimes the drug prices are intimidating for people in India. People are going off the treatment just to avoid the expenses. Seventy five percent of the Indian population suffering from cancer cannot afford treatment in early stage, and less than a third of these patients have insurance." A few notable Indian companies are Biocon, Intas, and Reliance, a comprehensive list can be found here.
— — — — — — — — — — — — — — — –
Skill development of life science students for industrial roles
The traditional pharmaceutical industry had historically provided employment to 7 lakh skilled workforce (20% being involved in research). With the requirement of personnel (for developing biopharma) on the rise, the discussion theme revolved around the thought: does the Indian undergraduate and postgraduate training equip students with skills useful for the biopharmaceutical industry? The umbrella field of biopharma works on the principles of biochemistry, molecular biology, pharmacy, chemical engineering and process science.
Prasad Krishnamurthy (AVP, R&D, Intas Pharmaceuticals) broached an interesting conflict of motivations – most undergraduate and postgraduate students are not exposed to high end instruments, focusing mostly on academic research. Industrial projects, however, move at a relatively faster pace and companies expect a fresh hire to be familiar with instruments from the get go. He acknowledged the difficulty in achieving this due to the lack of infrastructural funding for most colleges and universities. He suggested that the industry could contribute by maintaining a healthy ratio of fresh versus experienced hiring.
Mahesh Bhalgat (Executive Director, Shantha Biotechnics) was precise in his expectations od skills – ​"In addition to lab skills, documentation is one training that can be imparted to students." Dhananjay Patnakar (Vice President, Biologics and Pharma Department, Syngene International) focused on industrial manufacturing units – he said that learning on the job is encouraged and a Masters' degree could be an overqualification for the same — precise training on GMP (Good Manufacturing Practice), on the other hand is very much required. The Life Sciences Sector Skill Development Council (LSSSDC) offers interesting teacher training courses for developing an industrial skill set. Ranjit Madan who heads the LSSSDC was of the opinion that most educational institutes favoured quantity over quality. Cyrus Karkaria (President, Biotech Division. Lupin Ltd.) opined the requirement of an apex body to address the quality of education in biotechnology.
Manish Kumar (CEO, National Skill Development Corporation) suggested inculcating the culture of apprenticeship, instead of term projects. The industrial scenario, however, currently lacks a formal internship/​apprenticeship model. Sireesha Yadlapalli (Senior Director, US Pharmacopeia  — an organisation providing industrial training to students and fresh pharma recruits) asked if the biopharmaceutical industry would express interest in contributing to such training platforms. These training institutes could be housed within existing educational structures and could be funded through the CSR of industries.
AB Pandit, Dean HR and Professor from ICT suggested taking inputs from institute/​university alumni who are currently employed in the industry for the identification of skill gap, suggesting educational institutions to have a stronger alumni network. Overall the discussion seemed one sided as the panel did not have enough representatives from the educator community. The session concluded with Aseem Gupta (Secretary, Skill Development and Entrepreneurship Department, Maharashtra Government) declaring the possibilities of a few Centres of Excellence for biopharmaceutical training.
Public private partnership for infrastructural development
The discussion on PPP based infrastructure development helped voice the concerns of industry professionals. Overall, private players expect a nurturing atmosphere for growth and development. With significant progress of disruptive technologies and targeted research, the need for evaluation and characterisation has grown. According to Maharaja Sahib (Director, Genomics & Biotechnology, Wockhardt), specialised infrastructure dedicated to trials of customized medicine and specialized immunotherapy is required. Samir Kulkarni (Founder, InbioCognate), too suggested that manufacturing and developmental stages require exemplification of respective infrastructural technologies. He added that collaboration with infrastructure rich universities open doors of prospect for the industry to grow. With the collaborative approach in action as reiterated by Madhvi Rao (Senior Program Manager, National Biopharma Mission, BIRAC), Samir Kulkarni expected government agencies to harmonize these efforts to bring everyone on the same platform.
Partnering of corporations with universities where the infrastructure they provide can be set up, can also help fresh incubatees – a possible win-win, said Taslimarif Saiyed (CEO, C‑CAMP). He added that for ensuring higher quality, capital is an important requirement. Biotech parks can offer to nurture innovations while providing a unique environment. Start-ups can also benefit from the cheaper way of living. It should be linked with capabilities where both infrastructure and the intellectual capital could be brought in one place.
Concluding, it is a good time for biological science to flourish within the walls of an industrial setup. Therapeutic innovation calls for an enhanced partnership and collaboration between academia and industry, facilitated by friendly governmental policies. Life science students too, can benefit if educational bodies could offer courses developed according to the need of industry for fostering a scientific and translational mindset.