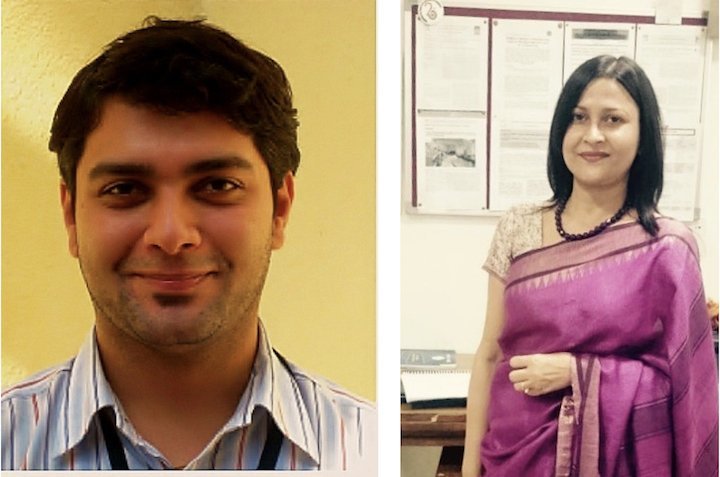 Asim M. Auti is an Assistant Professor, Dept. of Biotechnology, MES Abasaheb Garware College, Pune. He has also been an ​'Education Fellow' with the National Academy of Sciences, USA, for 2013 – 14.
Urmi Bajpai is an Associate Professor, Dept. of Biomedical Science, Acharya Narendra Dev College, University of Delhi.
Q. How did you come to choose teaching as your profession?
Asim: Teaching, for me, became a natural extension in the process of my growth. Especially after trying my hand in hard core wet lab research, I became even more certain I would be happier in an academic setup experimenting with teaching. Hence I joined my college as a teacher. I think a professional is someone who has completed her training to do a job but a teacher is always a learner. I was also fortunate to have such teachers who also became my mentors.
Urmi: Actually teaching as a career option was not what I had planned for myself. However once I took the job, I could estimate the stakes involved and understand the rigors of the profession. I was the first in-charge of a new course (B.Sc.Hons in Biomedical Science) at our college and meeting those young bright kids with high aspirations made me realize that teaching is a serious business! One has to dive in deep; skimming the surface won't do.
Q. How would you describe your teaching philosophy?
Asim: I see my role as inspiring enthusiasm in potential learners, engaging them in active learning and enhancing their knowledge and skills. My job is to empower them in making academic/​scientific decisions on their own. I believe one has to understand the diversity in learners, adapt to this diversity and build a two-way relationship so that we trust each other.
Urmi: My philosophy has evolved over the last 19 years that I have been teaching. What has stayed constant is my motivation to let students become independent, active learners. My aim is to design activities that evoke interest, stimulate discussions and take away the monotony of passive listening at a stretch.
Q. How do you see your role in the classroom?
Asim: I see myself more as a mentor than a chalk-and-talk teacher. I have to put on different hats while in a classroom: majority of times I am a facilitator as students are engaged in active learning. I also become a trainer or a coach during technical sessions. I have to become an evaluator at some point to assess improvements. Student-centric class is what I strive for.
Urmi: Over the years my role has become increasingly student-centric. Gone past are the days of the teacher as a ​'sage on the stage'. Sensitizing students about the ethical practices, plagiarism, cost of an experiment — both for the pocket and the environment etc., are just some of the ways that might help them become more responsible and aware.
Q. What are main teaching methods you rely on?
Asim: Active learning for students — that's always the goal. In any given class, it may involve discussions, group/​pair assignments, problem solving activities, or information-gathering and subsequent presentation to the class. Peer-learning in the class (and also outside) is given importance. I use handouts, online videos and web-platforms like Piazza for virtual teaching and learning. Availability of resources allows us to build new tools, but unavailability has never limited my methods. Sometimes students themselves can give you ideas and suggest modifications and one should be open to it.
Urmi: Of late, I have been experimenting using techniques I learnt while attending workshops on pedagogy: at The Summer Institute, annual conference of the Society for the Advancement of Biology Education Research (SABER), and through a videoconferencing course organized by Ohio State University. ​'Flipped classroom' is one method, where students are given the prepared content beforehand, and the classroom time is kept for discussions. Another is teaching biochemical pathways by ​'strip sequence' method (see reference at the end of article), where students write steps on paper strips (virtual equivalent can also be tried) and use the jumbled up strips to construct pathway. This enables them to make logical connections. Similarly asking students to enact a component (electron donors and acceptors) of an iterative process such as electron transport chain or a huddle to understand protein folding are other examples. Through ideation, students are asked to design alternative experiments to develop a technique that is already available or to build a new hypothesis or challenge an existing one. With some batches, I have tried to investigate how students like to learn, what are the limitations they report about themselves; and accordingly tried to mould the class. I think there is a large unmet need in India to further develop and apply assessment tools to fathom the differential learning abilities of students and then integrate the findings to create more customized teaching.
Q. How do you assess your students?
Asim: I use formative assessment for most of my courses. I try to set the assessment so that it covers needs of the fast learners as well as slow learners. If possible I give choice to learners to choose their test assessment method so that they try and push themselves to excel in tests they are behind others.
Urmi: I try to give an assortment of short questions with an emphasis on reasoning. For instance, during viva, their imagination and ability to connect and apply what they've learnt is given importance over recall of facts and data. I firmly believe that we need to regularly gauge how well have students comprehended the topic and one of the best tool can be the clickers (we need to popularize them more). Currently I am using voting cards — this is a small PDF file that students download to their smartphones; containing color-coded ​'A'- ​'D' options. After completing a topic, I pose a few simple MCQs to the class and students respond by holding up their screens to their respective choice. This exercise encourages every student in the class to participate and their answers help me assessing them in real time.
Q. Do you agree or disagree with the statement — ​"today's students are lazier, or less prepared, or less motivated than my generation."
Asim: Rather I will say today's learners are more active and motivated. They have all the information at their fingertips, literally. They are getting used to faster, ready-to-be-used information. This is where the differences may start to crop up between learners and teachers. It is up to us to adapt to it and give learners what they need in a way they can identify, keeping in mind our learning goals.
Urmi: Students today have a lot going for them; with various opportunities, multiple career options and also many technology-enabled distractions too. My Master's thesis, on the other hand, was done on a typewrite! So, comparison with my generation may not be as straightforward. Having said that, keeping students gainfully engaged and interested in the subject is a continuous challenge and there might not be just one formula.
Q. What are some myths you think are around regarding teaching profession?
Asim: A common myth is that teachers have no work other than teaching in a classroom; when in reality, we have to be shuffle between a researcher, an accountant, a manager, a performer, to an administrator. Teaching in class is just what one sees on the surface.
Urmi: The most-often heard comment is: ​"what keeps you busy?'' I think teaching is considered to be a one-dimensional activity since the hours shown in the timetable is what is visible to most. Enormous efforts go in the preparation of teaching material, test papers & assignments and in their evaluation. Add to this the undergraduate & advanced research programs and multifarious co-curricular, extracurricular and administrative activities, carried out through various committees which teachers convene and coordinate. This whole process is a continuous one, and needless to say requires a whole lot more time and effort than what is the popular public perception.
Q. What are your views on research experience as being part of students' undergraduate training?
Asim: I encourage research based learning in my courses and try to fit in inquiry based experimental learning during practical and mini projects. Some of the UG projects has resulted in presentations and publications at national and international conferences where my students got the opportunity to explore the research world at a young age. We were able to do the research with the available resources without much of high tech instrumentation.
Urmi: I am a strong proponent of undergraduate research programs. In my assessment, research experience not only advances the understanding of student in an academic discipline but also imparts intellectual maturation that comes from designing experiments and taking responsibility for the process. Research projects need not necessarily be complex in nature that require high-end equipment or expensive consumables. A learning environment is created that inculcates strong analytical and reasoning abilities, fosters creativity and instills confidence amongst the students. Besides, there are several personal gains such as ability to work independently as well as in teams, time management etc, which remain useful to students in all spheres of life.
Further reading:
Scientific Teaching by Jo Handelsman, Sarah Miller, Christine Pfund. 2011 Ed. Macmillan Science Publishers.