Manjari Jain in an Assistant Professor at IISER Mohali. She is a behavioural ecologist with a passion for teaching. Here she shares her views on teacher mentoring and networking. She suggests co-teaching as a method to help young faculty get comfortable with teaching.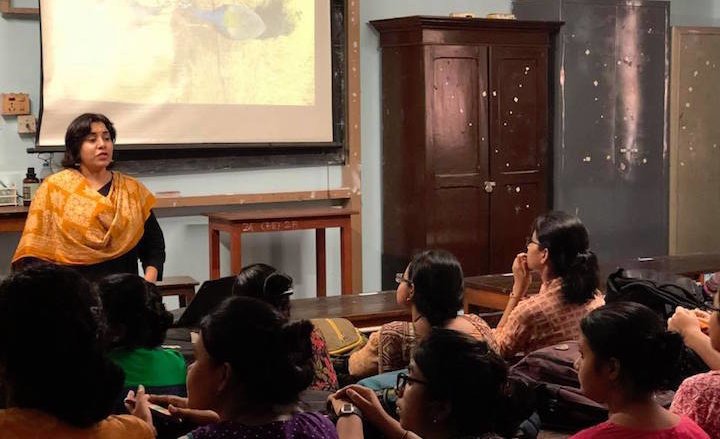 Please tell us a bit about your journey into academics. Do you enjoy teaching? What course do you enjoy teaching the most?
For my Masters in Zoology, I wanted to specialise in genetics and toxicology. However, a final year project took me to the Western Ghats, I was thrilled to see animals in their natural habitat and decided upon ecology for my career. After completing my Masters in ecology I moved to the Indian Institute of Science for a PhD on acoustics and animal behaviour. I joined IISER Mohali as a faculty six years ago.
I enjoy teaching. In addition to advanced courses for Masters and PhD students I teach an undergraduate course on ecology and animal behaviour. I also take lab for a course on evolution and genetics. It is particularly challenging to teach undergraduates as many of them have not taken biology in high school. Yet, towards the end of the course, I found that they enjoyed ecology — this I considered a personal victory. Teaching advanced courses is much easier as it involves a specialised audience trained in biology.
How did you balance teaching and establishing a lab?
Oh it was very challenging! It was an overwhelming time as I started teaching immediately after joining, at the same time when I was setting up my lab, applying for grants and getting lab equipment. I also got married and had a child during the time.
I was teaching theory, was involved in lab practicals and was assisting other teachers. Having said that, I was fortunate to have peers who guided me in handling large classes. Additionally, Professor Sathyamurthy, the founding director, was very inclusive and generously helped with the smooth setting up of the lab.
I faced many difficulties due to the nature of my field work which majorly involved observing wild animals. The institutional rules did not allow scholars to be away for more than 120 days a year – making it difficult to stay in the field for more than 4 months. Such difficulties in maintaining a long-term project drove me towards working on backyard animals – made possible because of India's biodiversity! I also fought hard against the 120-day rule by engaging the institution with ecology experts, and now it is revoked.
An ecology lab usually does not require the infrastructure and funding that a molecular study lab does. We have special requirements though — a soundproof room for acoustic studies. The sound proof room has been principally sanctioned. However, we still do not have it due to procedural delays and space issues.
Did you ever wish for a faculty training module? How can scientists be trained to teach?
I did not undergo a formal faculty training program at IISER Mohali. The enormous load did not stress me as I enjoy teaching.
PhD and postdoctoral students should be formally involved in teaching duties, this might help in swift transition to teaching (informally, students usually contribute as teaching assistants). A candidate having a good research and teaching experience is better suited for a faculty position.
A buffer time could be provided to a new faculty: perhaps a year to settle in with no immediate teaching load. This can help get the lab running.
Institutions can have multiple instructors for a course which can facilitate guidance. For example, a new faculty teaching a course along with a senior professor. For this, faculty recruitment should incorporate all major fields of specialisation adequately so that the teaching load can be well-distributed.
Do you think that a network of peers and mentors could help teachers of higher education?
It would be fantastic if one has a network for sharing teaching experiences.
The network could help us with teaching skills, handling student diversity and pedagogical tools. Such mentors can belong to any scientific field. Subject experts also can help us with the teaching of specific concepts.
A mentor can guide you on making assignments and creating an engaging and informative course structure. Education conferences and virtual platforms can help us achieve this.
IISER programs lay emphasis on undergraduate research, how has this impacted students' scientific aptitude?
I feel the university system lacks a discussion on science, other than that it is not less glorious than others. IISER students are taught by scientists, research being their major job role. This I feel is the critical difference. IISER students hang around in labs, witness research hands-on and conduct experiments.
An undergraduate joined my lab as a summer intern and continued his Masters. His work (along with a PhD student) has been recently accepted for publication in Biology Letters — one of many success stories of IISERs research-driven education policy.
Such an environment inspires undergraduates towards research, probably why many of our students take up academia as a career path. I think if universities can invite scientists to teach certain modules of their courses, an excitement for research can be developed.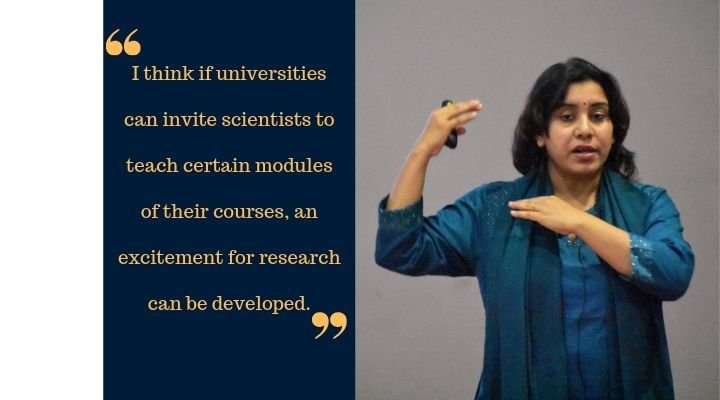 Do you introduce elements of research in teaching? Any interesting courses you want to introduce in the curriculum?
I feel that we are moving away from core biology, probably because expensive science seems glamorous. We now graduate with specialised degrees. However, we often find that students are not broadly trained to understand basic biology.
Though it is necessary to teach the latest techniques, it is more important to teach their use to solve research problems leading to the development of a scientific attitude.
I teach field methods in ecology that includes methods like camera-trapping, mist-netting and collecting behaviour data from free-ranging animals. This is an advanced elective. However, even in the second-year lab course, we have sessions in which we ask students to formulate their questions, come up with a hypothesis, collect semester-long data and also use biostatistics to analyse data. This is an early exposure to a scientific way of working.
I believe that for holistic understanding, students should be taught biology at different levels – ranging from organismal to molecular. I would like new courses to be fundamental, having a core structure, post which a student can specialise.
You can share your views on co-teaching as comments below