From the IBS Desk
Dear Readers,
Once more, we are here with our special year-end edition. We have put together some of our most popular stories from 2018, including reports on exciting new discoveries by researchers from all corners of India, opinion pieces, scientific journeys of young investigators, articles on education and pedagogy and more. We hope you have enjoyed reading these stories and will have fun revisiting them. Do share them with your friends and colleagues.
This was a year of milestones for us, as the Young Investigators' Meetings (YIM) reached their 10th year. During YIM2018, we invited all the YIM alumni of the past 10 years to come and spend four days discussing science as well as brainstorming on the future of life science research in India. As a direct outcome of this meeting, the first ever Regional YIM was held in Hyderabad in August, 2018, and is expected to pave the way for more local networking events, beginning with Regional YIM Kolkata in Feb, 2019.
We have a lot of exciting content planned for 2019, beginning with a series on the popularization of science in regional languages in India. We are grateful for your continuous support throughout this past year, and we hope you will continue engaging with us in 2019. You can write to us anytime at hello@indiabioscience.org, or connect with us on Twitter, Facebook, LinkedIn or Instagram.
We hope your science flourishes in 2019. Happy new year and seasons greetings!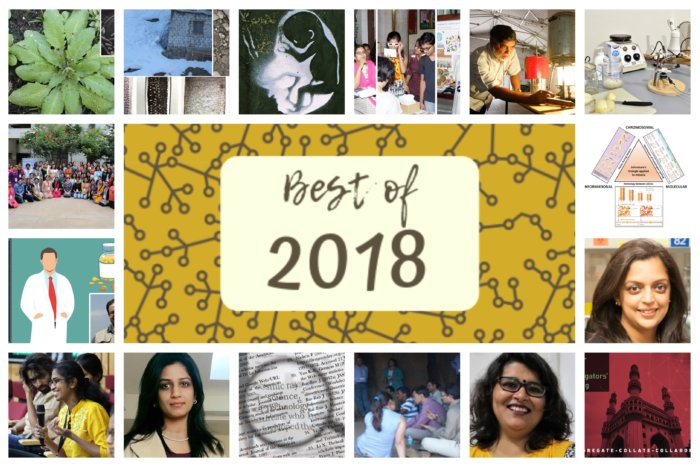 Columns
The curious case of the missing Indian postdoc
Shambhavi Naik & Megha
A scientist duo investigates where our system is falling short when it comes to attracting and retaining postdoctoral fellows in the Indian research ecosystem.
Interdisciplinarity: How to make it work for you
Gautam I. Menon & Sandhya P. Koushika
A theoretical physicist and a neurobiologist provide tips, tricks and strategies on tackling interdisciplinary problems, gained from a decade of steadfast collaboration.

When profits damn ethics: What ails clinical research in India?
Urvashi Bhattacharyya
Bioethicist Anant Bhan speaks to IndiaBioscience about key questions surrounding pharmacovigilance and conduct of clinical trials in India.
YIM at 10 years: and thoughts on why India's research program should follow a different path from the USA
Ron Vale
IndiaBioscience board member Ron Vale describes how the Young Investigators' Meeting came into being and shares some thoughts on why India should adopt a research model different from the west to be able to do research that is truly relevant to India.
Should we rethink the way we evaluate research?
Shreya Ghosh
The Indian National Science Academy released a policy statement which proposes changes and provides recommendations for effective dissemination and fair evaluation of scientific contributions by the Indian research community.
Journey of a Young Investigator (JOYI)
Dreams to reality: A young scientist's 'Return to India'
Karishma Kaushik
Karishma Kaushik, recipient of the Ramalingaswami Re-entry Fellowship, Department of Biotechnology (DBT), Government of India, writes about her experience of returning to India to establish her independent research group after several years in the US, and shares some advice for others planning the move.
Finding my foothold in academia
Anindita Bhadra
Anindita Bhadra is an Assistant Professor in the Department of Biological Science, IISER, Kolkata. She attended YIM 2015 as a YI. In this invited post she writes about her long-drawn struggle to get a permanent faculty position at her institute.
Funding Challenges in Research
Gitanjali Yadav
Gitanjali Yadav is a Scientist at the National Institute of Plant Genome Research, New Delhi. She is also a Lecturer at the Department of Plant Sciences, University of Cambridge, as one of the first appointees of a Joint Deputation Program between India and the U.K. In this invited piece, she talks about the perennial hurdle of getting, and sustaining funds for research.
Research Highlights
Proof in the Poop
Priyanka Runwal
A team of scientists from the Wildlife Institute of India (WII) and Stanford University, California, walked nearly 470 kilometres across the Trans-Himalayan region of India and bagged 1264 Red Fox scats to better understand the influence of human proximity on red fox dietary habits.
How do plants decide whether to fight or to grow?
P Surat
For plants, choosing to fight against a pathogen often comes at the cost of compromised growth and development. Scientists from Jawaharlal Nehru University (JNU), Delhi and the Indian Institute of Science, Education & Research, Thiruvananthapuram (IISER-TVM) discovered a new molecular player that helps maintain this delicate balance.
Discrimination via Drugs: The dark side of India's indigenous preparations
Navodita Jain
Sex-selection drugs are indigenous herbal concoctions sold to expectant mothers with the claim of favouring the birth of a male child. Research from the Indian Institute of Public Health (IIPH), Delhi - Public Health Foundation of India (PHFI) reveals the presence of heavy metals and harmful chemicals in these preparations, which pose a severe risk to the health of both newborns and mothers.
Education
Jugaad in science: effective biology practicals on a shoe-string budget
Anusha Krishnan
Running a lab and conducting experiments can be expensive. Globally, ingenious students and teachers have developed hacks for cheap science (including a 15 Rupee centrifuge!). We Indians are masters of "jugaad" - can we make scientific experiments accessible to all?
Education should enable youth to focus on local problems
Navodita Jain
Anil K Rajvanshi, Globe Awardee for Sustainability Research, talks about the need for orienting the education system to look for problems and solutions that might impact rural livelihood. In the current scientific scenario, it would offer students and scientific institutions an edge in impactful research.
The triangle connect: the three levels to teaching meiosis
Anusha Krishnan
The concept of meiosis can be taught at multiple levels for a holistic understanding. Wright et al discuss three such levels, forming the vertices of the Johnstone's triangle.
Event Reports
YIM goes local, starts with Hyderabad
Somdatta Karak
The first-ever Regional Young Investigators Meeting was held in Hyderabad on 18 - 19 August, 2018. Organized with the motto of "Congregate – Collate – Collaborate", the meeting brought together academicians, industry representatives, start-ups and educators from all over the city.
2nd National Post Doc Symposium – A Self-initiated platform for India's postdoctoral community
Shambhavi Naik
The Post Doc Symposium is an effort initiated by postdoctoral fellows to bring visibility to their community and to provide a platform to collaborate and share valuable experiences. The symposium embodies the talent, issues and expectations of the young and emerging postdoctoral community in India.
Workshop for Women in Science Journalism 2018: A Report
Anusheela Chatterjee
Jointly organised by British Council India through the Newton-Bhabha Fund and the Indian Institute of Science Education and Research (IISER) Pune, and supported by IndiaBioscience, this workshop aimed at providing training and resources to women in science who are considering a career in science journalism.
Upcoming Jobs
Associate Director, IndiaBioscience
IndiaBioscience
Deadline 15 Jan 2019
Raman Post-Doc Program
Indian Institute of Science
Open Deadline
Upcoming Grants
Tata Innovation Fellowship
Department of Biotechnology
Deadline 15 April 2019
CSIR Raman Research Fellowships 2019-2020
Council of Scientific & Industrial Research
Deadline 18 Jan 2019
Upcoming Events
Workshop on Framing Evidence-based Science Policy​
New Delhi
Deadline 20 Jan 2019
Workshop on Careers in Science
Faridabad (Delhi NCR)
Deadline 10 Jan 2019