From the IBS desk
Dear readers,
Welcome to the June edition of our newsletter!
The past month has been filled with tremendous progress and exhilarating endeavours, and we can't wait to share them all with you.
In this edition, we have curated a collection of thought-provoking articles, fascinating news updates, and inspiring success stories that reflect the dynamism of our ever-evolving life science community. Also, we are thrilled to announce some new initiatives that are set to amplify our impact and expand our reach. We have been hard at work, planning engaging outreach programs and exploring career opportunities for our valued readers. So, an interesting read for you to catch up on when it is raining outside!
We genuinely appreciate your continued support and enthusiasm, which fuels our drive to create meaningful connections within our community. We encourage you to connect with us on social media platforms (Twitter, Facebook, LinkedIn, Instagram, YouTube) to stay updated with our latest news and announcements. Don't forget to join our mailing list for a direct line to all our activities.
If you have a story to share, an insightful article to contribute, or an idea for a joint event, we would love to hear from you. Feel free to drop us a mail at hello[at]indiabioscience[dot]org.
Stay Engaged and Enable Change!
Networking and Mentorship
YI Huddle (IndiaBiostreams)
We are delighted to share the tremendous success of our previous two YI Huddles! In case you missed the live sessions, don't worry, we've got you covered. You can now access the complete recordings on our YouTube channel and catch up on the insightful discussions.
Now, get ready for our upcoming third YI Huddle! Join us as we bring together two exceptional speakers: Bernd Pulverer from EMBO and Divya Kumar from JSS Medical College. Together, we will discuss 'Research Documentation and Reproducibility for YIs.' This interactive session will explore the significance of research reproducibility, various approaches and challenges related to research reproducibility and documentation, and the important intersection of reproducibility and research ethics. It's a conversation you won't want to miss!
Save the date: July 28, 2023, from 4:00 to 5:00 P.M. IST. Secure your spot by registering here.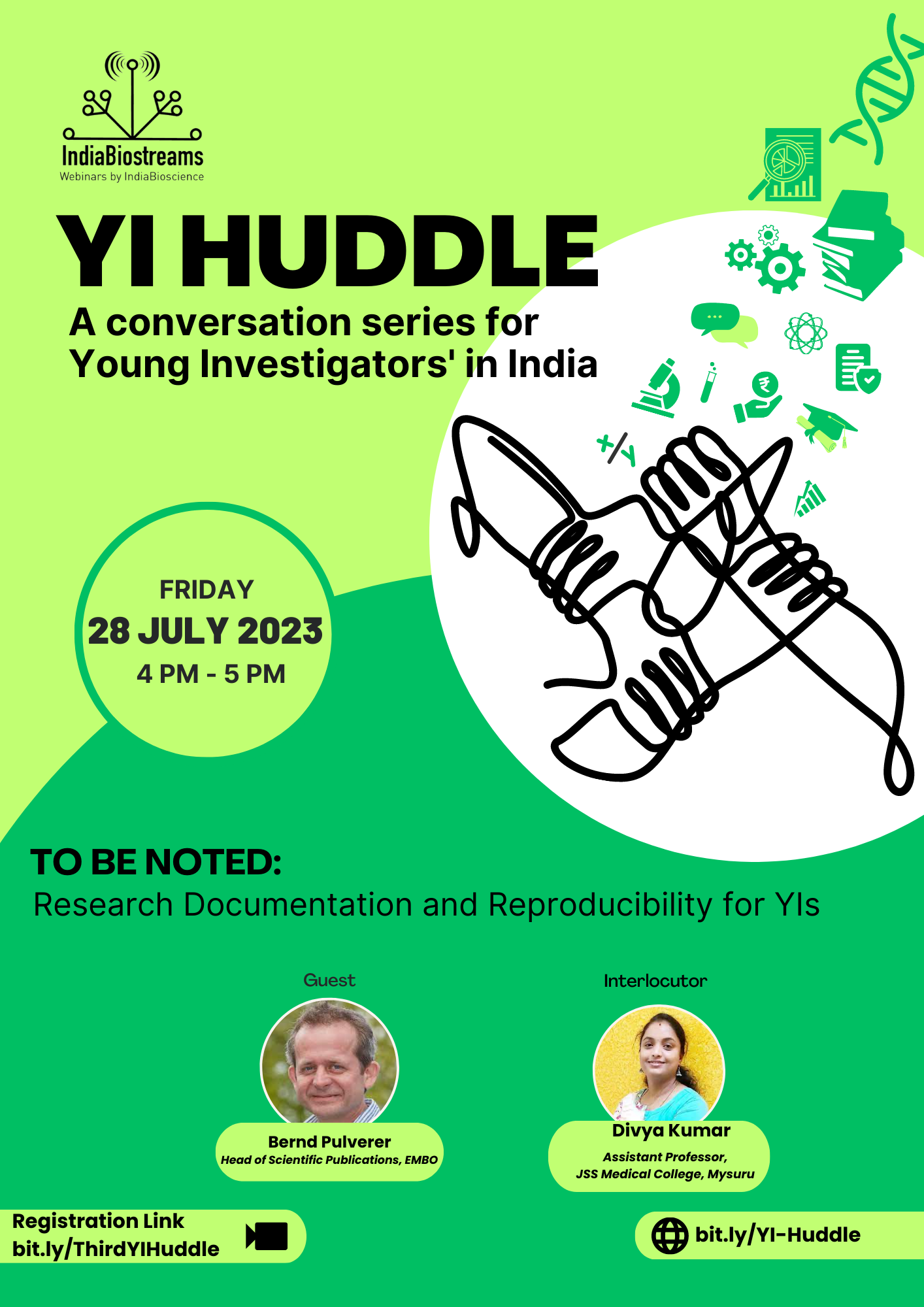 If you're curious to learn more about our YI Huddles, known for their informal, engaging and conversational style, check out the complete schedule here.

In-person talks: How can PhD researchers leverage resources and programs at IndiaBioscience for professional growth
As part of visits to IIT Indore and IISER Bhopal, Karishma from IndiaBioscience had discussions with PhD researchers, sharing resources relevant to them, and hearing their thoughts and suggestions on programs and initiatives needed to advance the life science community.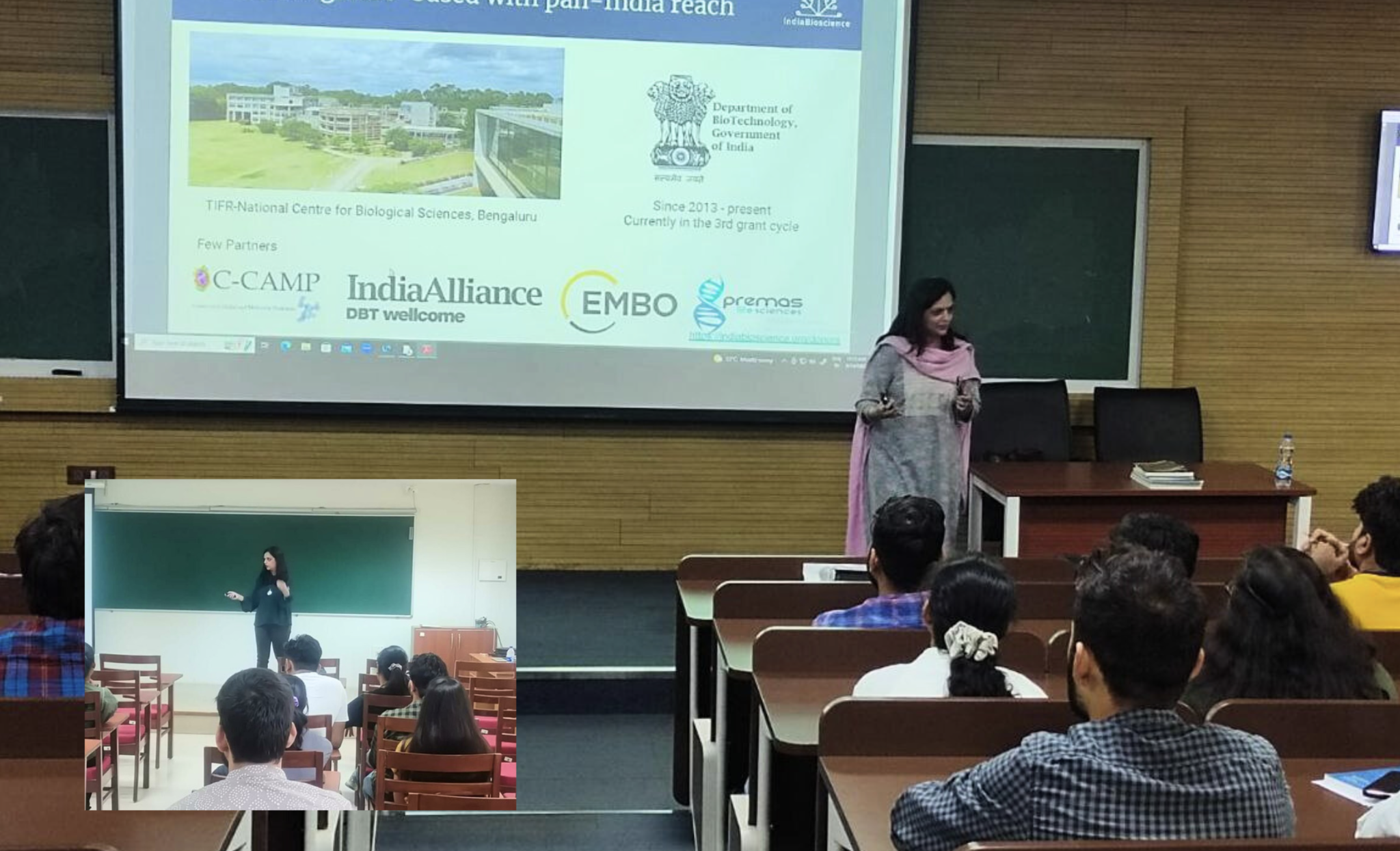 Want us to hold a discussion with PhD researchers in your institute or community (in-person or virtual)? Drop us an email!

COMMUNITY BUILDING
4th IndiaBioscience Outreach Grants (IOG)
We are thrilled to unveil the 4th IndiaBioscience Outreach Grants (IOG) call, dedicated to fostering the culture of science outreach among Young Investigators in India. At IndiaBioscience (IBS), we are committed to supporting and promoting science outreach initiatives, and the IOG grants play a pivotal role in achieving this objective.
If you're interested in applying for the First-Time Grants, we invite you to complete the application form by July 14, 2023 (11:59 P.M. IST). This is your chance to bring your innovative outreach ideas to life and make a lasting impact on the community.
To provide further guidance and address any queries or concerns you may have, we hosted an informational webinar featuring IOG awardees Neha Jain from IIT Jodhpur and Reuben Varghese from the All India Institute of Speech and Hearing, Mysore. They shared their experiences and offered valuable insights into the IOG application process. Watch this exciting webinar here.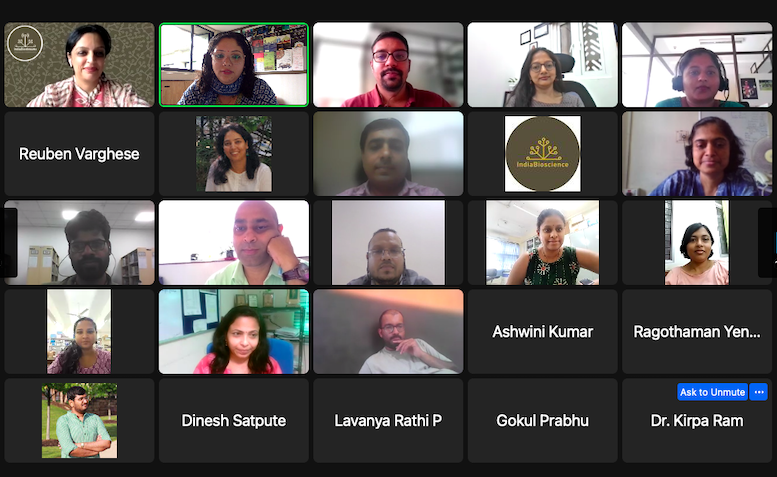 We hope you grab this incredible opportunity to contribute to science outreach in India. We look forward to your outreach initiatives. Remember the last date is July 14, 2023, apply soon!

Digital Initiatives
Big Questions, Innovative Approaches
Thank you for the overwhelming response to our scientific talk series, "Big Questions, Innovative Approaches," designed exclusively for PhD researchers, Postdoctoral fellows, and early-career researchers in India. This remarkable series showcases renowned speakers from around the world who will share their latest scientific breakthroughs, along with their personal career journeys.
We are thrilled to celebrate the success of our inaugural scientific talk, featuring Alfonso Martinez Arias from Universitat Pompeu Fabra in Barcelona, Spain. He captivated the audience with his research journey, unveiling fascinating insights into how cells communicate to construct embryos.
Now, get ready for Scientific Talk #2! We are delighted to welcome Madeline Lancaster from the MRC Laboratory of Molecular Biology in Cambridge, UK. She will take us on a captivating research journey, offering exciting revelations about the potential of brain organoid systems and their ability to unlock numerous unanswered questions. Mark your calendars for July 26, 2023, from 16:00 to 17:00 IST. Secure your spot by registering here.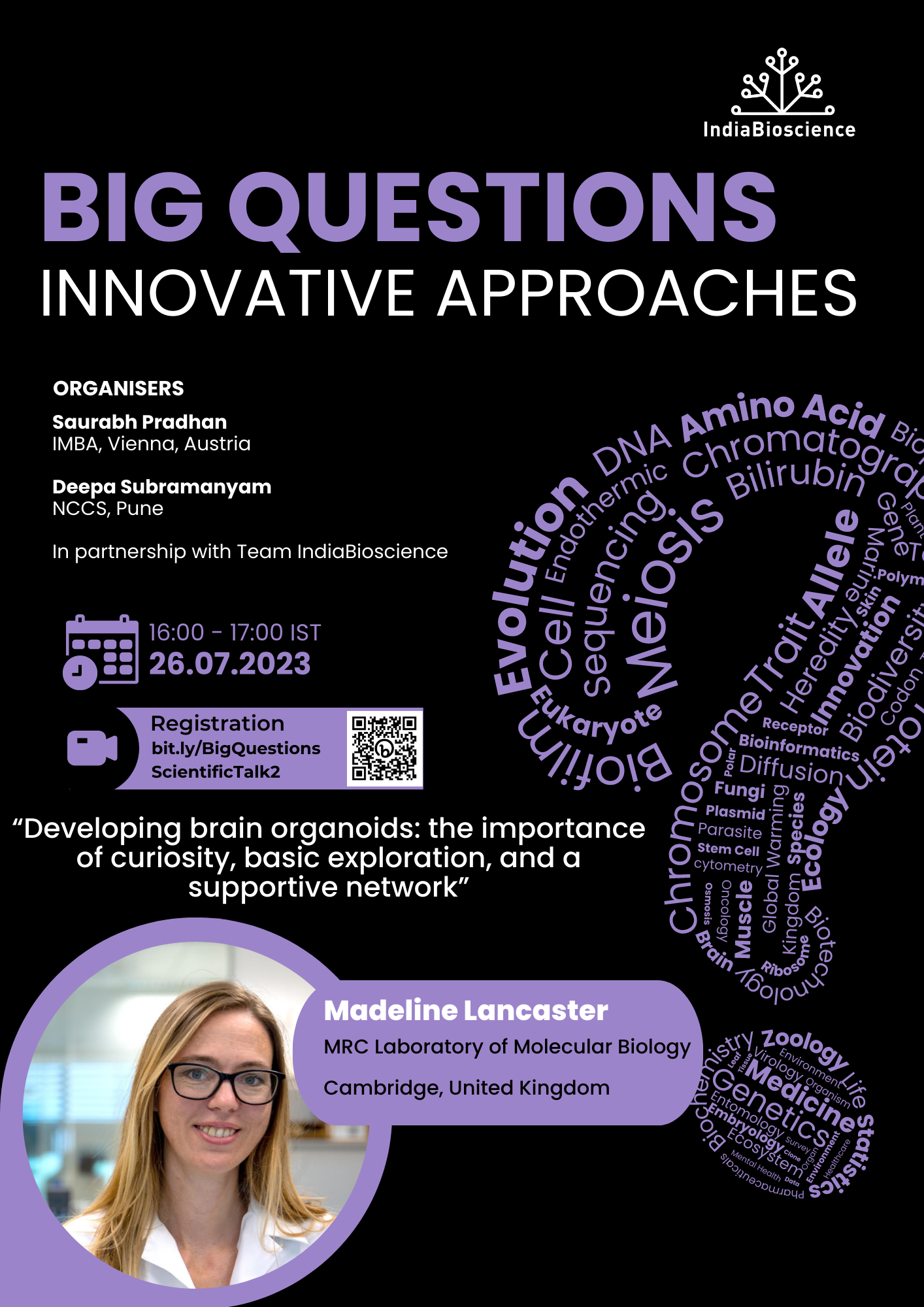 We eagerly look forward to your presence at this session!

Throwback Thursday on Twitter and Instagram
Want to catch up with previous content from IndiaBioscience more frequently than this monthly newsletter? Then check out #Throwback Thursday, our weekly Twitter and Instagram feature, where we repost previous articles, podcasts and webinars. Let us know your thoughts on them!

SKILL BUILDING
IRIWI: I Realised I Wasn't Interested…(IndiaBioreads)
New publication alert from IndiaBioscience! "IRIWI: I Realised I Wasn't Interested…" is a collection of stories around science career transitions, conveyed through the journeys of a diverse set of ten science professionals in India. Led by Gayatri Saberwal, IBAB, Bangalore and Karishma Kaushik, IndiaBioscience, IRIWI will serve as a valuable resource for the wider science community in India, as they embark on, and navigate, their careers in the changing landscape of science. The articles are written by Banya Kar and Hina Lateef Nizami, with a compelling forward on the dynamic nature of contemporary scientific careers by Shantala Hari Dass.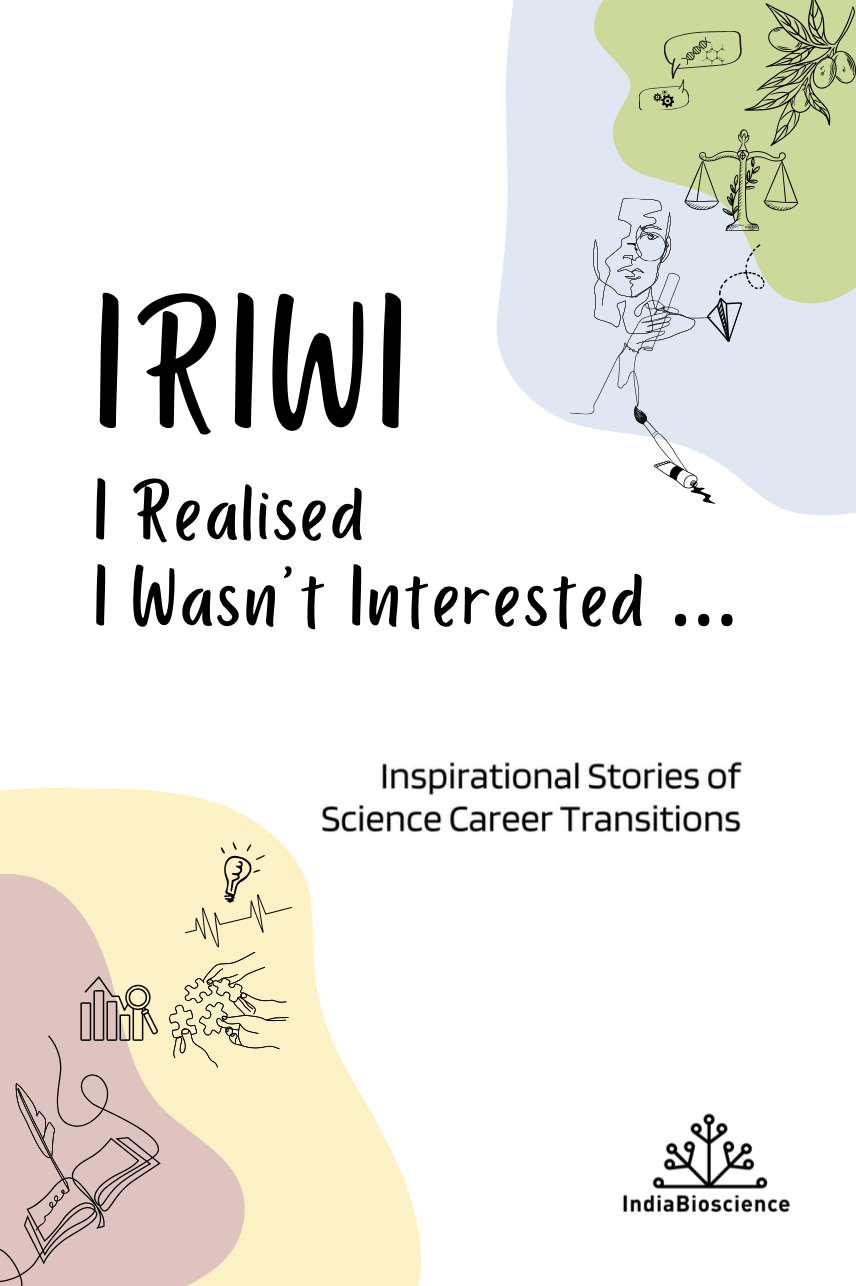 The book is freely available on our website, download the book here.
SCIENCE COMMUNICATION
In our science communication vertical, we published several columns and news articles last month. We even published our second PhD Cafe article of this year.
Scroll down to get a glimpse of these articles below!
COLUMNS
Stories from the community: Australia India Research Students Fellowship
Priyanka Sharma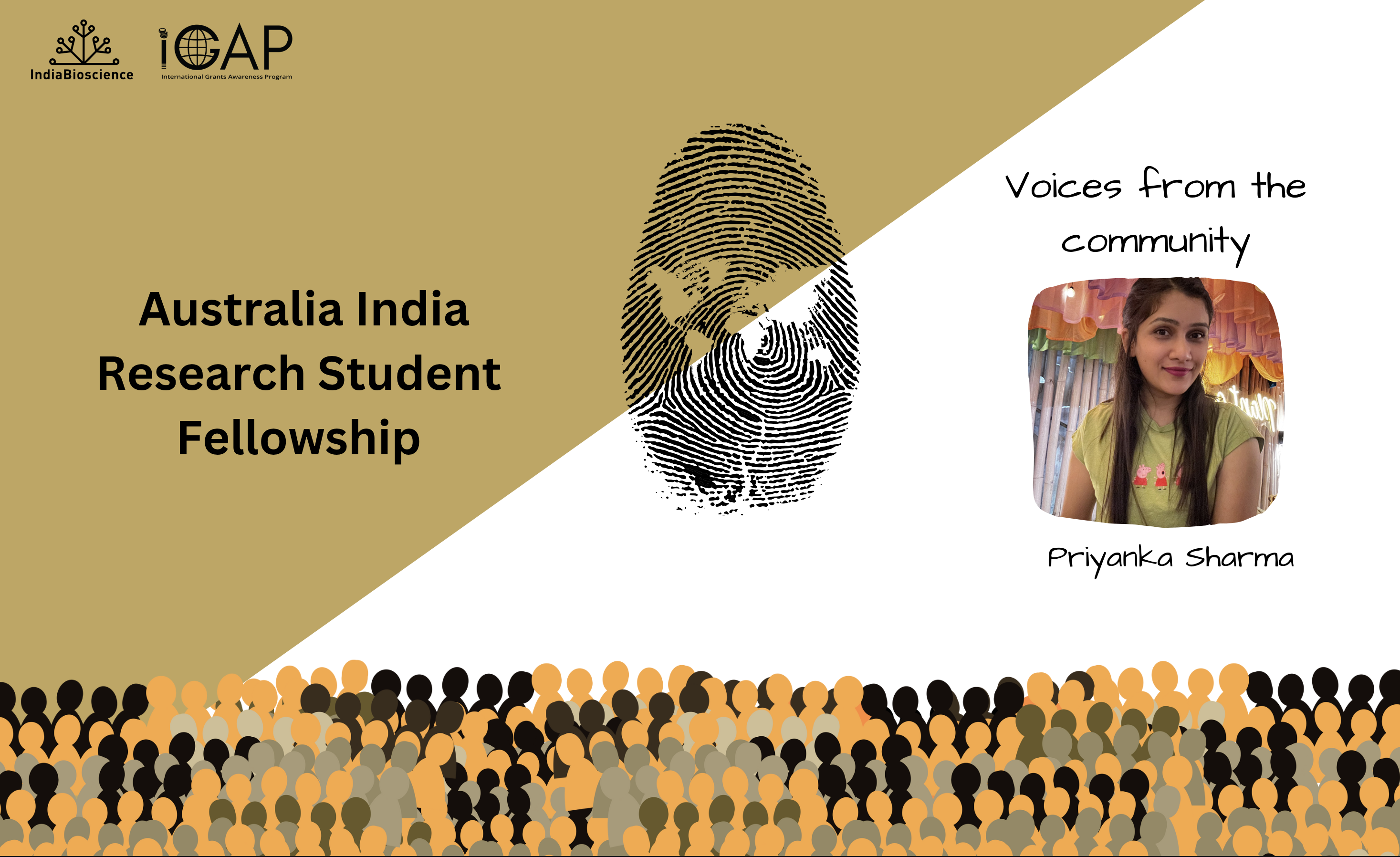 In this eleventh article, as part of community voices for our international Grants Awareness Program (iGAP), Priyanka Sharma shares her experience, some tips, and the process of applying for a successful Australia India Research Student (AIRS) Fellowship. Priyanka is an AIRS Fellow for 2023 at the Australian Institute of Bioengineering & Nanotechnology (AIBN), Australia.

My experiments with science and its engagement
Devanshi Gupta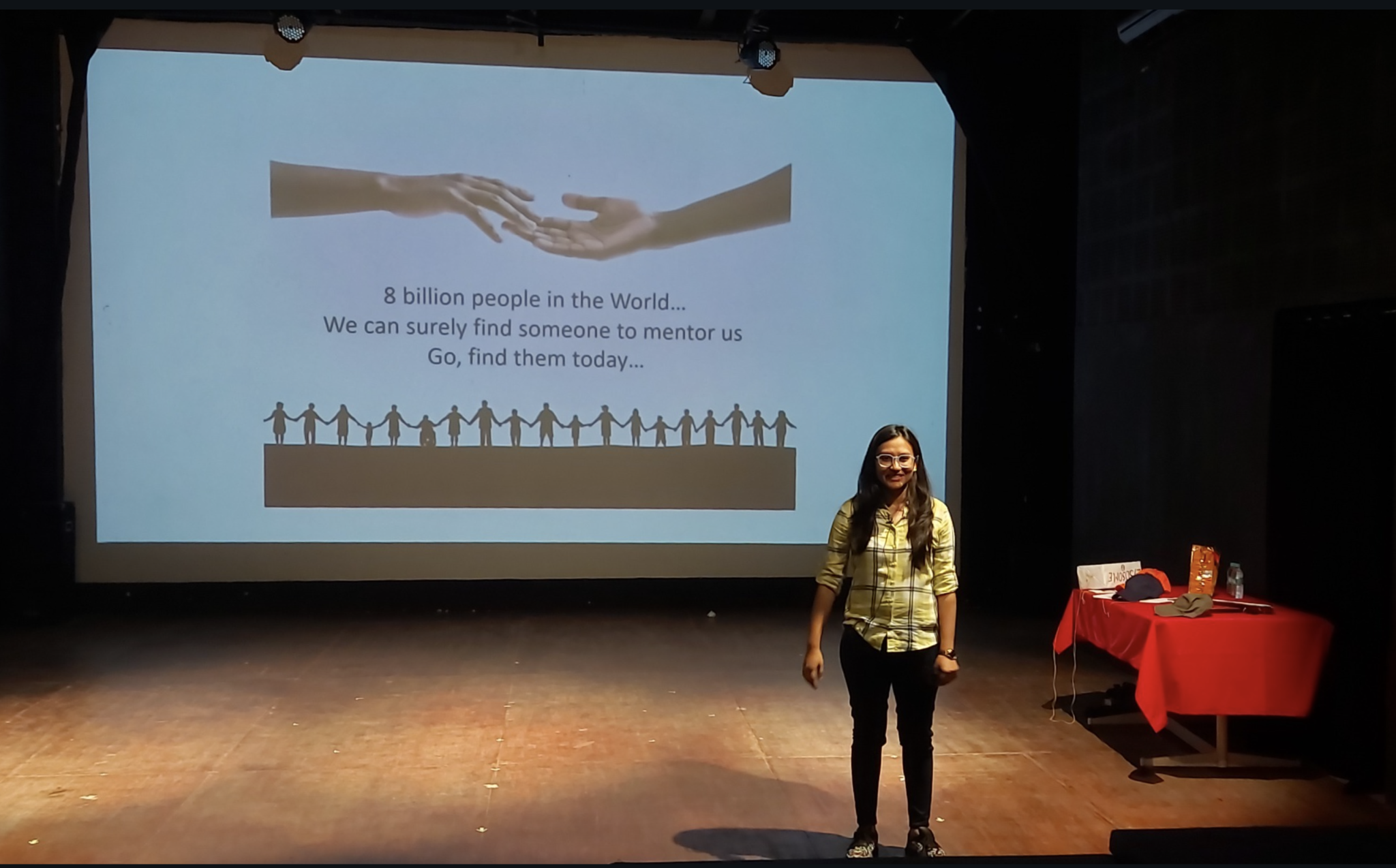 This PhD Café article explores the science communication journey of Devanshi Gupta, a PhD student at the Centre for DNA Fingerprinting and Diagnostics (CDFD), Hyderabad. Devanshi highlights the importance of effective science communication, the challenges she faced, and the rewarding experiences that fuelled her passion for sharing science with broad audiences.
NEWS
Study reveals promising biomarker for predicting patient response to cancer immunotherapy
Purva Variyar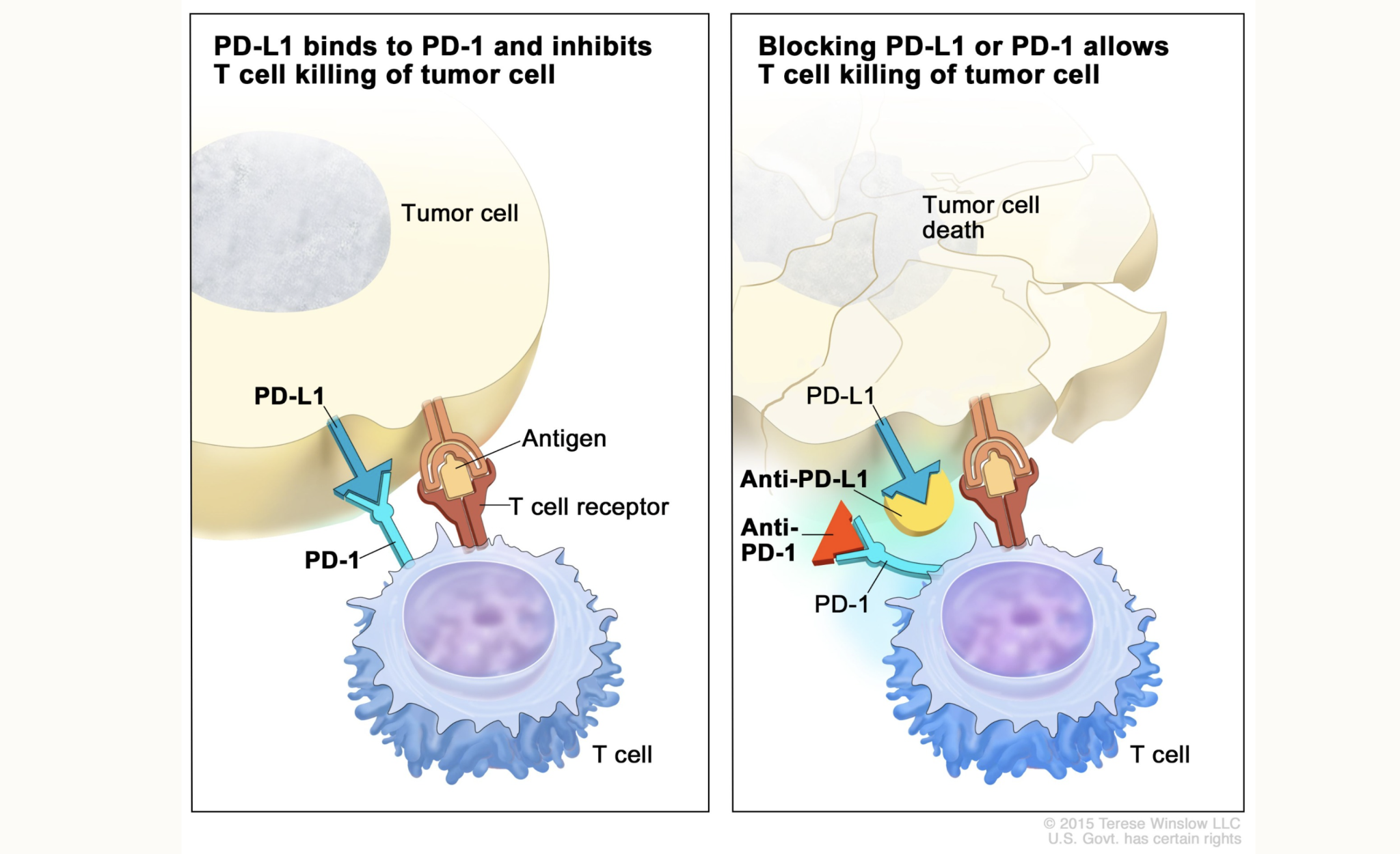 In a recent study, a team of researchers from National Centre for Biological Sciences (TIFR), Bengaluru, and Centre for BioSystems Science and Engineering (IISc), Bengaluru, attempt to understand specific biomarkers and the immune environment. They aimed to predict how patients with solid tumours would respond to immune checkpoint blockade (ICB) therapies.

Exploring the therapeutic potential of gut microbiota for treating liver diseases
Gargi Deshmukh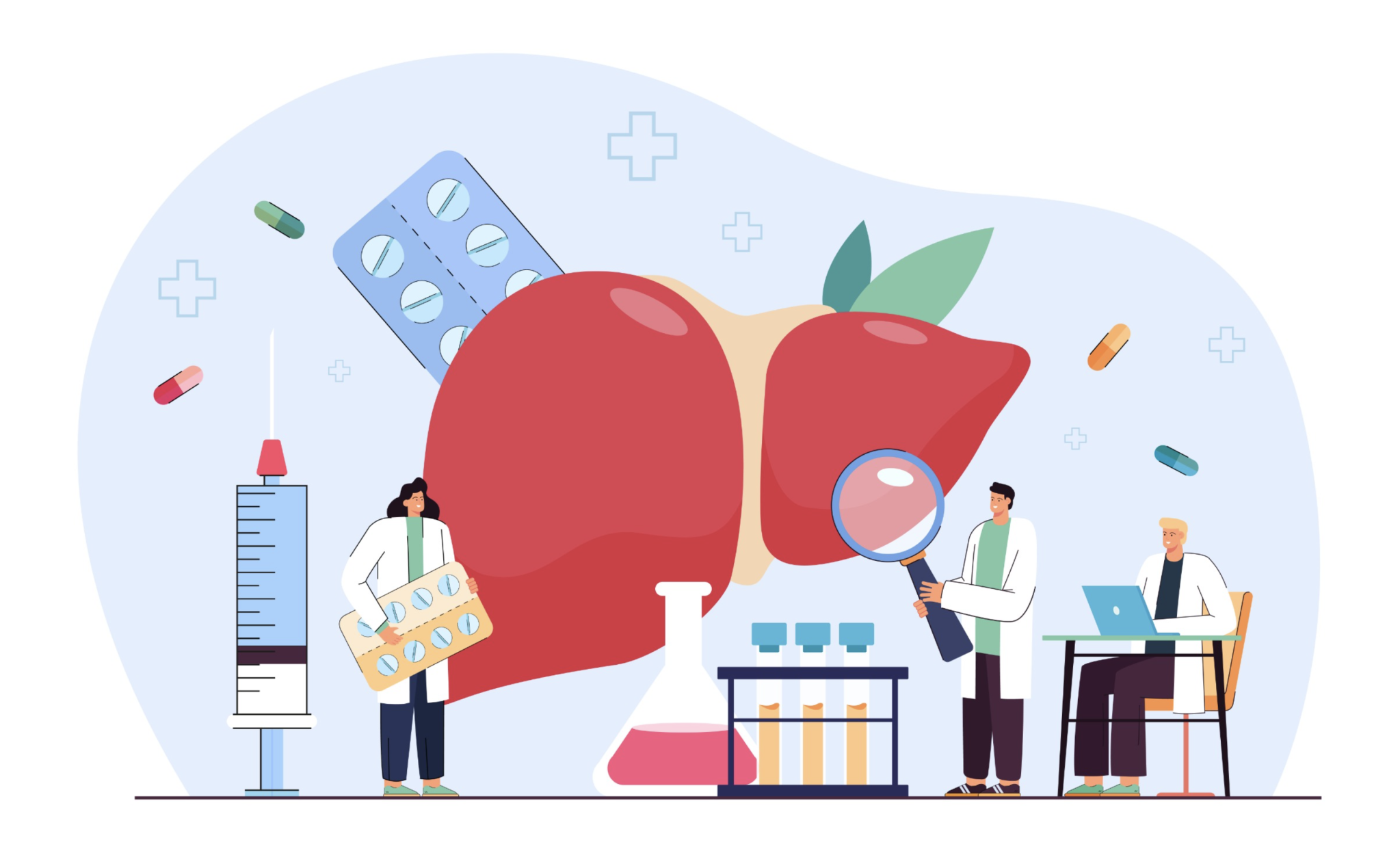 A recent study led by Partha Chakrabarti, CSIR-Indian Institute of Chemical Biology, Kolkata, explores the therapeutic potential of gut microbiota in preventing non-alcoholic fatty liver disease (NAFLD). The study found that butyrate, a metabolite produced by gut bacteria, effectively reduces inflammation in liver macrophages, suggesting a potential treatment approach for NAFLD.

Understanding bacterial cell wall expansion offers new antibiotic targets
Somdatta Karak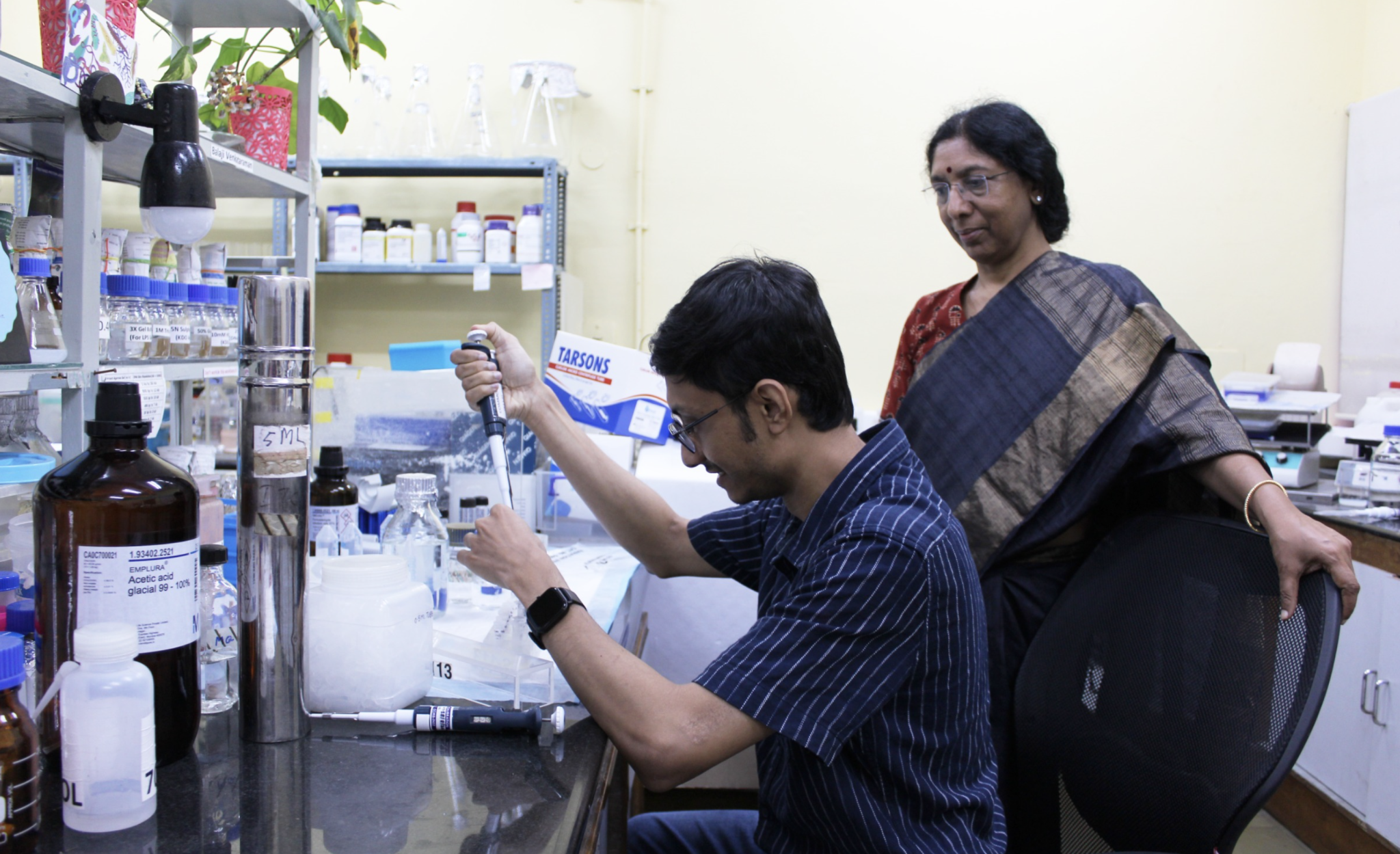 A new study led by Manjula Reddy, Chief Scientist, CSIR-Centre for Cellular and Molecular Biology (CCMB) reveals that the growth and size of bacteria like Escherichia coli (E. coli) are controlled by the availability of fatty acids, which regulate the levels of an enzyme called MepS involved in peptidoglycan synthesis.

EDUCATION
As crisis grips education in India, a two-day conference deliberates on the way forward
Neha Mishra & Sayantan Datta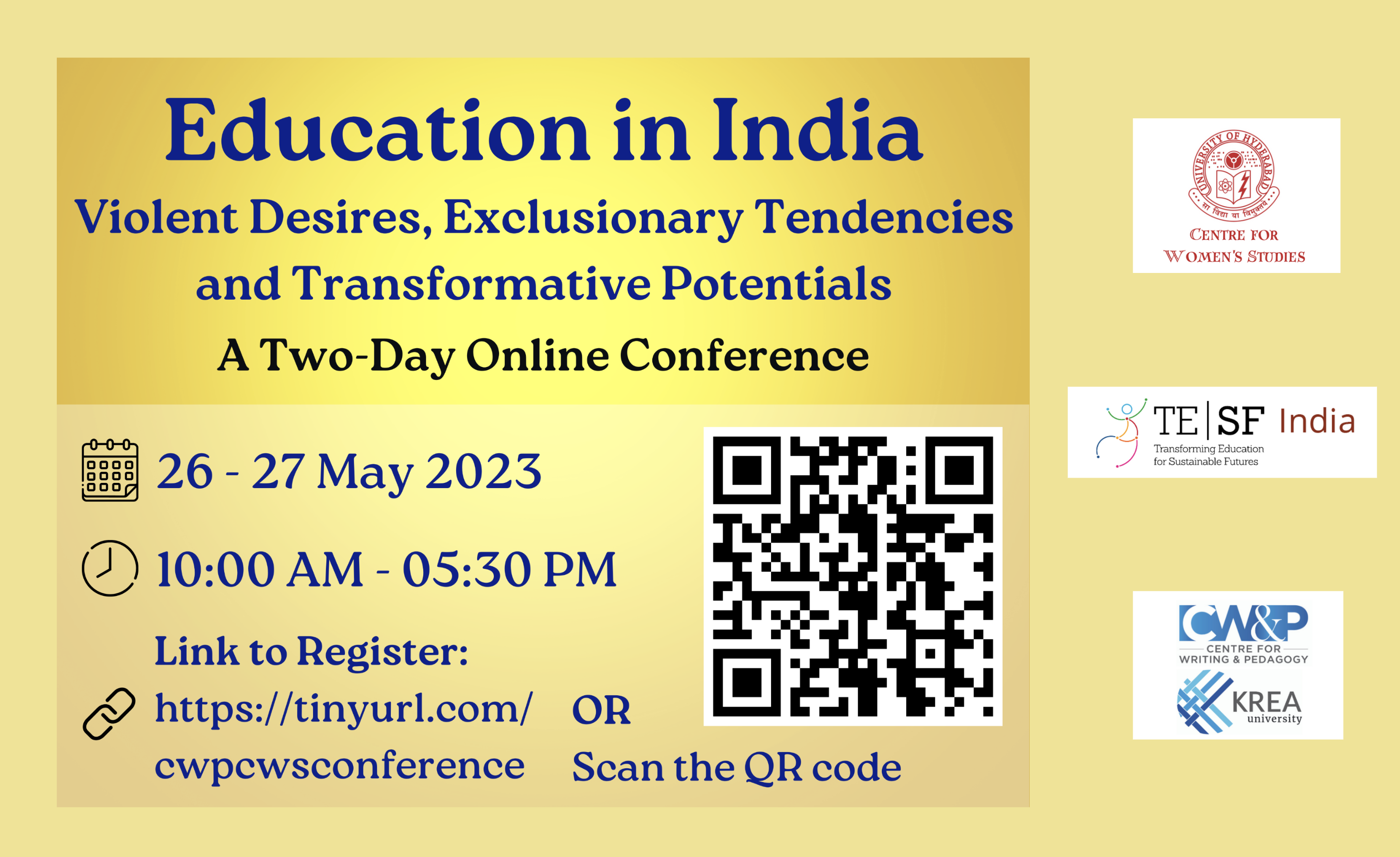 The Centre for Women's Studies, University of Hyderabad, and the Centre for Writing and Pedagogy, Krea University, brought together eight speakers to shed light on violent desires, exclusionary tendencies and transformative potentials in India's education system. This report summarises their key arguments and offers ways to undo systemic discrimination against marginalised groups in India's top education institutions, including science institutions.

ACTIVITIES AT INDIABIOSCIENCE
Meet the new interns at IndiaBioscience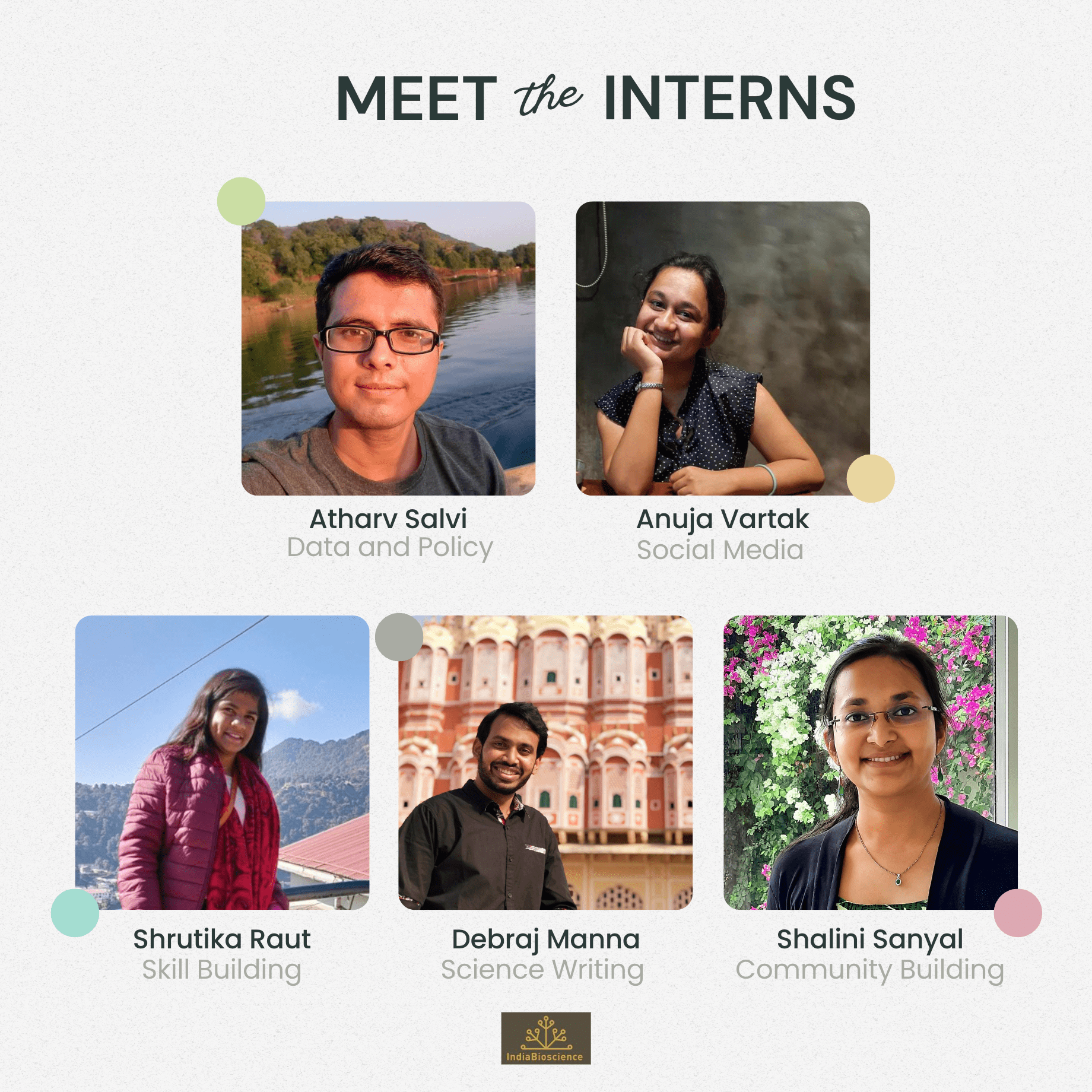 We are thrilled to introduce new additions to the IndiaBioscience team. Please give a warm virtual welcome to our talented new interns: Anuja Vartak, Atharv Salvi, Debraj Manna, Shalini Sanyal and Shrutika Raut. We can't wait to see their contributions in the coming months.

EVENTS
16th National Post Doctoral Symposium
Ashoka University, Sonipat
July 15, 2023
Registrations are open for the 6th National Post Doctoral Symposium at Ashoka University close 15th July. More can be found here.

Curiosity Conference
Indian Institute of Technology — Gandhinagar
August 11, 2023
IIT Gandhinagar's Curiosity Lab is hosting the Curiosity Conference from August 12 — 13, 2023. The two-day conference brings together researchers, educators, teachers, and professionals to facilitate conversations exploring the role of curiosity in research and practice and its importance in driving innovation and progress across various fields. Find more details about this conference here.
Learn to Make Beautiful Plots — for Biologists
Online
July 28, 2023
Target audience: Biomedical PhD students and early-career postdocs who want to pick up a bit of data analysis and visualisation skills to assist with their manuscripts, grants, regulatory or patent applications, and of course career. This is a paid workshop, select participants can avail a discount. Find more details here.

More Events
GRANTS AND FELLOWSHIPS
Biotechnology Ignition Grant (BIG) Scheme Call 23
Biotechnology Industry Research Assistance Council
August 16, 2023
BIRAC has introduced the Biotechnology Ignition Grant (BIG) scheme, which is designed to stimulate the validation of research discoveries by providing very early stage grants for the development and maturation of those discoveries. BIRAC would invite proposals for Ignition grant at least twice a year. Find more information here.
Clinical Research Fellowship 2023
Sun Pharma Science Foundation
August 31, 2023
Sun Pharma Science Foundation invites Young Clinician Scientists to avail of the ​"Sun Pharma Science Foundation Clinical Research Fellowship 2023". This Fellowship is meant to support the brilliant and upcoming early career clinicians working in India. Find more details here.

Vaishvik Bharatiya Vaigyanik (VAIBHAV)
Department of Science and Technology
July 31, 2023
The government of India organized Vaishvik Bharatiya Vaigyanik (VAIBHAV) Summit to connect the Indian STEMM diaspora with Indian Institutions. In this connection, the Government has taken a step further to shape and implement the VAIBHAV programme and is announcing VAIBHAV Fellowship Call-2023 as a first step. Find more information here.

More Grants and Fellowships
JOBS
Junior Research Fellow
The Indian Institute of Science Education and Research - Berhampur
July 23, 2023
Project Associate
DBT — Institute of Life Sciences
July 21, 2023
Junior Research Fellow
Rajiv Gandhi Centre for Biotechnology
July 14, 2023
More Jobs