From the IBS Desk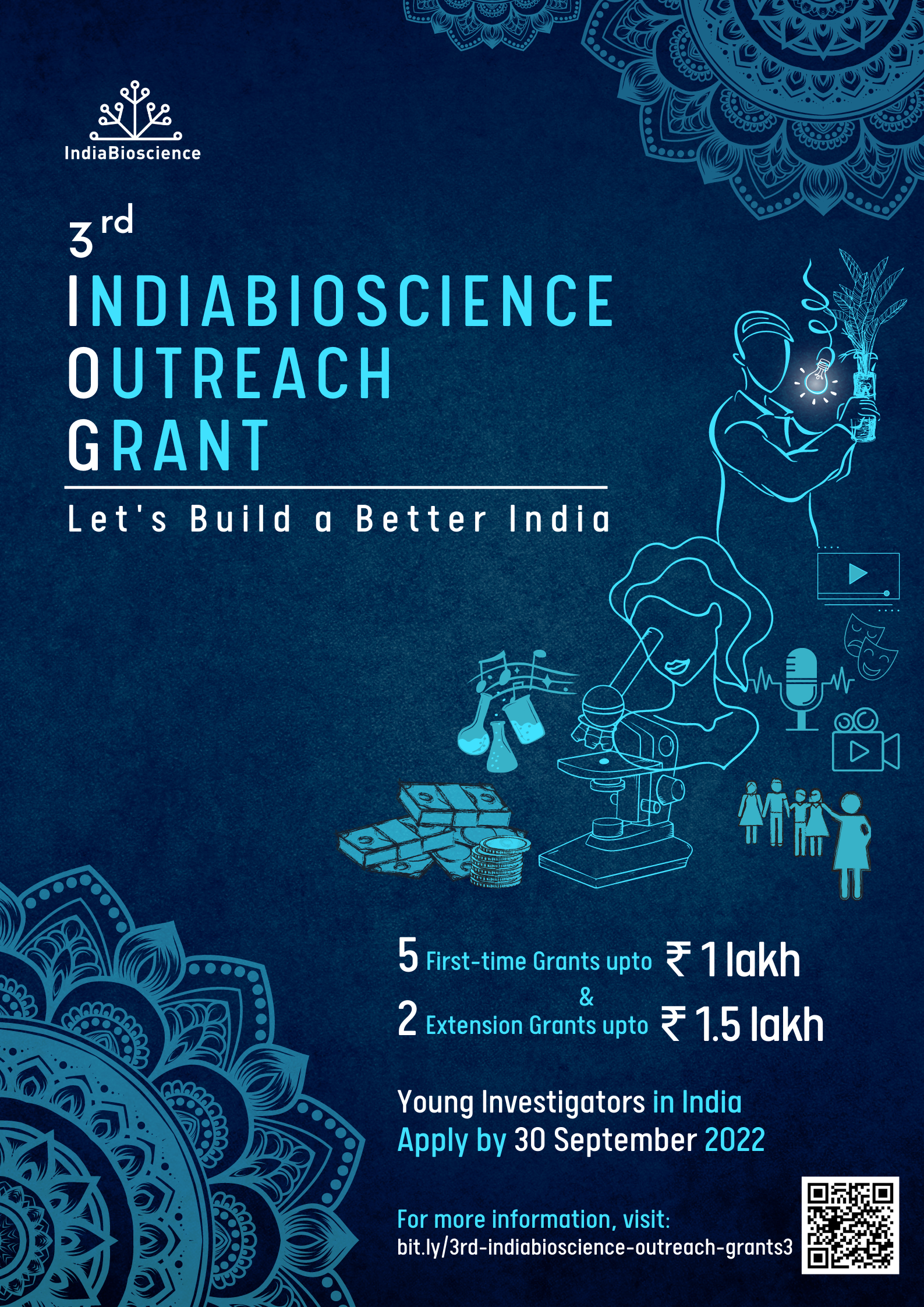 Dear Reader,
"Nothing in science has any value to society if it is not communicated", said Anne Roe, an eminent American psychologist and writer from the twentieth century. Encouraging life science researchers in the country to make their work more accessible to the general public has been one of the key missions of IndiaBioscience.
On these lines, we are happy to open the call for the "3rd IndiaBioscience Outreach Grant (IOG)." Through this initiative, we aim to provide opportunities to the Indian scientific community to carry out outreach activities for broad societal benefits. IOG is a chance for young investigators in India to engage and network with fellow scientists, science communicators, public engagement experts, or educators. Apply by 30 September 2022.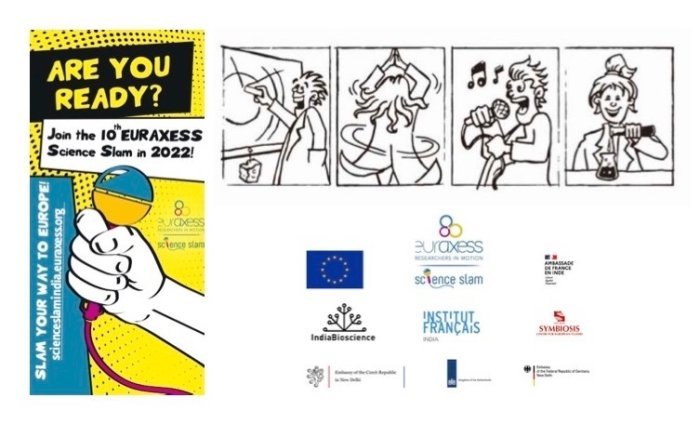 IndiaBioscience is also a partner organiser for the EURAXESS Science Slam India 2022. Get off the desk and out of the lab and communicate your research in a creative way. Join the 10th edition of the EURAXESS Science Slam India now and win a free trip to Europe! Submission is open from 22 August to 9 October.

Hungry for more competitions? The University of Trans-Disciplinary Health Sciences and Technology (TDU) is organising Ayurveda Dhara Competitions for students, with exciting cash prizes. The competitions are part of the Dhara: Vision Ayurveda 2047 event.
We would love to hear from you. Write to us at hello[at]indiabioscience[dot]org. You can also connect with us on Twitter, Facebook, LinkedIn, Instagram, YouTube, and your favourite podcast apps.

And now, here is a line-up of our activities from last month and the upcoming jobs, grants and events at institutions from across India.
Stay engaged | Enable change
IndiaBiostreams: Webinars by IndiaBioscience
In conversation with IGNITE #4
Ignite Life Science Foundation, Cactus Communications, and IndiaBioscience

Ignite Life Science Foundation, Cactus Communications, and IndiaBioscience have come together to co-host this live online event. In a relaxed and conversational format, the interlocutor for each session will uncover the background story of the work and life of an eminent scientist.
The guest of the fourth event in the series is Uma Ramakrishnan who is a Professor of Ecology and Evolution at NCBS, TIFR.
More webinars
IndiaBiospeaks: Podcasts by IndiaBioscience
Radio PDF | Mithu Baidya
Mithu Baidya in conversation with Suchibrata Borah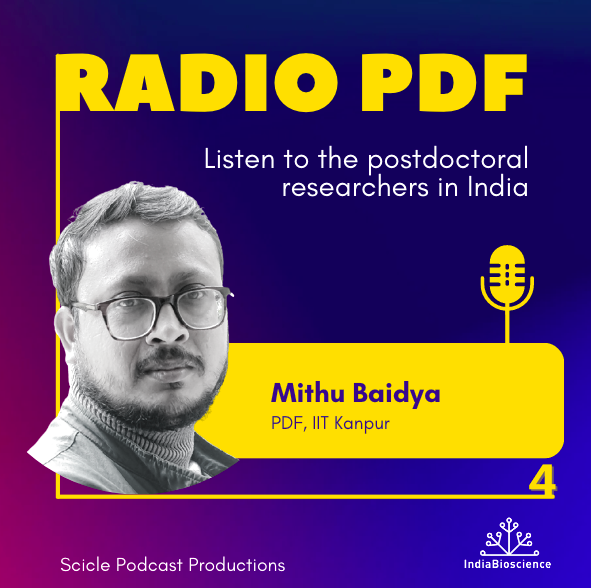 In this episode of Radio PDF, we talked to a postdoctoral researcher Mithu Baidya from the Indian Institute of Technology, Kanpur, on G Protein-Coupled Receptors.
More podcasts
Articles
Driving and sustaining change in academic research culture as an eLife Community Ambassador
Aalok Varma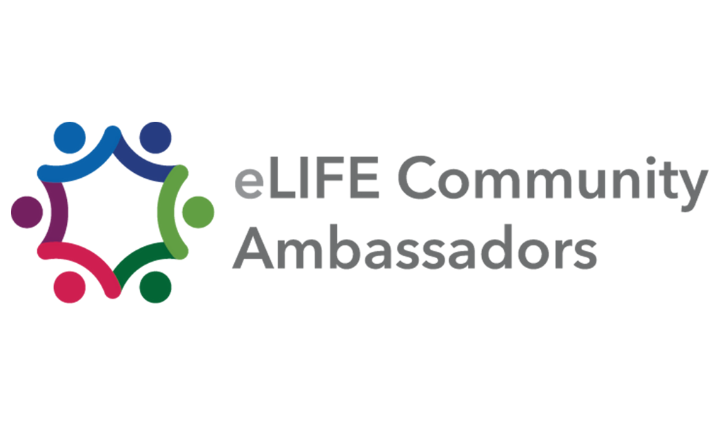 The eLife Community Ambassadors Program aims to empower a global community of early career researchers to network and take action to create a culture that benefits both science and scientists. In this article, Aalok Varma, an Ambassador in the 2019-2020 cohort, shares his experiences and learnings while working on various initiatives of eLife.
Teaching biology using analogies
Rachana Acharya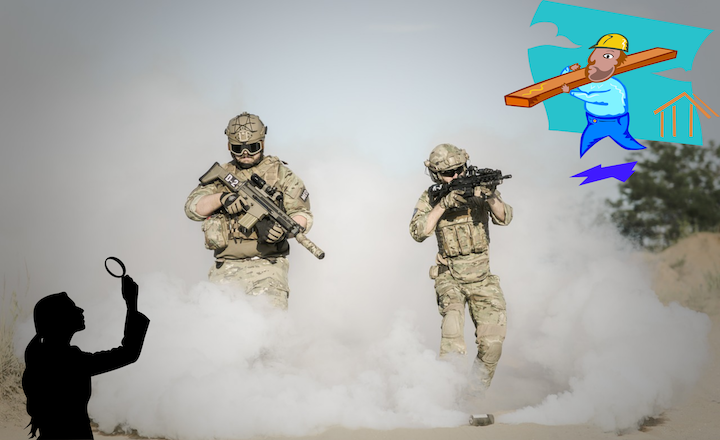 Looking for interesting analogies to explain complex biological concepts to your undergraduate students? Rachana Acharya, an Assistant Professor at Ramniranjan Jhunjhunwala College, Mumbai, shares some of them in this article.
Stories from the community: Trainee Professional Development Award granting exposure to young Indian scientists
Prachi Ojha
In the ninth article as part of community voices for international grants and fellowships, Prachi shares her journey to networking and building collaborations with the help of Society for Neuroscience (SfN) Trainee Professional Development Award (TPDA).

The untold stories: bringing to light a researcher's scientific journey
Anusheela Chatterjee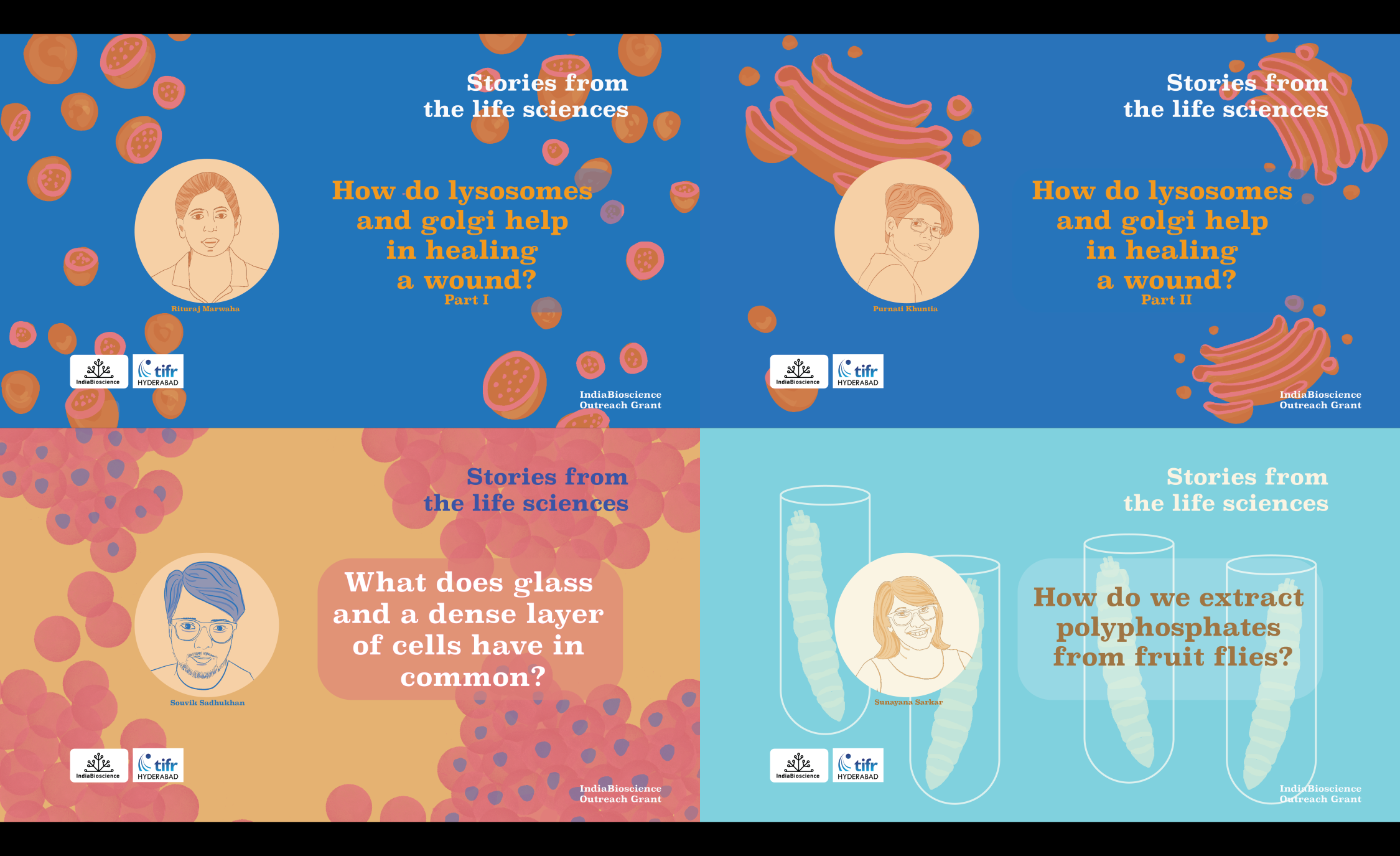 Anusheela Chatterjee and Aprotim Mazumder were among the first recipients of the IndiaBioscience Outreach Grant (IOG), launched in 2020 to encourage innovative outreach ideas. Here, Chatterjee recounts her team's experience of making a video series on the often-unnoticed stories of a researcher's journey in a scientific inquiry.
Research assessment and preprints in India: Workshop summary
Yamini Ravichandran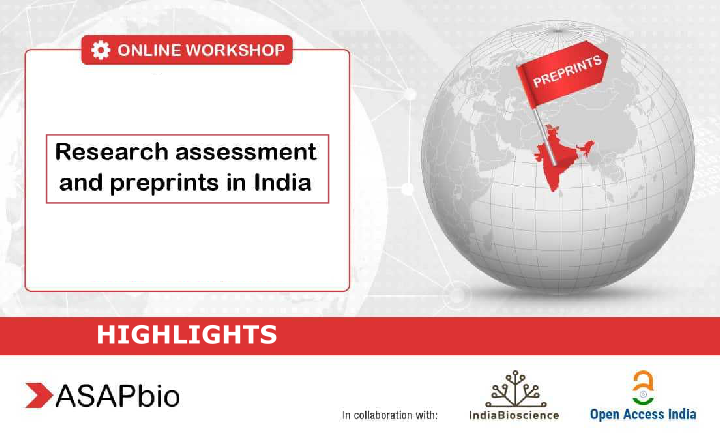 On 7 June 2022, ASAPbio hosted a workshop in collaboration with IndiaBioscience and Open Access India, to discuss preprints and the value they can add to research assessment frameworks in India. Here are the highlights of the workshop.
How do cells edit mistakes? A neglected enzyme sheds light
Somdatta Karak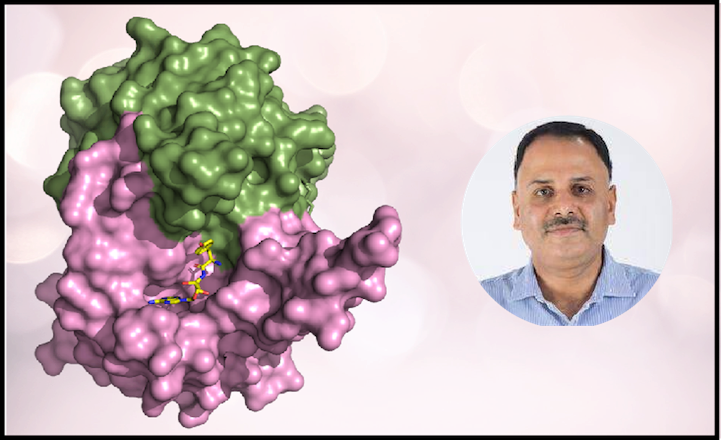 Cells perform a complex feat of picking and proofreading amino acids for protein synthesis. This article traverses Rajan Sankaranarayanan's two decades of seminal research that decoded some of the checkpoints and helped biologists better understand the error-free protein translation mechanisms.
More articles
Community Engagement & Outreach
#FundaySunday is an initiative to publicize some fun science communication from life science researchers, students, educators, and science communicators. The 2nd series of #FundaySunday posts have started. Submit your entry today at this link.
Here is an entry from August. Click on the image to enlarge it.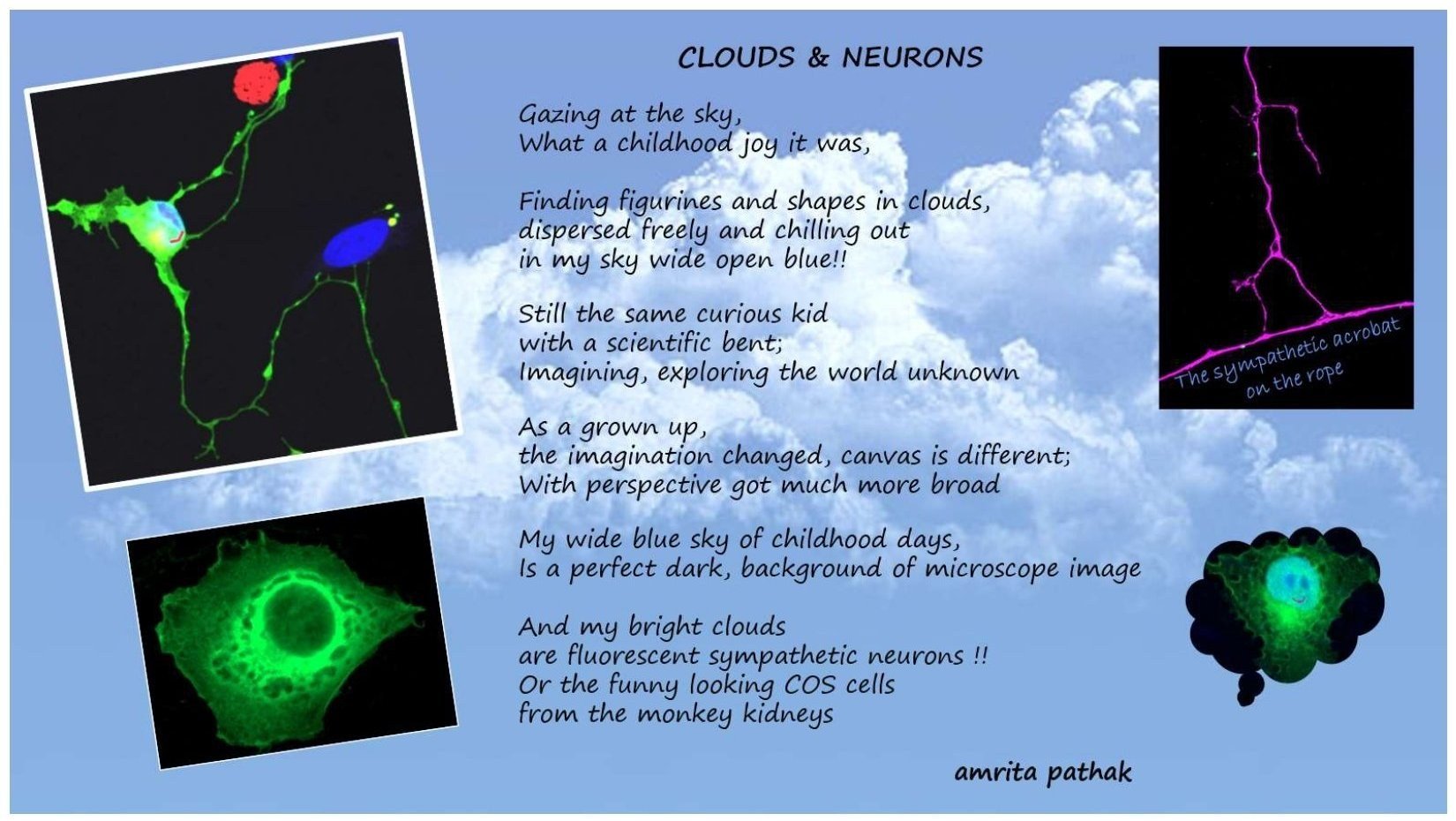 Amrita Pathak is a research faculty at Vanderbilt Brain Institute and a visiting scientist in the University of Virginia, USA. Her major interest is understanding the signal transport in neurons during nervous system development and degeneration. She is a nature lover and enjoys the artistic aspect of microscopy images.

More #FundaySunday entries
Events
International Conference on Clinical Diagnosis and Biomedical Devices (ICCDBD 2022)
Sri Shakthi Institute of Engineering and Technology, Coimbatore
11 - 12 Nov 2022 | Registration deadline: 15 Sept
Peer Review Week 2022
CACTUS
19 - 23 Sep 2022
More events
Jobs
Faculty Fellow
Jawaharlal Nehru Tropical Botanic Garden and Research Institute
Deadline: 30 Sep 2022
Postdoctoral Scientist Position
Ashoka University
Deadline: 20 October 2022
More jobs
Grants
MSCA Postdoctoral Fellowships 2022
European Commission
Deadline: 14 Sep 2022
Early Career Fellowships in Biomedical Research
DBT/Wellcome Trust India Alliance
16 Sep 2022
3rd IndiaBioscience Outreach Grants
IndiaBioscience
Deadline: 30 Sep 2022
More grants