Elsevier, a name well known among scientists has embarked upon a global series of application development competitions. The first one in 2011 was held in Turkey. This year Elsevier brought the competition to India.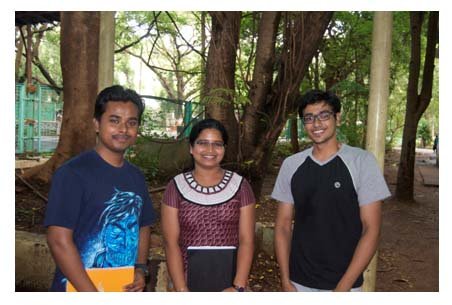 Scientists, researchers and developers, were to create customized innovative solutions to enhance the search and discovery experience for users of ScienceDirect and Scopus. The competition was conducted in two phases; phase 1 involved all the participants to submit a concept note which outlined their idea for an application. The winners of the concept round were then given 40 days to bring their idea to fruition and develop an application that could demonstratively enhance user experience. IndiaBioscience met with the winners of the competition and will be covering the top three winners of CodeForScience (CFS) India. This week we bring you the grand prize winning team of Pinaki Dey, Sudipta Sadhu and Rajiv Ram from the Indian Institute of Technology, Mumbai.
This team of M.Tech Biomedical students created IntelliScholar. Pinaki says IntelliScholar is a Web Gadget that will make your publication search not just very easy but vastly more informative. This application is freely available on SciVerse. Once downloaded, it loads up along with the publication you are viewing. It scans through the article and displays the organisms that are mentioned within the article – E.coli, Saccharomyces and so on. Then it lists all the references in chronological order. If one is interested in more information about a particular gene/​protein, you only have to double click on the gene, it will take you to a new window that displays all information available about that particular gene/​protein. A particularly interesting feature is ​'trends' which graphically displays the number of publications mentioning that gene in a particular year. Clearly showing when that first publication about its discovery came, how the field around that gene/​protein evolved and if that subject is still hot!
However, this seems to be limited for gene/​protein study trends. It would be nice to have the same for keywords within the text like say Stem Cells, or miRNA, sRNA though it is obvious that something like that could not be searched for without complicated filters to limit the amount of information one can access. Another downside is that the app being on Elsevier only searches within the Elsevier Journals, if it were to include all within PubMed, it would be able to give a more complete picture.
Nevertheless, for a newcomer IntelliScholar is the perfect app that can quickly summarize and display all required information about that field – major references, prominent authors, lab/​institutions the research is from and trends. Thus, what would have taken several PubMed searches, keyword plays can now be done in matter of seconds.