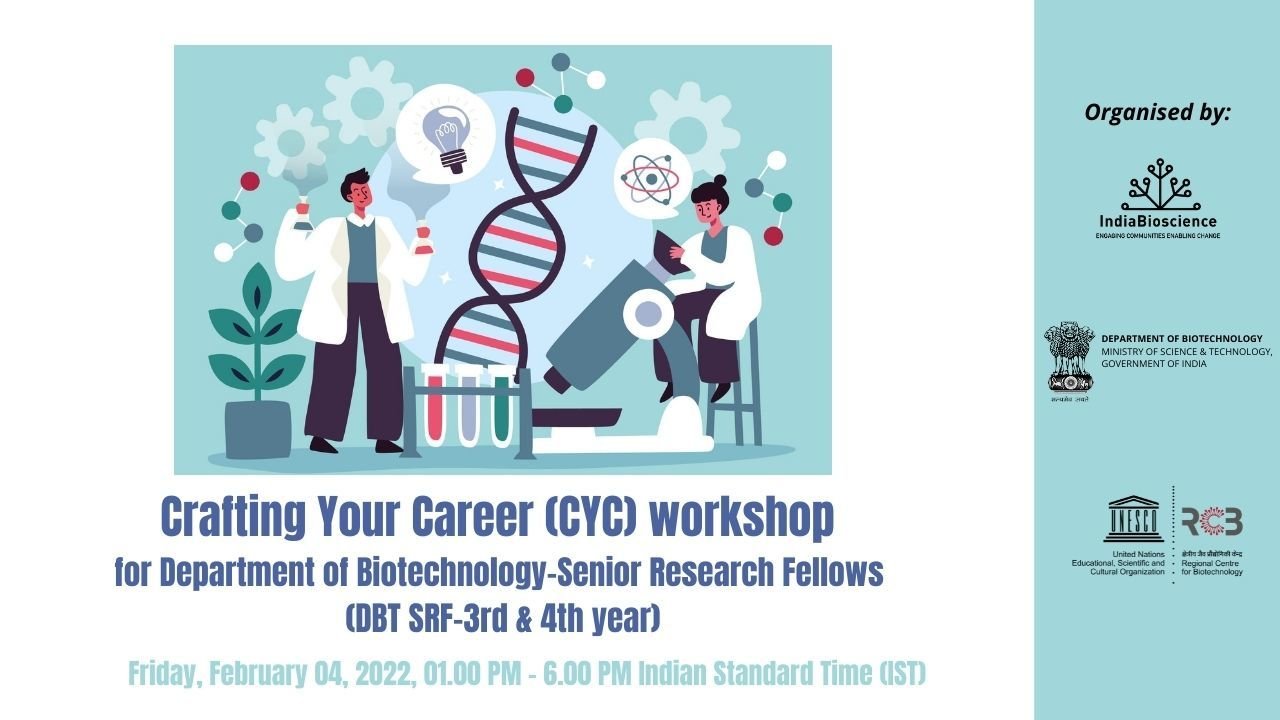 Through the ​"Crafting your Career" workshops and webinar series, we have tried to increase awareness of career options available to science students in India, as well as to provide requisite tools, knowledge, and information for navigating a career path in science. The CYC sessions touched upon aspects like building skills, networking, preparing CVs/​Resumes, researching career options, role models, professionalism, work ethics, etc. plus talks by science professionals. They are targeted at students (Masters and PhD) and postdocs who are at the cusp of moulding their careers in science. We have received overwhelmingly positive feedback on this initiative. Till now, 7 offline workshops and 6 online webinars have been conducted.


Crafting Your Career (CYC) workshop for Department of Biotechnology-Senior Research Fellows (DBT SRF-3rd& 4th year)
The ​"Crafting your Career" workshop is a training opportunity for Ph.D. students designed to provide the requisite knowledge, tools, and techniques to equip and empower science graduates to navigate and craft their career paths.

Workshop Date & Time:
Friday, February 04, 2022, 01.00 PM — 6.00 PM Indian Standard Time (IST)

Objective:
To train and equip (DBT SRFs‑3rd& 4th year) with the skills to navigate a career in science.
Assignments/​Tasks:
A few interactive elements will be part of the workshop such as group assignments, audience polls, quizzes, etc.

Peer Network:
This workshop is organised by IndiaBioscience in partnership with the DBT HRD Project & Management Unit (DBT HRD PMU), Regional Centre for Biotechnology (RCB), Government of India.

Organisers:
IndiaBioscience: Shantala Hari Dass, Suchibrata Borah, Zill-e-Anam
DBT HRD PMU, RCB: Feroz Khan Suri, Elsy Samuel, Dilip Joy T

04 Feb 2022: 01:00 - 01:25 PM IST

Welcome & Housekeeping instructions

---

04 Feb 2022: 01:25 - 02:35 PM IST

Part 1- Foundation Building

Topics: Introduction of science careers, Choosing a career path, Building skills for a career path, Examples of science career + top skills required, In- session exercise

---

04 Feb 2022: 02:35 - 02:40 PM IST

---

04 Feb 2022: 02:40 - 03:55 PM IST

Part 2- Skill Development Session

Topics: Quick Q&A, Navigating the job application process, Understanding job postings, CV, Resumes, Cover letters, Information interview, Breakout room- small group practice exercises

---

04 Feb 2022: 03:55 - 04:05 PM IST

---

04 Feb 2022: 04:05 - 05:55 PM IST

Part 3 - Networking, Guest Talk & Q&A

Topics: The science and art of networking, Professionalism and work ethics, Role models and mentors,
Guest talk by Fathima Benazir, Co-Founder, Azooka, Q&A session (all mentors),

---

04 Feb 2022: 05:55 - 06:00 PM IST
The workshop will be hosted over Zoom. This workshop is only open to pre-selected participants who will be intimated of meeting links via email.
Important: Participants must register for this workshop by 01 Feb 2022.
Guest Speaker
Fathima Benazir
Co-Founder and Chief Scientific Officer at Azooka
Fathima J Benazir is a Molecular biologist from the Indian Institute of Science. She is the Chief Scientific Officer and Co-founder of the deep-science startup, Azooka Labs. She also heads the R&D division designing and developing a fluorophore library for the study of molecular components. She was recently awarded the National Startup Award for the Best Women-led enterprise (2020).
Fathima Benazir
Trainers
Trainers -
1. Shantala Hari Dass (Associate Director, IndiaBioscience)
Shantala completed her PhD in neuroscience from Dr Ajai Vyas's lab at NTU, Singapore studying the fascinating induction of a fatal attraction in rats upon Toxoplasma infection. She moved to Dr Michael Meaney's lab at McGill, Canada for her postdoctoral studies. Across the continents and research questions, her interest in communicating science and building and supporting a scientific community has stayed strong. In this phase of growth at IndiaBioscience, she is keen to expand their activities bringing greater national and international visibility to the Indian life science community.
2. Suchibrata Borah (Program Manager Digital Initiatives, IndiaBioscience)
Suchibrata has a PhD from Tezpur University, Assam in the field of metal-organic frameworks (MOFs) and their applications. She started her career in science communication as a Technical Officer (Sci. Comm.) at IISER Pune after a short post-doc at IIT Bombay. She has experience in hosting interviews, creating content for research videos, and organizing workshops. She joined IndiaBioscience to further enhance her skills and knowledge in the field. She wishes to connect the rural places of India to increase awareness and rational thinking with the help of science communication.
3. Zill-e-Anam (Program Coordinator Outreach, IndiaBioscience)
Zill-e-Anam did her PhD in Directed Evolution and Codon Shuffling from Special Centre for Molecular Medicine, Jawaharlal Nehru University, New Delhi. She worked on developing peptide-based therapies for the treatment of Malaria. Her strong interest in making science accessible and inclusive led her to venture into science communication and outreach, which she continues to work on. She also has experience in science policy. At IndiaBioscience, she contributes to the outreach activities, IndiaBioscience Outreach Grant, and International Grants Awareness Program. Through her work, she aims to raise awareness about outreach activities in India, international grants, and the success rate of applications from India. She is also an avid traveler and an advocate of mental health.

Shantala Hari Dass

Executive Director, IndiaBioscience


Suchibrata Borah

Program Manager - Digital Initiatives, IndiaBioscience

Zill-e-Anam

Program Coordinator, Outreach, IndiaBioscience