Workshop on Transdisciplinary Approaches to Biodiversity Governance
Event Details
The field of biodiversity conservation and utilization faces similar challenges. People from multiple disciplines are trying to understand the complexities of biodiversity in their own way. Many a times, our own discipline limits us in comprehensively understanding the interconnectedness and interdependence of elements of biodiversity. But a coherent understanding is crucial for developing and implementing an effective framework for biodiversity governance.
In this context, TDU in partnership with UN Environment is organising a workshop to further the understanding of biodiversity governance through transdisciplinary engagement among people from different disciplines. The workshop seeks to address three main questions:
What are the kinds of questions that people from different disciplines ask about a given context? What are the kinds of answers that they provide?

How do we understand the perspectives of and knowledge of someone from a different discipline? How are these multiple perspectives important?

What are the most effective ways for bringing coherence and synergies between people from different disciplines?
The workshop aims, at
Bringing together students and early career professionals from different disciplines such as social science, science, technology and law to discuss biodiversity governance

Promoting transdisciplinary approach in collaboration and outputs relevant for biodiversity governance including adjudication

Creating a network of individuals interested in transdisciplinary approach to biodiversity governance
Facilitators
The workshop will be led by Prof. Balakrishna Pisupati, Vice Chancellor of TDU (View Profile), and supported by
Preeta Dhar, Faculty, Srishti Institute of Art, Design and Technology

Stella James, Research Affiliate, Nature Conservation Foundation

Alphonsa Jojan, Senior Legal Officer and Researcher, TDU
The workshop will also have sessions from eminent persons in the field of biodiversity.
Participation Process
To participate in the workshop, please fill this form to register.
Please note that you are required to submit an original piece of writing of not more than 500 words based on the hypothetical situation which is given in the form. The form can be edited before you submit.
Since the workshop is geared towards students and young professionals, we request only those of you who are 35 years or younger, to register.
Registration Fees
(To be only paid by selected participants)
Category 1: Regular students (except PhD scholars): INR 500

Category 2: PhD scholars, research fellows and young professionals: INR 1000
Shared boarding accommodation will be available for limited number of participants on a first come first served basis and charged separately. The registration fee, however, covers material, lunch and snacks.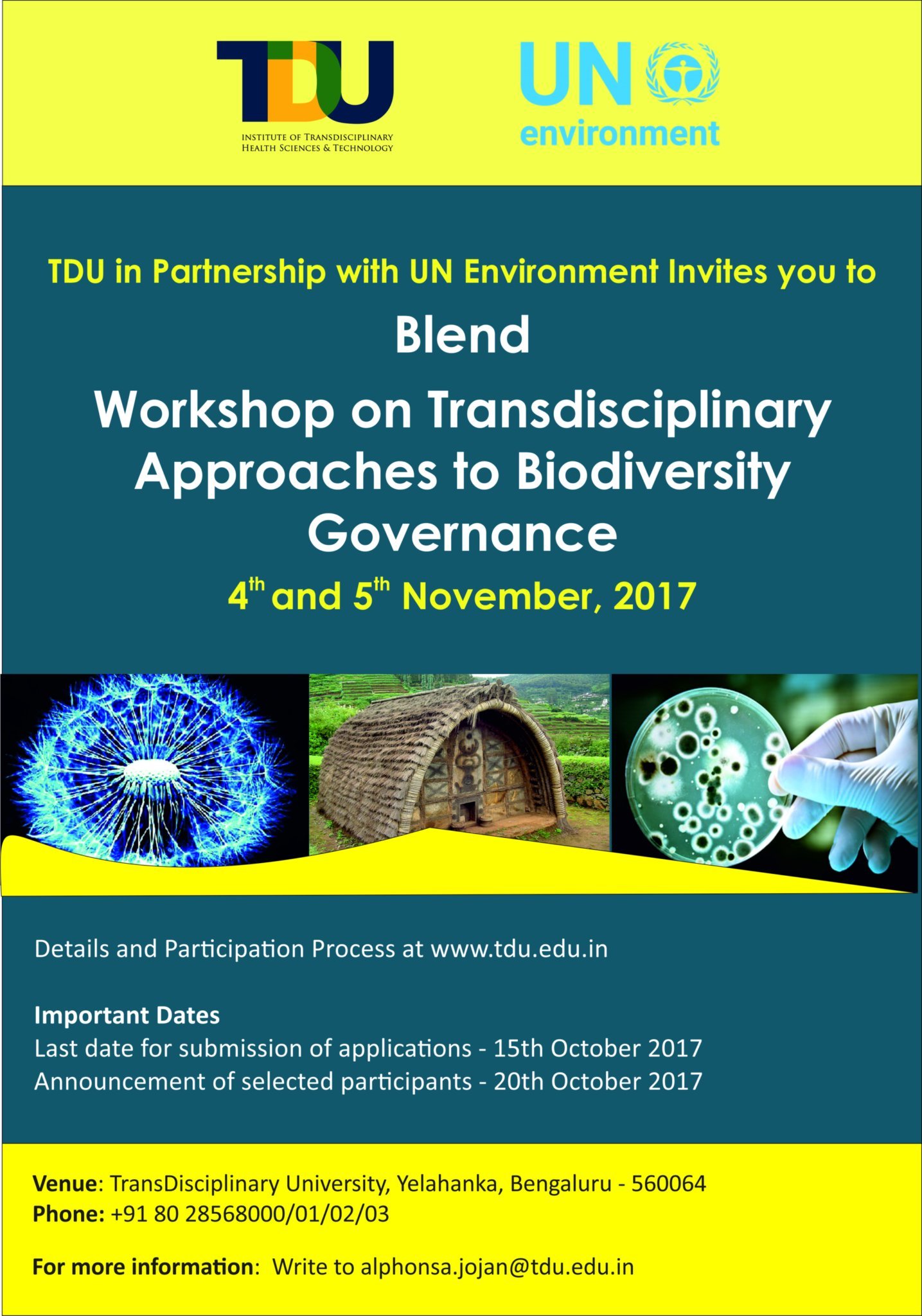 Click here for more information.