Event Details
Conference epiSTEME is a biennial international event to review research in science, technology and mathematics education (STME). The conference is hosted by Homi Bhabha Centre for Science Education (HBCSE), Tata Institute of Fundamental Research (TIFR). Initiated in 2004, the primary aim of epiSTEME conferences is to nurture and promote scholarship in STME research, a nascent area that is steadily gaining recognition in India.

The conference, by bringing together leading researchers from across the globe, has been playing an important role in the development of the field in our country. Conference epiSTEME is unique in its addressal of multidisciplinary issues pertaining to the teaching and learning of science, technology and mathematics. It is arguably the flagship conference in STME research in India, an area that holds great potential owing to our huge, aspiring student and teacher population.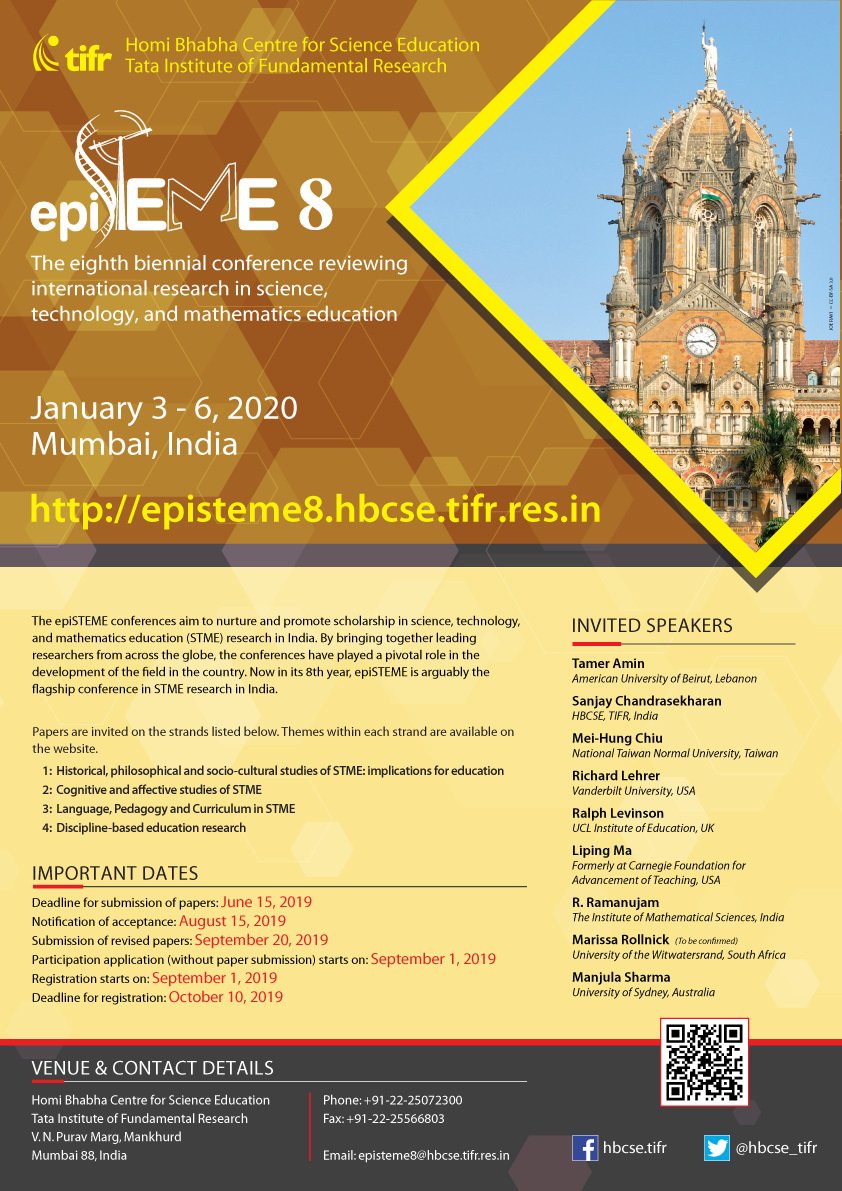 Important dates:
Deadline for submission of papers: June 15, 2019
Notification of acceptance: August 15, 2019
Submission of revised papers: September 20, 2019
Participation application (without paper submission) starts on: September 1, 2019
Registration starts on: September 1, 2019
Deadline for registration: October 10, 2019
Conference: January 3 — 6, 2020

Twitter link: https://​twit​ter​.com/​i​/​m​o​m​e​n​t​s​/​1​1​2​5​6​3​4​0​4​0​8​9​4​0​87169

Facebook event link: https://​www​.face​book​.com/​e​v​e​n​t​s​/​1​0​1​0​5​0​2​1​9​6​0​0​6489/

For more information or questions please feel free to

write(harita@​hbcse.​tifr.​res.​in) or call on 8866444135.