The year 2022 was a time of gravitating towards the familiar and navigating the coexistence of in-person and virtual interactions. For IndiaBioscience, this year was full of new initiatives and collaborations, as well as the opportunity to reach out to diverse digital communities. In this article, Shantala Hari Dass, Executive Director, IndiaBioscience, reflects on what this year has meant for IndiaBioscience.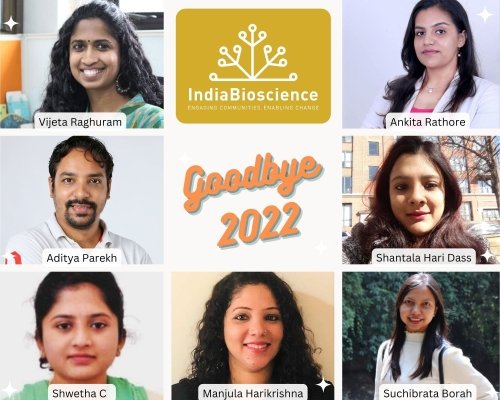 2022 has drawn to an end! The past two years were unprecedented in grinding to a halt all in-person engagements. This led to a massive re-evaluation of IndiaBioscience's practices and systems, offering us a rare opportunity to leverage a hunger for scientific content and access diverse digital communities. As for many of you, 2022 was an exploration of how to balance the pendulum between past norms of engagement and the new expansive digital arena that we had built, without letting the pendulum swing too far in either direction.
Here, I would like to take you on a trip to look back on how the year 2022 unfolded for IndiaBioscience.
Without missing a beat, we continued to host our annual flagship event- the Young Investigators' Meeting (YIM). Despite uncertainty regarding whether in-person events would be possible, we were certain that YIMs would take place as scheduled. Erring on the side of caution we decided to conduct the YIM and subsequent PDF Satellite Meeting in a virtual format. This unique experience allowed us to re-evaluate the core of the meeting stripped of all the issues related to travel and logistics. The IndiaBioscience Team and the Organising Committee (Felix Bast, Megha, Mohit Kumar Jolly and Shantala Hari Dass) had to think creatively about creating virtual interactive platforms. Perhaps we might have hit upon a formula that works. This gives us food for thought on how we can continue to host virtual events that still foster meaningful interactions. You can catch up on the talks at YIM 2022, here.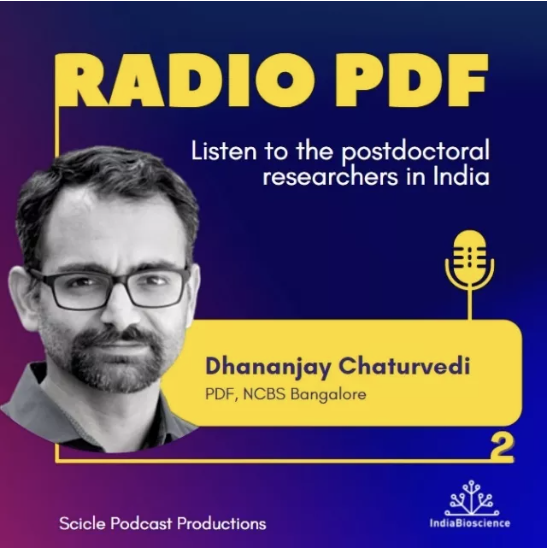 Did you know that IndiaBioscience is on the cusp of turning 15? Over the years we have gleaned many a glimpse into the issues faced by the life science (research) community in India through candidate discussions with independent researchers, participating in meetings/​conferences, etc. We reached a tipping point where we wanted a comprehensive way to be able to critically assess and discuss this. As a first-of-a-kind activity for IndiaBioscience, we launched a nationwide survey to understand the critical needs and issues of independent scientists in Indian science academia. Over 500 researchers took the time to fill out this extensive questionnaire- thank you! To bring to the foreground a sometimes underrepresented part of our community, we launched a podcast series, ​'Radio PDF' a space where the post-doctoral community in India can talk about their research, career and life beyond.
In 2022, we had multiple initiatives that facilitated life science researchers across the career stage to hone their skills. Over this period, Crafting Your Career (CYC) workshops continued both offline and online. In total, we conducted six sessions this year with an overwhelming response from the community. In partnership with ASAPBio and Open Access India, we organised a virtual workshop on ​'Research assessment and preprints in India'. Over the last few years, we have consistently tried to conduct small group e- workshops which include a component of practice and individualised feedback. This is an attempt to provide skill-building opportunities for people who might not be able to attend in-person sessions due to reasons such as geography, work schedules etc. With Cactus Communications, we have launched and conducted the ​'WriteRight series in Research Communication'- an intensive, small-group workshop on research communication for PhD students and Postdoctoral Fellows in the life sciences in India.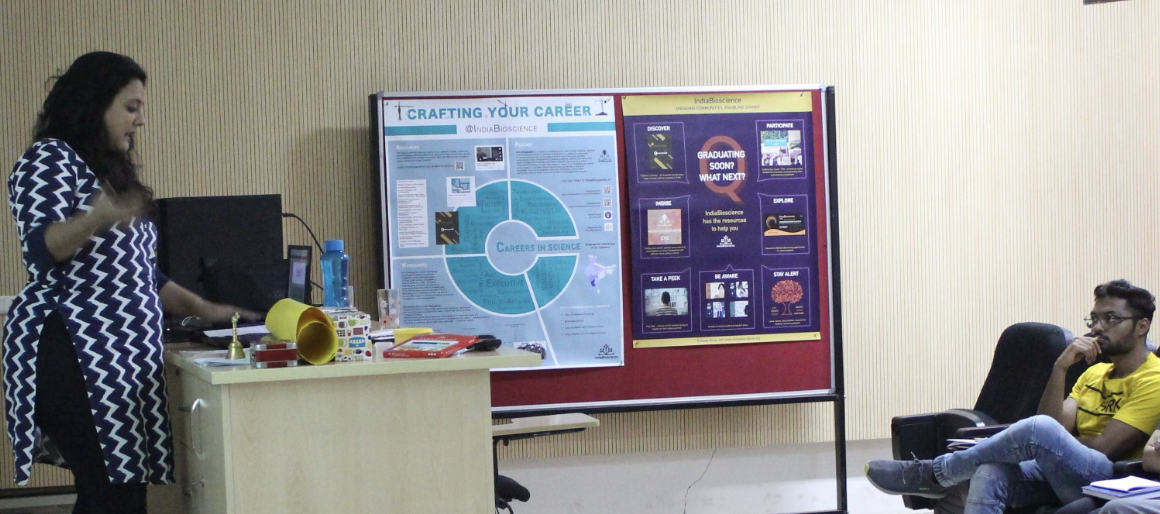 We passionately believe that science should be taken out of research labs. We rolled out the third edition of the IndiaBioscience Outreach Grant(IOG)in 2022 to help strengthen and integrate outreach activities as part of research programs. To expose undergraduate students to some of the exciting problems that scientists in the city are trying to solve and to take the life sciences beyond what they read in their textbooks, we organised a one-day seminar series on ​"Emerging Trends in Life Sciences" at and with NMKRV College, Bengaluru. To make such discussions about the stories behind research with stellar scientists from across the world more accessible, we (together with Ignite Life Science Foundation and Cactus Communications) launched the ​'IN CONVERSATION with IGNITE' webinar. These are insightful, candid, insightful conversations between two scientists sans any jargon, presentations etc. Our purpose in the area of education is to be a bridging platform between researchers and educators- a space to discuss and highlight pedagogical tools and innovations in the teaching of life sciences at the undergraduate level. This past year, we hosted webinars for educators and researchers exploring digital education through the lens of NEP 2020 and ​'bioethics' in the Indian context.
IndiaBioscience launched some useful resources for the community this year. We published a booklet, ​'On the Road to Excellence — Funding opportunities for Life Science Researchers in India'. This resource focuses on the funding opportunities available for life science researchers in India to pursue research and related activities. It covers national and international fellowships, grants, awards and special schemes in addition to travel and meeting/​event support. We continued to publish 1 – 2 articles every week- these cover news pieces based on recent discoveries by the Indian scientific community, columns, opinions and articles relevant to life science professionals.
As we kickstart our 2023, this was just a sneak peek of what we achieved last year. Reflecting on our activities in the past year, we are appreciative and thankful for the support we have received from each of you. We hope you will stay connected with us, continue to support us, and be our brand ambassadors. In return, we hope to work with you to advance and evolve the life science ecosystem.
We wish you a happy, fulfilling and successful New Year 2023.
Stay engaged to enable change!