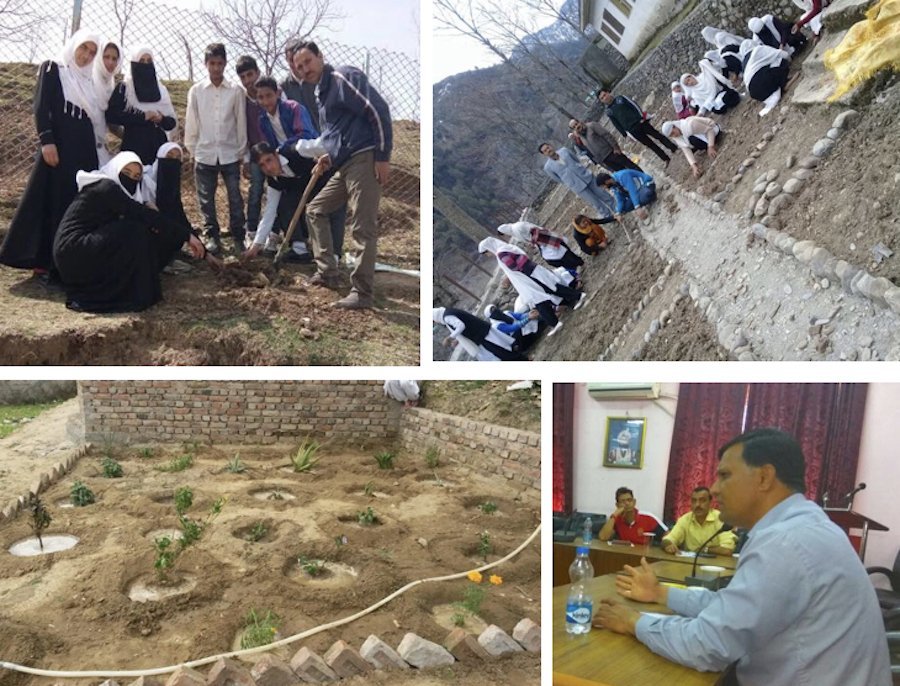 For Manzoor Javaid, it started off as a hobby — he maintains a herbal garden at his house in Achabal (Kashmir), that now has more than 150 species of medicinal plants. One of his friends, a faculty at Zoology Department in Boys' Degree College in Anantnag, invited him to give a talk and share his knowledge of medicinal plants with students and faculty. Out of conversations that followed came an offer from the department: would he help them set up a herbal garden on their campus? He, of course, was more than willing! Similar incidences followed in couple other colleges in the area as well. ​"I gave them some plants to start a garden, technical expertise as they needed," says Javaid.
Word spread, ultimately reaching the ear of State Education minister, Naeem Akhtar; who approved funds to set up herbal gardens in schools and teacher training centres in Kashmir. For Manzoor, there was no looking back after that point. He was made incharge of the Coordination Cell of the Herbal Garden Scheme in the State's Education Department. This scheme is now a flagship program under Rashtriya Madhyamik Shiksha Abhiyaan in J&K state.
As of December last year, this scheme expanded to include education institutions in Jammu division as well. Over a span of mere four months, the movement has now gained ground in over 600 educational institutions (including schools, degree colleges, and teacher-training centres).
The working of an individual herbal garden in an educational institution generally requires a curator — one of the teaching staff, who has the main responsibility for upkeep. But setting up and day-to-day maintenance is very much a collaborative effort between teachers and students. There are also volunteers who help coordinate at various levels of organisation (district, province, and so on).
Javaid's Herbal Garden Cell provides plants, and funds of course, for institutions to set up their own herbal gardens. But they go one step beyond that. They also connect schools and colleges with other sources: the IIIM (Indian Institute of Integrative Medicine) for instance, has many nurseries; as does the State Forest Department. In so doing, his office is promoting collaboration across many government institutions.
Aside from greening of campuses, this movement also serves to promote conservation of local biodiversity. ​"Many locally found medicinal plants are on the verge of extinction. And for their part, people lack the basic know-how on the wealth of medicinal plants we have around us," says Javaid. Through participation, students and teachers not only get to know about plants around them but also their value to local communities, in their traditions, as well as their medicinal value.
His vision for the future of this movement, he says, is for ​"students to have ownership of gardens they help maintain at their institutions. There is a lot of scope for student-led research activities through their participation. After first couple years, we might also be able to commercialise — sell some of the plants from school/​college gardens, or we might be able to formulate a product out of the plants — many possible ways that can yield monetary benefit to the students involved."