Felix Bast is an Associate Professor of Molecular Phylogenetics at the Central University of Punjab. In this article, he describes the MentX initiative, which is a pan-India open platform for matchmaking between mentors and mentees for the exchange of ideas. The spring 2021 call for MentX is currently open with the deadline of 30 April 2021.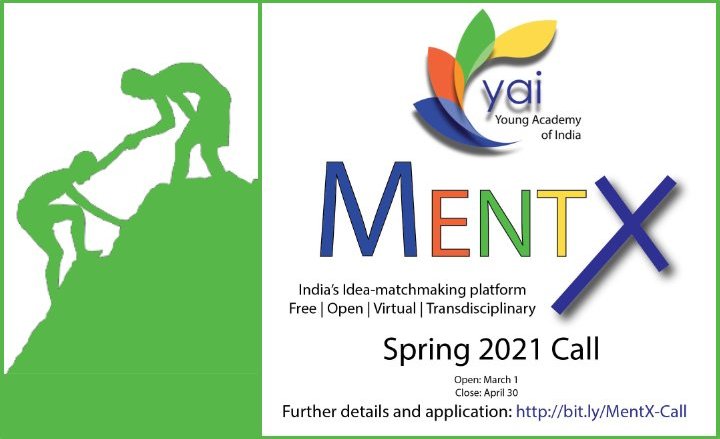 India is home to 1.4 billion people — nearly one-sixth of the world's population. 600 million Indians — almost half the country's population — are less than 25 years old. This rich human resource , if effectively trained, can be leveraged to realise an immense potential for national growth. However, our education system is heavily skewed towards rote-learning and cracking competitive examinations.
Nobel laureates Abhijit Banerjee and Esther Duflo's pioneering works on the Indian education system revealed that the system is biased towards top achievers while ignoring the needs and outcomes of average and low performers. Their work also revealed that the focus of most teachers is on completing the assigned syllabus, not on assessing whether the students could achieve the desired learning outcomes or not.
The concept of mentors and mentoring mostly remain unexplored in the present Indian education system, except in a few prestigious higher education institutions. Oftentimes top-achieving students approach their teachers for general academic and career guidance, that can be considered as a ​'proto- mentoring' . There are indeed academic internship programs in the country, Science Academies' Summer Research Fellowship Program coordinated by Indian Academy of Sciences-Bangalore being the most famous example (I am an alumnus of this program ).
However, such programs usually have strict eligibility criteria, are research-focused and are only open for students enrolled in recognized educational institutions , not for the general public. In addition, there has been no nationwide initiative for virtual open idea-matchmaking . Frequently, all that the youth need is personalized guidance and compassionate motivation from mentors to find the right career path. The need for this gentle push is what motivated me to kick-start India's first virtual mentoring platform MentX: Mentor-Mentee Exploration and Exchange.
MentX came into existence in July 2020, during the COVID-19 lockdown. It was created as a free and open platform to match mentees with mentors to foster interdisciplinary dialogues. Celebrated Scottish morphologist D'Arcy Thompson wrote in ​"On Growth and Form" in the 1910s:
"Let me tell you that the fertile field of discovery lies for the most part on those borderlands where one science meets another… Try also to understand that though the sciences are defined from one another in books, there runs through them all what philosophers used to call the commune vinculum, a golden interweaving link, to their mutual support and interpretation."
Nurturing trans-disciplinary knowledge exchange remains the main motive behind MentX. Coincidentally, the New Education Policy (NEP) 2020, which was drafted around the same time, focused on the need to support transdisciplinary research in the country.
Today, the MentX database lists approximately 20,000 mentees and mentors from across India, covering almost all areas of rational knowledge, including sciences, humanities, business, and even arts and entertainment. MentX could very well be one of the world's largest mentoring platforms. In comparison, Growthmentor enlists 100+ mentors, SCORE has 10,000 members, iMentor has 10,000+ members, and DesignLab has 3000+ students.
The MentX program is entirely free and open; we did not insist on any minimum academic qualifications for mentees or any minimum experience and/​or professional recognition for mentors. Mentees who were benefitted include hundreds of school students and unemployed youths, while our mentors included professional artists and dancers with no formal education.
An example of the transdisciplinary research that a MentX intern has undertaken is a project titled ​'Physics and genetics behind masterly execution of Indian classical dance' in which a student from Delhi who is passionate about Indian classical dance got a rare opportunity to work with two mentors: Anjana Munshi, a renowned geneticist at Central University of Punjab, and V. Madhurima, a physicist at Central University of Tamil Nadu.
The impact of MentX has been profound; thousands of young people across India, especially those from rural communities, got a rare chance to experience the thrill of knowledge discovery by undertaking brief research projects. Most of the projects were transdisciplinary in nature. The mentees received much-needed career guidance from the mentors. Mentors were specifically instructed to encourage mentees' holistic personal development, enabling them to achieve their career goals. MentX paved the way to foster professional connections that are expected to last a lifetime for both mentees and mentors.
Apart from boosting their self-confidence, mentorship helps the mentees identify specific weaknesses and strategies to compensate for the same, as well as personalized life-coaching. The research undertakings as part of MentX have resulted in several peer-reviewed publications (e.g. Mal, N., Srivastava, K., Sharma, Y. et al.Facets of diatom biology and their potential applications. Biomass Conv. Bioref. (2021)). One of our interns, Sonit Sisolekar, a plus-two student from Pune, won this year's Prime Minister's Bal Puraskar award.
The MentX initiative is one amongst many activities of a new young academy born during the COVID-19 lockdown period: Young Academy of India (YAI). YAI is the first and the only young academy in India that is open to all fields of rational knowledge. Membership of YAI is open to everyone; there is no insistence on minimum qualifications or experience. All interns who complete their two-month MentX internship program become inducted in YAI as associates, providing them with a lifelong platform to contribute to science education in the country.
YAI is actively involved in science communication and outreach activities through YouTube videos in multiple Indian languages focused on scientific thinking, sustainability, health and the environment. YAI is a youth think-tank organization in the country — a collective voice of young scholars from all disciplines, both sciences and humanities. The academy brainstorms both international and national issues regularly and issues thematic white papers on various policy-related contexts.
Putting on the shoes of an ​"ideological matchmaker" in a country flooded with matrimonial matchmaking websites is a unique and very satisfying experience of my life. YAI-MentX continues to transform India's youth, helping them mould their career and enabling them to be responsible citizens who can contribute to building our national wealth and well-being in all spheres.