Misinformation and its spread like wildfire is one of the greatest challenges we face. WhatsApp plays a big role in spreading information, disinformation and misinformation. In this article, Rupsy talks about a WhatsApp group set up to bridge the gap between journalists and scientists thereby curbing the spread of misinformation.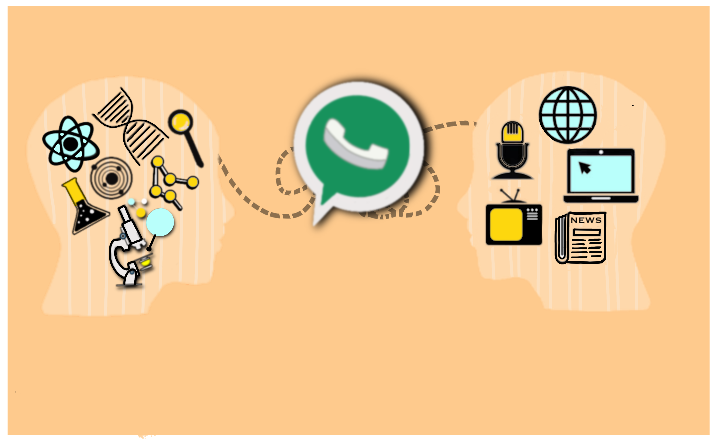 'A bane or a boon' – though a cliché, there couldn't be a better phrase to describe the ease and pace of communication that WhatsApp provides. With the instant messaging app and its broadcast lists, the information, disinformation and misinformation spreads like fire. During the last two years of the pandemic, WhatsApp emerged as one of the primary sources of COVID-19 misinformation. Most of the times, the content shared used ​'science‑y words' but was not scientifically accurate. Misinformation effects the actions of readers and can have broad societal implications.
Information also comes in multiple forms sometimes overselling scientific results. Dissecting these claims, comprehending the nuances of research and sifting facts from jargon requires journalists to connect to experts on the subject which is often a daunting task. Aniket Sule, Associate Professor at Homi Bhabha Centre for Science Education (HBCSE), TIFR, Mumbai, contemplated using WhatsApp for fast and accurate exchange of information by bringing these two crucial stakeholders together — people who do science and write science. ​"I have been interacting with journalists in Mumbai for more than a decade. Print and television journalists are often on tight deadlines. They might not have the expertise to comprehend the technical details of a press release or recent research. Often press releases are made in the evening when journalists hardly have time since the news needs to be up the next morning", says Aniket.
Aniket received requests from journalists covering stories in different areas of science. Soon Aniket realised that he was not always the right person to tease out the details for the journalists. ​"Though I'd put them in contact with experts in the field, the chances of getting factually correct information depended upon the availability and promptness of the expert", says Aniket. Hence, he started a WhatsApp group with the aim to make communication between scientists and journalists less challenging. The platform was to help journalist reach experts quickly and still produce scientifically sound information in a short time.
Another motivator for Aniket to begin the WhatsApp group was his work during COVID-19 ​"Towards the end of 2020, while working on the Indian Scientists' Response to COVID-19 (ISRC), I realized that even if we produce outreach material on COVID-19, unless journalists had access to this, the material will not reach people", recollects Aniket. The WhatsApp group in essence helps everyone — scientists, science educators, writers, editors, practitioners, content developers who aim to improve and expand the perspectives and understanding of science in society. ​"I was one of the few people at ISRC in touch with journalists, many other scientists who were a part of ISRC were enthusiastic about science communication but they did not know whom to contact and how to help. Chasing every story while being objective and with scrupulous attention, was tough for journalists. Hence, 2020 was the right time for this initiative", recollects Aniket.
The group presently has about 200 scientists, writers, editors from various media houses, freelance science journalists and educators. Most of the journalists in the group report in English, Hindi, Marathi and Bengali. A journalist can post a query to look for an expert in the group who would be interested to talk about a particular study. Scientists also share their recent research expressing interest in discussing it with the journalists.
Journalists need to ask difficult questions, dig deeper, fact-check potential sources. Aniket's face lights as he explains, ​"This group provides just that! Diversity of opinions with finer details in a time-efficient manner. We allow discussions to happen in the group when a piece of news or research requires inputs from experts from different fields. If journalists need an opinion on a particular topic, they can introduce themselves and if they hear from an expert, the following conversation can happen personally."
The WhatsApp group helps writers understand caveats in scientific findings and alternate explanations. The group also ensures writers are more certain about the narrative and assertions that are being made in the article/​podcasts/​videos. There are a lot of sources on the internet and gauging through the reliable ones can be taxing. The group acts as a well-grounded resource by the experts, making reporting hassle free and more precise.