For the past thirteen years, the Young Investigators' Meeting (YIM) — IndiaBioscience's (IBS) annual flagship event — has facilitated young scientists in life sciences to catapult their scientific careers by providing a platform for networking and mentoring from seniors and experts in their field. This article is the first of a two-part report on this year's event, covering highlights of the three-day YIM proceedings.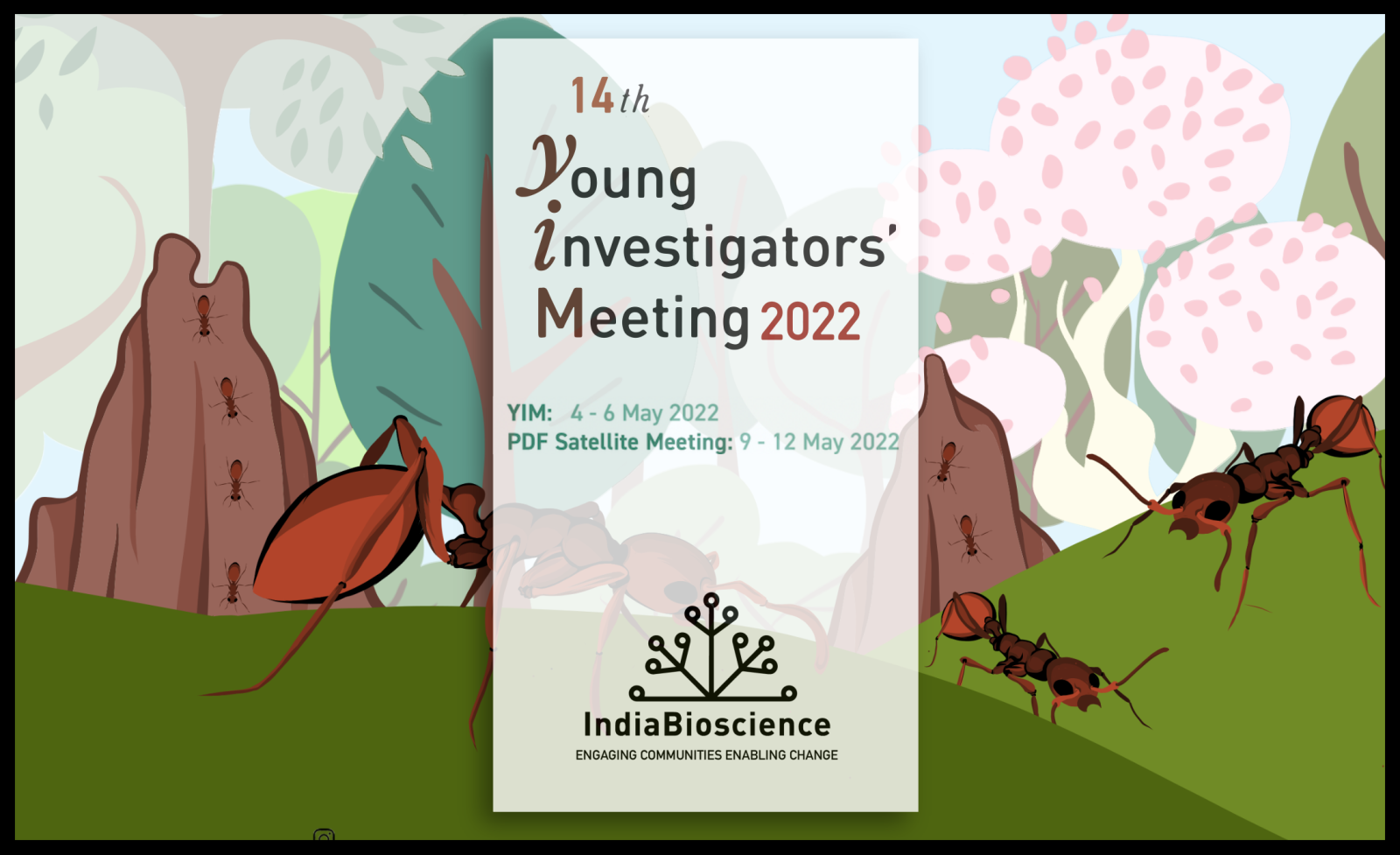 This year, YIM 2022 — the 14th edition of YIM — took place from 4 – 6 May in a virtual mode, followed by a four-day PDF meeting. YIM 2022 focused on robust team-building concepts and ways to give back to the community. The event brought together sixty selected Young Investigators (YIs) and about an equal number of Postdoctoral fellows (PDFs) from India and across the globe who gleaned insights from several eminent speakers, mentors, senior scientists, and representatives from funding agencies and institutions.
The event organisers — Shantala Hari Dass (IBS, Bengaluru), Megha (University of Trans-Disciplinary Health Sciences and Technology, Bengaluru), Mohit Kumar Jolly (Indian Institute of Science (IISc), Bengaluru) and Felix Bast (Central University of Punjab, Bhatinda) — left no stone unturned to make the event interactive and insightful for the participants.
This report highlights a few takeaways from the YIM 2022.
Inaugural session and keynote speech
Kickstarting the event, Hari Dass, in her introductory note, reckoned how YIMs are more than one-time networking sessions. ​"The YIMs are a seeding platform to grow a community," she said, adding that the iterations of this meeting have been long enough to see participants from earlier editions assuming decision-making posts and advocating change.
Satyajit Mayor (National Centre for Biological Sciences (NCBS), Bengaluru), a key advisor for the meeting, formally inaugurated the event. He reminisced about YIM's journey from its inception and the vision of inculcating a culture of collaboration and networking.
Keynote speaker K VijayRaghavan (Former Principal Scientific Advisor to the Government of India, New Delhi) set the tone for the meeting. He explained how academia should come together and solve systemic issues such as the lack of quality research and untimely release of funds. He said, ​"Every academic institute prioritises quality science. It's unfair that institutes must meet their goals and those of the funding agency, which might be very different, affecting scientists' performance." A few remedial measures suggested by him were:
Individuals should carpenter themselves to understand how to address unanswered questions in science

teach and train students at scale, and

have institutional participation in effective science communication.
Over the three days, the meeting spawned ideas and shared experiences of fostering a motivated, healthy and driven community of YIs by way of panel discussions, mentor talks, keynote lectures and breakout sessions. In addition, they discussed topics such as choosing interdisciplinary science, building a research group/​community, funding opportunities, and communicating science, with the primary objective of building sustainable and diverse teams and community outreach.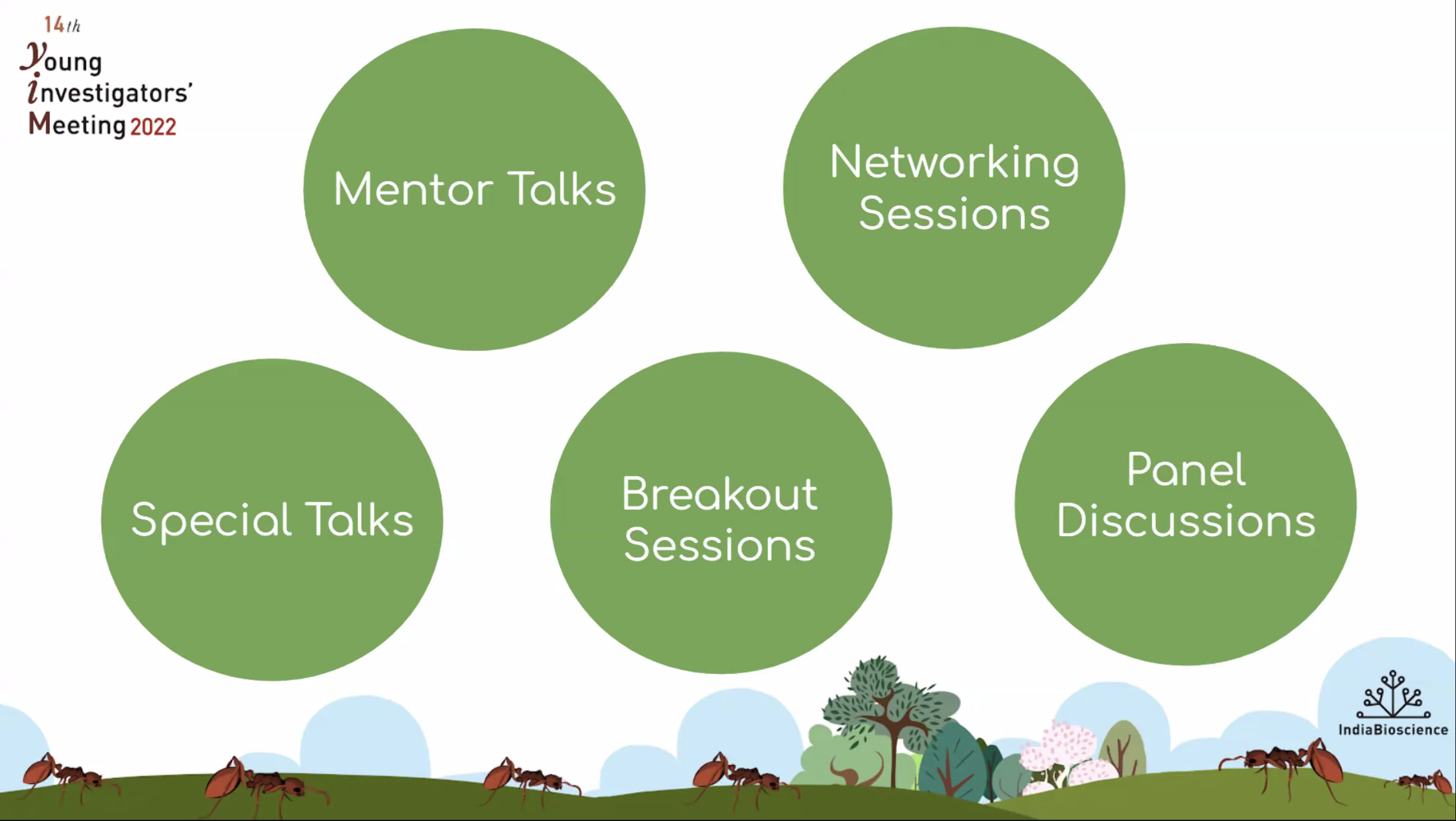 Building a sustainable and diverse team
One of the panel discussions unpacked the evolving roles and responsibilities of a YI. The panellists said that a YI would find themselves wearing many hats – as a trainer, enabler, recruiter, outreach facilitator, and influencer in the academic strata. They highlighted that a YI had the power to become a part of many circles and propel the ecosystem's progress. Each panellist shared some of their personal stories and the need for how a YI should be prepared to handle unpredictable situations daily.
1. An armour of sustainable solutions
The primary outcome of the discussions was to help the YIs set up better time‑, people‑, and fund- management systems early on to buffer any financial or other stresses that could occur to the team. The participants unanimously agreed that regularly re-evaluating lab goals helped the team stay focused.
Recommending a book titled, You're Hired! Now What, Karthick Balasubramanian (Agharkar Research Institute, Pune) said that the book could be an indispensable manual that sheds light on the universal problems YIs encounter. Adding that, it offers insights and specific approaches to solving them.
2. Hiring the right team
Fostering a supportive environment and sustaining it is possible only when the YIs have the right people on board. Often, early-career scientists are clueless about recruiting staff. The panellists offered a range of insights on this crucial aspect.
A well-planned approach was Thomas Pucadyil's (Indian Institute of Science Education and Research (IISER), Pune) suggestion for building a sustainable team. ​"Plan ahead of time for recruiting students, develop a mentoring mindset, and manage funding cycles to sustain the team," he said. On the other hand, Jayasri Das Sarma (IISER Kolkata) preferred facilitating an interactive environment. For instance, while she spoke about prospective students joining the lab, she said: ​"I insist they talk to my current students to get the vibe of my lab, which often helps them decide better for themselves."
The other panellists also mentioned how systemic approaches such as lab rotations could help the YIs and students find their right fit. They opined that it was not just about the student's understanding of the subject but, more often, their ability to learn and how well they align with the lab's research interests that lead to successful teams.
3. Fostering an interdisciplinary research ecosystem
In a panel discussion on an interdisciplinary approach to conducting research, some panellists discussed how they made their lab diverse by exploring interdisciplinary approaches to research problems. They shared experiences of their experimenting with students and collaborators from different fields of study.
Sandhya Koushika (Tata Institute of Fundamental Research, Mumbai) said she encouraged her students to learn each other's ways of communicating research by over-communicating and oversimplifying, leaving little room for ambiguity. But, at the same time, diversity has its lighter moments, said Roop Mallik (Indian Institute of Technology (IIT) Bombay, Mumbai)). ​"Often, the most melodious music in the lab is when two students are arguing about how to approach a problem," he quipped.
The event also showcased mentor talks on building an interdisciplinary lab. Vishwesha Guttal (IISc) said that the crucial aspect is the freedom to approach the problem from different angles and the opportunity to collaborate with people from other fields. The downside, however, although changing slowly, is to face the brunt of the underequipped evaluation system that often undervalues the lab's efforts as most of the work requires extended collaborations.
Along with these discussions, another session revolved around inclusivity and underrepresentation of different groups of people in research.
4. The ethos of diversity and inclusivity in the lab
In a breakout-room session, mentors Abhijit Majumder (IIT Bombay), Deepak Modi (National Institute for Research in Reproductive and Child Health, Mumbai), Dhiraj Kumar (International Centre for Genetic Engineering and Biotechnology, New Delhi), and Shannon Olsson (NCBS), were each assigned a group of participants for an intimate conversation on inclusivity. They brainstormed ways of making the ecosystem and infrastructure diverse, inclusive and disabled-friendly. A summary of the issues and ideas that emerged in this session:

Being vocal and sensitising people could help create the environment for change

Empathise and revise restrictive rules such as the age bar for grants, etc.

Setting up family support systems for people with special needs or additional personal responsibilities

Acknowledging these as systemic problems would help to have better policies to implement inclusivity at various levels
5. Funding – two sides of a coin
The primary determinant of research progress and lab independence is funding. The YIMs allocate elaborate discussion on this essential topic facilitating interactions between funding agencies, the YIs and academic institutes. A panel discussion focused on national and international funding bodies in life sciences. They highlighted the opportunities YIs could leverage for research, international collaborations, training, community building, and conference-travel grants.
Grants Officer Vandana Gambhir (IISER, Pune) explained how the current administrative system and some policies hinder a smooth funding procurement. She said, ​"To overcome this, policymakers should keep general financial rules in mind when developing policies and build trust between agencies and scientists."
Shirshendu M (Biotechnology Industry Research Assistance Council (BIRAC), New Delhi), in a special talk, cited BIRAC's slogan, ​"Ignite Innovate Incubate", encouraging the YIs and PDFs to try their hand at entrepreneurship with research.
Book Launch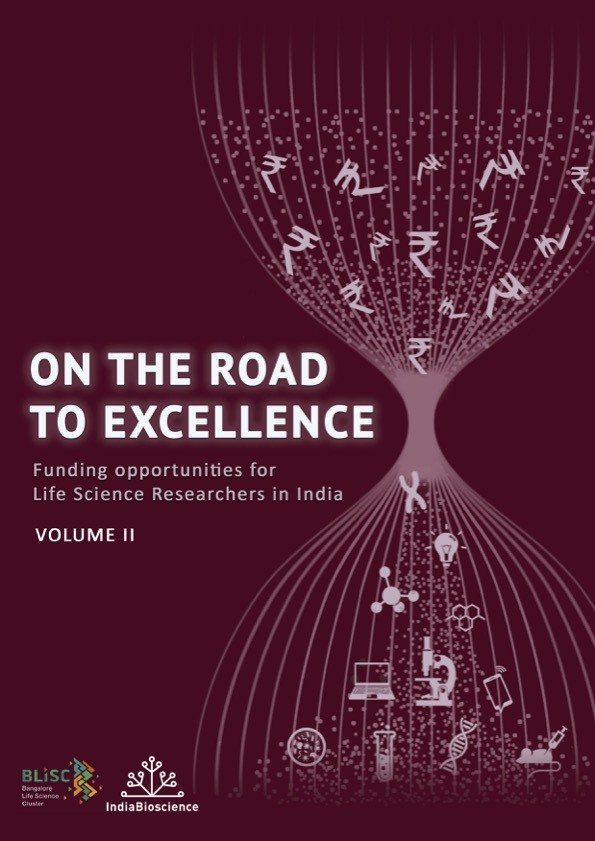 The YIM 2022 featured a book launch by IBS titled ​"On the Road to Excellence — Funding opportunities for Life Science Researchers in India". The booklet is a comprehensive database of national and international life science funding opportunities, fellowships, grants, awards, and details of special travel and event support schemes. Although there are several funding opportunities, a consolidated overview is lacking, resulting in the YIs feeling confused, laboriously sifting through the grants or missing opportunities. The booklet aims to bridge this gap.