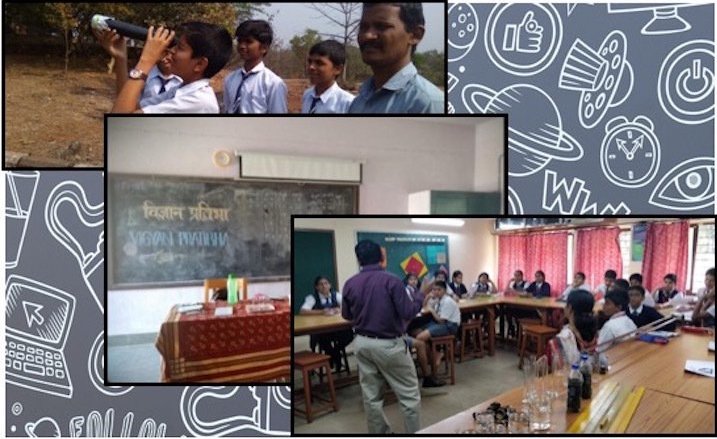 A supermoon, a lunar eclipse and a starry night capture the imaginations of young minds. Most school curricula cover the Earth-Sun-Moon system (including the phases of the moon and eclipses). However, is science teaching able to integrate real phenomena with curriculum?
Can middle school children participate in the following discussions:
"Does the moon rise on the new moon day? If yes, why can't we see it?"
"Why doesn't eclipse occur every full moon day?"
We at HBCSE Mumbai (Homi Bhabha Center for Science Education) have attempted to facilitate the understanding of the physical phenomena by designing an activity based learning unit called ​'Observing our Moon' under Vigyan Pratibha project.
In this module, teachers conduct a role-play activity where three students, each becomes the Earth, Sun and the Moon. For the student playing ​'Earth', her nose becomes a person on the surface of the Earth. The ​'Moon' is then made to revolve around the earth while light falls on it from the Sun. Students can then imagine how the different phases of the Moon would be as a result of the different angles the Earth, Sun and Moon make with each other.
When we conducted this learning unit with 8th class students, there were several ​'aha!' moments, with students realising: the new moon does rise, just that it cannot be seen on ​'new moon day' as the lit side of the moon is facing away from us.
Vigyan Pratibha
Vigyan Pratibha — a central government initiative, is working towards creating a unique learning environment. We aim to combine several pedagogical tools based on constructivism and collaborative learning approaches. Currently we are working with students and teachers of classes 8th-10th of Kendriya Vidyalaya, Jawahar Navodaya Vidyalaya and Atomic Energy Central Schools all over the country.
HBCSE has been academically responsible for conducting resource generation camps bringing together scientists, teachers and educators to develop activity modules, which we call ​'learning units'. These units are in line with the NCERT curriculum and they make students gain a critical understanding of a particular concept.
The learning units require minimal resources and can be worked upon using easily available material, e.g. marbles, fibers, mirrors, milk, curd, wheat flour, raisins. Mathematical learning units require simple materials like graph paper, grid paper, and crayons.
Most of the learning units require students to discuss and debate with each other. This requires the teachers to encourage students to speak up in an otherwise quiet and apparently attentive class.
A few units are designed to explore the immediate environment of the students, and hence called ​"local context" units. These are developed for observing birds in the vicinity, knowing the local varieties of rice and mapping the school campus. An interesting feature of local context learning units is that every school presents a different outcome based on its geographical location. Students are better able to connect with their surroundings that adds to their curiosity and joy of learning.
A few learning units
It is designed for learning about the local varieties of rice in the vicinity of schools. At the same time, students would be engaged in recording the oral history of the varieties of rice by interviewing their grandparents or senior citizens in their area. Students will thus come to know how different was the rice people consumed 60 – 70 years back and how and why it changed with time. Teachers find this unit a good option for activities during vacations, where students can connect with people at their native places and look at the different varieties of rice.
Rediscover, Describe and Draw Birds
This is another local context learning unit which teachers believe students can work on during long breaks or vacations. This activity requires students to observe and document bird behavior in their vicinity, design posters and interaction maps.
This activity is based on distinguishing natural and synthetic fibers using a simple combustion test. Natural fibers contain a high amount of cellulose and burn slowly resulting in ash. However, synthetic fibers do not produce ash upon burning.
Students are also encouraged to observe fibers under a microscope and record their appearance. The microscopic view is certainly a visual treat to students. During our field trials for this learning unit, students reported they had never imagined cloth fibers appearing so different and beautiful in a magnified view.
An Experiment on Measuring Volumes
This unit deals with the story of the thirsty crow (from Aesop's fables). Students make their own graduated measuring cylinder and determine the volume of marbles to understand the concepts of volume and displacement. Spoiler alert — the thirsty crow story might not be scientifically accurate!
The students' worksheets and teachers' handouts of all the learning units can be found under the Resources tab of Vigyan Pratibha.
On the Vigyan Pratibha website we address teacher and student queries. The website also has a discussion forum for teachers and students where they can share the outcomes of the learning units, provide feedback to us, and post queries. With Vigyan Pratibha, we envision an enthusiastic and enjoyable science and mathematics education for years to come.