A young educational enterprise is engaging middle and high school students in a curiosity-driven learning experience in biology that takes them beyond their textbooks. The teachers/​mentors are undergraduate and postgraduate students of biology with a flair for science outreach, who too benefit from the engagement by gaining a deeper understanding of basic biological concepts.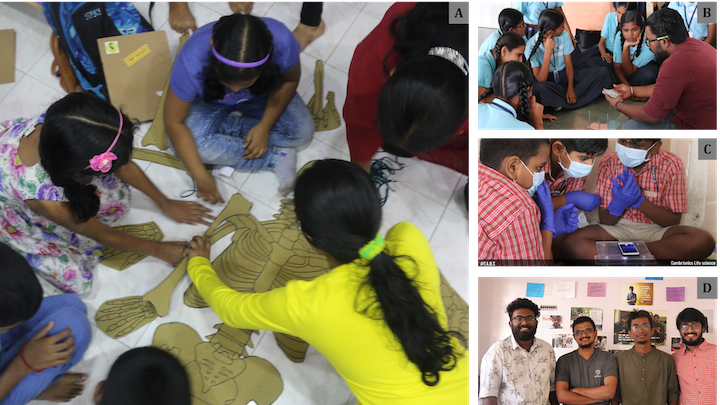 A group of science enthusiasts based in Chennai are changing the way biology is taught in schools. Cambrionics Life Science – an educational enterprise founded by five 20-somethings – has reached over 3000 students since its inception in 2018. At the core of their operation is Teaching Alternate Biological Science (T.A.B.S), a research-based learning programme in biology. T.A.B.S mainly targets upper-primary and high school students, and to some extent, undergraduate students, to spark their curiosity for biology.
"I remember how I studied biology back in my school. We only had theory classes, where we were taught things from the textbook," says Raghul Jaganathan, Chief Administrative Officer, Cambrionics. ​"I visited my school some years later and saw that it was still taught in the same way." The founders of Cambrionics wanted to change this traditional format of teaching biology. The laboratory courses and the projects they pursued in their undergraduate studies made them wonder why such research-based learning models should not be introduced in schools. ​"I started working with the zebrafish model in my second year of B. Tech and was fascinated by it. Around the same time, I also came across BIOEYES – a European outreach group that teaches biology using zebrafish. This really inspired the concept of T.A.B.S," Sudharshan V, Chief Executive Officer, Cambrionics, says. ​"We then improvised by adding other model organisms in the subsequent modules," he adds.
T.A.B.S nurtures the role of a student in learning. The program encourages students to ask questions, experiment and seek answers to their questions by themselves. All the sessions are held on weekends and cover themes like microbiology, cell biology, genetics, astrobiology, forensic biology, toxicology, neurobiology, developmental biology, hydroponics, aquaponics and farming. Participants learn through hands-on experiments using different model systems including zebrafish, Drosophila, microbes, and plants. They also learn through activities like field trips, games, theatre, and puppetry.
The T.A.B.S programmes include weekend workshops, summer and winter camps, and a year-long research programme that is broken down into beginner, intermediate and advanced-level modules. While the beginner level intends to inspire students and ignite a passion for biology, the intermediate level aims to develop critical thinking, and the advanced level exposes them to career opportunities in biology and encourages them to develop scientific solutions to a given problem.
With a catchy colloquial title, one of the weekend workshop modules, Vanakkam Biology (Hello Biology) seems to be the crowd puller. This module, which has now reached 1300 kids in Tamil Nadu and 50 kids in Germany, gives the participants a glimpse of the world of biology. They are taught a bunch of things:to build a microscope using household amenities, to culture microbes on a dish containing a nutrient medium, to isolate DNA from fruits and vegetables, and the concept of regeneration using the zebrafish model. Forensic biology is another module that attracts a lot of students. Some of the modules of T.A.B.S cover concepts from the NCERT syllabus for high school biology. And some experiments, like the isolation of DNA are also present in undergraduate-level biology.
The participants of T.A.B.S. workshops seem to love the hands-on learning experience. ​"I can never forget the day I saw the heart of a zebrafish beat. This was the best session I ever had in my school days and I love biology more than ever," says Janane N, Grade 12 student, SRM Nightingale School, Chennai, who attended a T.A.B.S workshop.
Parents and teachers also seem to be inclined to send their wards to these programmes. Many have also noted that their wards' interest in studying biology and science, in general, had improved after a workshop. ​"I must say this is a very innovative camp. My daughter discusses whatever she learns in the workshop very elaborately and she has developed a keen interest in biology. I think this activity-based learning is very effective for children," says Jasmine Mary, whose daughter attended a T.A.B.S. weekend workshop.
Impressed by the T.A.B.S pedagogy, some schools in Chennai have partnered with Cambrionics to conduct the year-long T.A.B.S research programme in their schools. The partner schools include Pupil Saveetha Eco School, RMK Residential School, SRM Nightingale school, The Little Kingdom Senior School and Ebenezer Higher Secondary Matriculation School. ​"T.A.B.S. workshop was indeed a comprehensive hands-on experience for our students. My students enjoyed the real-life connect that the mentors offered," Sujatha Kannan, Principal, The Little Kingdom Senior School, says.
The workshops are facilitated by volunteers who are trained by the core team of Cambrionics. The volunteers are mostly undergraduate or postgraduate students in biology and allied subjects with a flair for science outreach. T.A.B.S. mentors help students perform experiments and learn from them. ​"My experience as a T.A.B.S. mentor has so many incredible moments. The programme has enhanced me as a student and a mentor and has transformed me into a person who believes that ​'as you teach, you will learn'. Being a T.A.B.S. mentor has also helped me academically as it has strengthened my basics in the subject," says Aswini Sai Balaji, a T.A.B.S. mentor.
Cambrionics also conducts hands-on learning workshops for undergraduate students, mostly as sessions in technical fests. The Investigate Forensics workshop conducted at the IIT Madras Biofest was one such workshop in which 160 college students from across Tamil Nadu participated.
In its one and a half years of operation, Cambrionics has set the stage for a new pedagogy for teaching biology. The model shows great results in school kids and undergraduate students. T.A.B.S. model serves well to maximize learning with minimal infrastructure. This model could be an excellent tool for undergraduate educators in biology to get their point across in a tangible way.