L S Shashidhara is currently a Distinguished Professor of Biology at Ashoka University and is on lien from Indian Institute of Science Education and Research (IISER) Pune. He was recently elected the President of the International Union of Biological Sciences (IUBS), on behalf of which he is steering an international project on Climate Change Education. In this interview with IndiaBioscience, he discusses IUBS's activities and the need for scientists to collaborate on a global level to address the pressing problems of the day.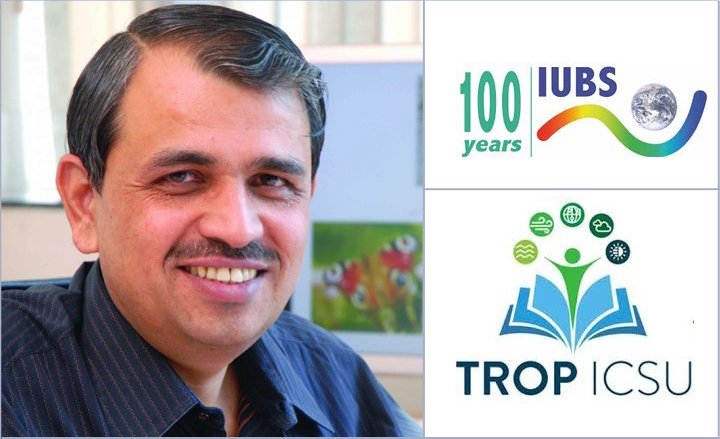 Congratulations on being elected the president of the International Union of Biological Sciences (IUBS). Can you tell us about the history of this organization?
Thank you very much. IUBS was established in 1919 along with few other such unions for Physics, Chemistry, and Mathematics. Such international unions were conceived to internationalize science and use scientific knowledge and methods to address societal problems. Establishment of these unions was also a symbolic response of scientists, who are global citizens, to the political problems in Europe at that time.
One of IUBS's major initiatives is its program on Climate Change Education. Can you tell us a bit more about this project, particularly with respect to its relevance in the Indian context?
IUBS is leading a global project, along with many Unions and UN organizations, to make every citizen of the world aware of the science of climate change and its impact, such that the future generation is better equipped to develop innovative local solutions to mitigate the same. An implementation team, working from the Indian Institute of Science Education and Research (IISER) Pune, is collating and curating various educational modules on climate change that can be integrated with the existing core curriculum in any discipline/​subject at the high school and undergraduate/​college levels (visit https://​trop​ic​su​.org for more details).
As India is highly vulnerable to the impact of climate change, it is important that the entire Indian education system adopts novel pedagogical methods to impart a better understanding of climate change. Considering our country's demographic dividend, the rest of the world would also benefit when Indian youth are educated and trained in ways to mitigate the impact of climate change.
What role can Indian Scientists play in IUBS's various activities, and how can they make the most of this association?
IUBS is a think tank, policy body and a platform for biologists from many countries to come together to initiate new collaborations. India's involvement in these activities is vital to influence global efforts to address problems of climate change and decrease in biodiversity. At the same time, sharing of knowledge between nations will help our national missions on food, nutrition, infectious diseases, etc.
Can you tell us a little more about the global project on ​'Gender Gap in Science', of which IUBS is a part?
Gender parity is one of the goals that all nations want to achieve in all spheres of life. It is very unfortunate that science is lagging far behind many other professions. IUBS, along with other unions, is developing reliable indicators of gender gap in different nations/​regions. These quantitative parameters will help in studying reasons for the gender gap and identifying ways to reduce it. IUBS is contributing to this project by collecting data on biologists from across the world.
Can you comment briefly on the scientific programs at IUBS?
A major mandate of IUBS is to facilitate international cooperation to seed new interdisciplinary research themes. For example, a major initiative that IUBS funded and nurtured was assessing the biological consequences of climate change (on biodiversity, agriculture, etc) and globalization (spread of diseases, invasive species, etc). This has grown now into two major research themes in many countries leading to several publications, policy papers, and an action plan. All this was possible as IUBS provided a platform for free exchange of ideas and information.
Does IUBS have any programs/​projects to support or nurture young scientists?
Yes. IUBS supports the participation of young scientists (PhD students, Post-doctoral fellows, and young faculty) to attend international conferences.
What form has your involvement with IUBS taken over the years? Which projects are you most excited by?
I started as a member of the Executive Committee of IUBS (during 2012 – 15) and later became Secretary-General (2016−19). During these years, I learned how unions like these function and their strengths to shape global policy on a number of issues using knowledge of modern biology. Interestingly many members of different committees of IUBS are basic biologists and contributing significantly to address societal problems. As I was more interested in education and capacity building, I focused on such projects. Climate Change Education that we discussed earlier is one such project.
As the next president of IUBS, what are some areas that you plan to focus on in the coming months/​years?
I would like to focus on policies that strengthen research and education in biology across the scales to enable populations to address problems of the 21st century. We need to develop and popularize ways to share data and use modern informatics to integrate biology for deeper as well as a broader understanding of biological systems. The idea is to unify biology, not by ignoring or rejecting its diversity, but by accepting the very essential feature of all forms of life, i.e. their underlying diversity.
---
Did you enjoy this article? Please let us know in the comments below.