Thousands of researchers have joined hands online and on the ground to secure a large increase in stipend. Students welcome the news, even as the negotiations continue…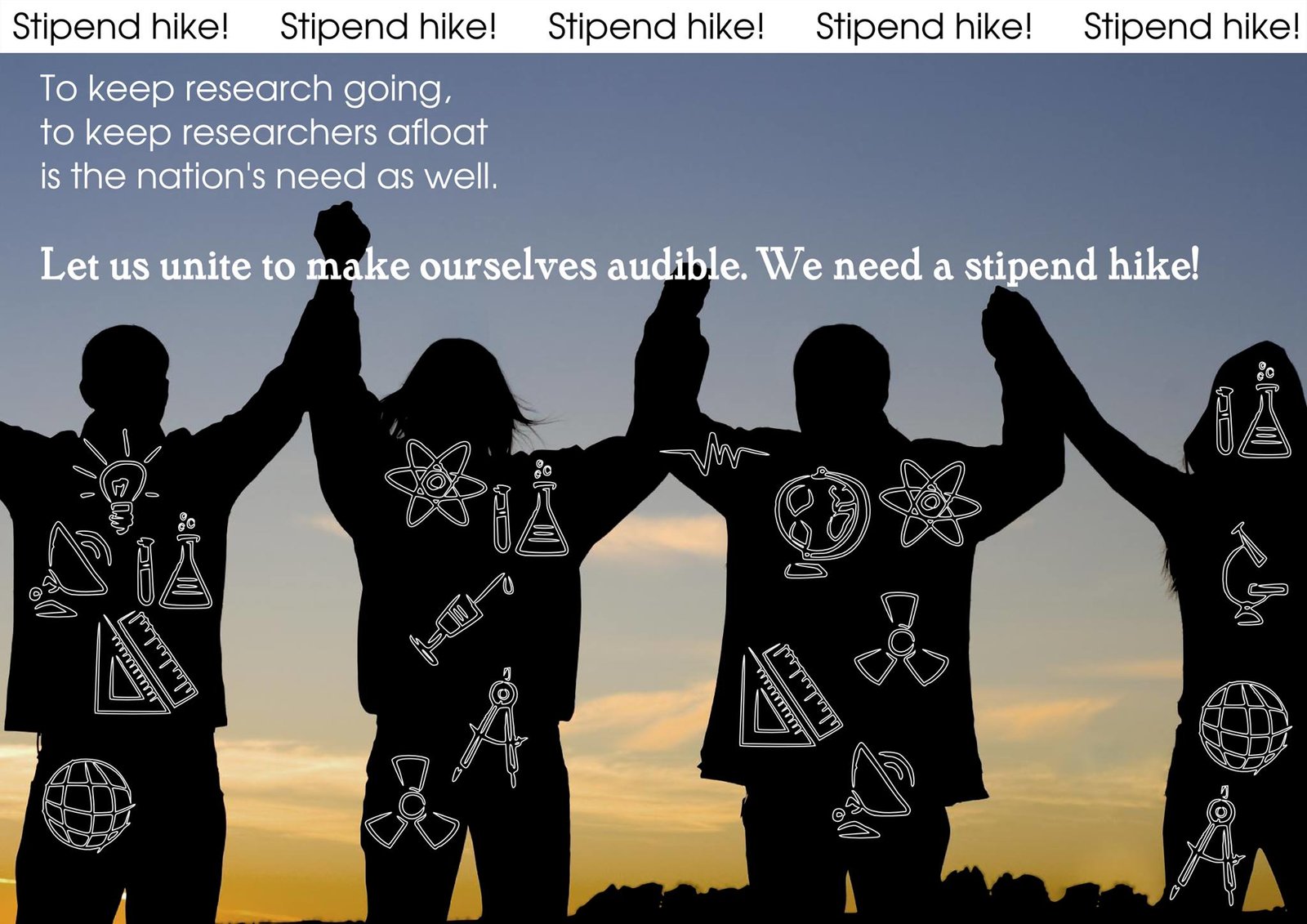 The University Grants Commission (UGC) announced a 55% hike in fellowships for 15 schemes in the first week of December 2014. The UGC is the second body to increase fellowships — the Department of Science and Technology (DST) increased stipends for young scientists by roughly 60% this October. These fellowship hikes have been granted after a year long, concerted campaign by research scholars across the country, who connected and collaborated largely through social media networks such as Facebook and Twitter.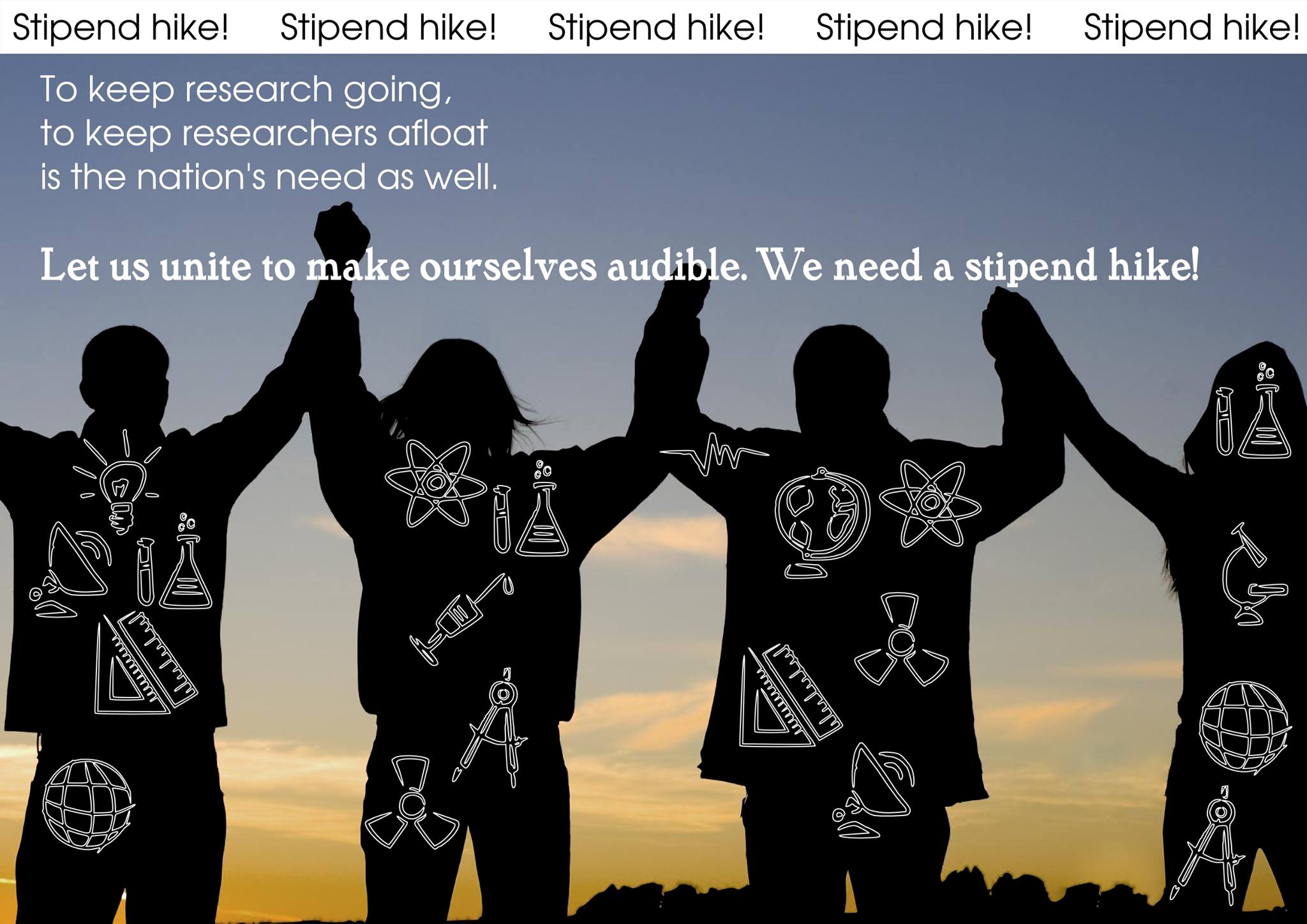 "Hundreds of research students across India have put their efforts into the movement to make it a success. In the beginning, we were not sure of the outcome, but we believed that the Government would listen if substantial number of students actively joined hands," said Anindita Brahma, a graduate student from the Indian Institute of Science (IISc), Bangalore. The numbers are indeed substantial — more than 27,000 people have extended their support to the cause via Facebook and Twitter. The organizers effectively used these platforms not only to keep the momentum going, but also to connect and actively follow up with funding agency representatives and Ministers from concerned Departments, thus hastening the process.
The students welcomed the announcements from DST & UGC. ​"It is a reasonable increase. Even though it is less that what we demanded, it is higher than what many expected," said Pankaj Jain, the academic secretary of the IISc Student Council, which has spearheaded the campaign. PhD students funded through DST will now receive Rs 25,000 per month, up from Rs 16,000, and research associates and postdocs will now be paid Rs 40,000 per month, an increase of Rs 16,000. ​"This is a good move for science. Higher salaries will enable us to retain more people who are interested in science and not lose them to more economically attractive jobs," said Sarita Gupta, Professor at the Department of Biochemistry, MS University of Baroda.
What remains a sore point however, according to Jain, is the date of implementation. While the DST stipends will come into effect retrospectively from October 1, UGC is yet to confirm the date of implementation. Previous increases (the last one was four years ago) have been granted retrospectively from April of the corresponding year, and many students, especially senior PhD students expect the same this time around. Intense negotiations are on to sort the matter out.
Meanwhile, researchers now hopefully await similar news from other departments and funding bodies including the Council of Scientific & Industrial Research (CSIR), the Indian Council of Medical Research (ICMR) and others, which fund large numbers of research scholars across the country. They also await clarity on several fellowships for minorities, and fellowships for IITs, NITs, IISc and IISERs. Efforts are also on to negotiate an annual increase in pay. ​"There is no point of a one-time increase, until the next protest," said Supriya Khedkar, a PhD student at the National Center for Biological Sciences (NCBS), Bangalore.