Regional Young Investigators' Meetings (RYIM) aim to build local networks of scientists and science professionals with an aim to promote regional collaborations and change. The RYIMs are intended to be Young Investigator (YI) driven endeavours that promote networking in local scientific communities and foster collaborative leadership among YIs in the region.
Importantly, RYIMs are expected to be ​'no-garland' events, optimized towards a supportive and collaborative environment for the participants, resource personnel and organisers. RYIMs will ensure diversity and representation across gender and other demographics for participants, speakers, panellists and resource personnel.
The Regional Young Investigators' Meeting (2023−2024), Kolkata will be organized at the Presidency University, Kolkata as a multi-institutional effort with the organizers from Presidency University, IISER Kolkata, CSIR-IICB, Bose Institute, Chittaranjan National Cancer Institute, and Jadavpur University, which will be conducted across two days (07 December — 08 December 2023), preceded by a Crafting Your Career (CYC) workshop on 06 December 2023.

RYIM Kolkata 2023
On behalf of IndiaBioscience and the local organising committee, RYIM Kolkata would like to invite all researchers (young investigators, mid-career and senior scientists), postdoctoral fellows and early career researchers, educators, clinicians, science professionals and entrepreneurs to engage and create collaborative platforms where cutting-edge technologies and translational goals can be achieved.
RYIM Kolkata's shibboleth ​"Education, Research and Translation: The Triple Helix of Collaboration" echoes the aim of IndiaBioscience towards nurturing academic exchange and building a unified research umbrella among the young scientists and researchers, teachers and educators, research professionals, clinicians, and entrepreneurs. It will provide a common ground where the attendees can share their experiences and problem-solving approaches. This meeting will guide young researchers on leadership and mentorship, research ethics, the art of establishing a core research group and laboratory infrastructure, grant writing, pursuing translational research and collaborating with clinicians, sustaining collaborations and intellectual property rights, and developing ideas on entrepreneurship. RYIM Kolkata also wishes to ignite the passion for science in the young minds of students, and to educate them about various career choices through the pre-conference workshop on ​'Crafting Your Career'. Through all these interactive and engaging sessions involving scientists, educators, and clinicians from interdisciplinary areas of biomedical sciences, RYIM Kolkata aims to initiate a blueprint for a centre of research excellence in the Eastern zone.

Meeting details
Dates: Regional Young Investigators' Meeting: 07 December — 08 December 2023
Pre-conference ​'Crafting Your Career (CYC)' workshop: 06 December 2023
Meeting Focus Areas
Staging interactions between Young Investigators from research institutes, universities and colleges, hospitals and clinics, and industries
Establishing and maintaining successful collaborations
Funding opportunities, and funding agency tips
Building a research group and team efforts
Showcasing the journeys of YIs, mid-career and senior scientists from research and academic institutions
Panel discussions on contemporary issues such as the potential of bridging basic, epidemiological and translational research, genetic counselling, industry-academia interface, implementation of National Education Policy 2020, and intellectual property rights in research and innovations
Navigating through challenges faced by early career researchers and postdoctoral fellows
What's more in RYIM Kolkata?
Faculty-initiated research from colleges
Discussion on teaching and research ethics
Landscape of research funding through the National Research Foundation
Meeting Format
Keynote address
Plenary talk
Mentor talks
Special invited talks
Panel discussions
Journey of YIs
Breakout sessions
Poster presentations by YIs and Postdoctoral fellows
Meeting workshop
An IndiaBioscience-led Crafting Your Career (CYC) workshop

Programme
Day 1: 6 December 2023

Venue: Institute of Health Sciences, Presidency University, New Town, Kolkata
Crafting Your Career (CYC) workshop

For PhD researchers and MSc students in life sciences and allied subjects
Day 2: 7 December 2023
Venue: Biswa Bangla convention center & Institute of Health Sciences, New Town, Kolkata
Registration at Biswa Bangla Convention Centre

RYIM team

---

Inauguration ceremony

Classical music- Manasmita Das, Institute of Health Sciences, Presidency University

---

Welcome note from the host

---

Engaging Communities, Enabling Change

IndiaBioscience

---

Keynote lecture

Soumya Swaminathan, Chairperson, MS Swaminathan Research Foundation. Former Chief Scientist of World Health Organization (WHO)

---

Self introduction by all attendees

---

---

Journey to be an independent researcher

Arnab Gupta, Indian Institute of Science Education and Research (IISER) Kolkata

---

Mentor talk

Beena Pillai, CSIR-Institute of Genomics and Integrative Biology, New Delhi

---

Re-entry fellowship and building labs: Science kept me going

Arindam Mondal, IIT Kharagpur

---

Collaborative interdisciplinary research and job opportunities at Kolkata: Myths and Facts

---

---

Invited talks

Sumit Mandal, Presidency University and Anindita Seal, Calcutta University

---

Discussion on 'Job opportunities, grant writing, establishing new labs, and student mentoring'

---

Setting up posters at Institute of Health Sciences, Presidency University

---

Parallel Sessions: a) Implementation of National Education Policy (NEP 2020) in academic institutions. b) Critical aspect of Intellectual property rights (IPR) and patenting of research findings

---

Poster presentation by YIs and postdoctoral researchers

---
Day 3: 8 December 2023
Venue: PC Mahalanobis Auditorium, Presidency University, College Street, Kolkata
Gathering near auditorium

---

Journey to be an independent researcher

Arunima Sengupta, Jadavpur University

---

Special talk

Debajyoti Chakraborty, CSIR-IGIB

---

Bridging basic and clinical research: hurdles and solutions

---

---

Plenary talk

Anand Bachhawat, Indian Institute of Science Education and Research (IISER) Mohali

---

Industry-academia interface

---

NRF and its implementation at universities and research institutes

Akhilesh Gupta, Secretary, Science & Engineering Research Board (SERB), Govt. of India

---

---

Epidemiology and Public health: Risks and strategies

---

Special talk

Santosh Chauhan, CSIR-CCMB, EMBO Global Investigator in India

---

Mentor Talk

Arindam Maitra, National Institute of Biomedical Genomics

---

Teaching and Research ethics in Academia

Sanjay Ghosh, University of Calcutta

---

Developing the Triple Helix: Game plan to establish center for excellence for advanced proteomics and metabolomics research

---

Concluding remarks and Vote of thanks

Organisers

---

Photo session of all attendees, high tea, and departure
Applications are invited from scientists, postdoctoral and early career fellows, teachers, and science professionals actively involved in research and education in the allied field of life sciences, preferably from the Eastern and North-Eastern regions of India.

Registration is open to:
1. Young Investigators (YIs) or Group leaders (preferably within 10 years of independent research), mid-career and senior scientists, faculty fellows, independent investigators (Ramalingaswami fellows, India Alliance fellows, Ramanujan Fellows, DST-Inspire, IYBA awardees, WOS scientists or similar)
2. Educators in colleges and universities
3. Clinicians
4. Postdoctoral fellows (Research Associates, Early career fellows, NPDFs)
5. Industry professionals, research and grants managers, science communicators, public engagement professionals, incubation centres and start-up associated researchers, and entrepreneurs
Please note that it is not necessary to be a YIM alumnus to participate in this meeting and there is no age bar for registration. Seats are limited, so please hurry up.

Registration fees:
Students (pursuing M.Sc. or Ph.D. in any field of life sciences; to attend CYC workshop only)- INR 800
Postdoctoral researchers (to attend RYIM) — INR 2000
Young PIs, Scientists, Faculty, Educators, and other science professionals (to attend RYIM; will be attributed as ​'young investigator' in the SBI Collect portal) — INR 3000
The registration fee covers the conference kit, food, attendee certificates and resource materials. It does not include travel and accommodation.
Invited speakers and panellists are not required to register for RYIM.
Payments will be only through SBI collect of Presidency University
For payment of the registration fees, please follow the link:
https://www.onlinesbi.sbi/sbicollect/icollecthome.htm?corpID=469266
From the dropdown menu, choose ​'Payment Category' as ​'RYIM Kolkata 23', and submit. Follow the link's further instructions to fill in the required details.

Please fill in the Google form for registration, ONLY after payment of the fees. You will need to provide the online transaction number in the Google form for registration.

Registrations close on 1 December 2023.
If you have questions, regarding registration or eligibility, please email us at ryim2023.​kolkata@​gmail.​com
CYC workshop by IndiaBioscience
The Crafting Your Career (CYC) workshop will be held from 10:30 – 13:30 on 6 December 2023 at the Institute of Health Sciences, Presidency University, New Town, Kolkata.
For PhD researchers and MSc students in life sciences and allied subjects.

To register for the CYC workshop at RYIM Kolkata, please fill this form.
CYC workshop trainers: TBA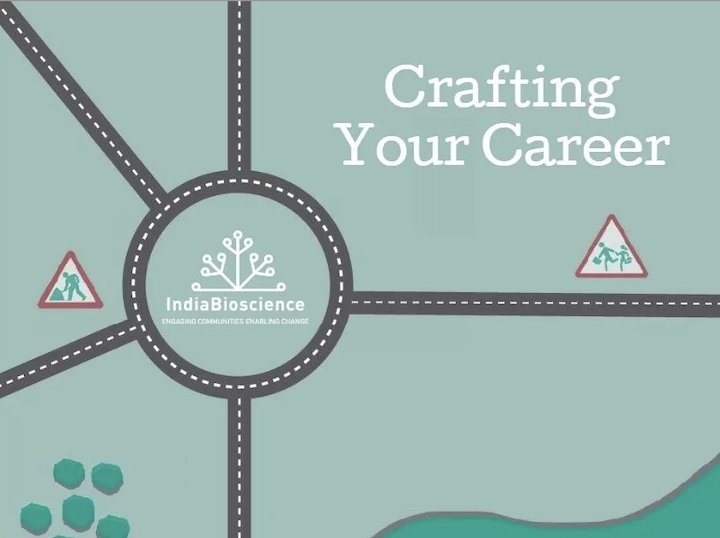 If you are interesting in attending the CYC workshop, please indicate this in the registration form for the meeting. Participants will be selected on a first-come, first-serve basis. IndiaBioscience will aim to include as many participants as possible.
More information on CYC can be found here.

All IndiaBioscience Meetings, Workshops, and Conferences are subject to a Conference Code of Conduct.
IndiaBioscience is dedicated to providing an inclusive and harassment-free experience for everyone, regardless of gender, gender identity and expression, sexual orientation, disability, physical appearance, body size, race, caste, or religion. We do not tolerate harassment of event participants in any form. All communication should be appropriate for a professional audience including people of many different backgrounds. We expect participants to follow these rules at all event venues (virtual or physical) and event-related social events.
Speakers and Presenters: Sexual language and imagery are not appropriate for the event venue, including talks and posters. Sexist, racist or exclusionary jokes are not acceptable.
Participants: Harassment includes offensive verbal comments related to gender, sexual orientation, disability, physical appearance, body size, race, caste, religion, sexual images in public spaces, deliberate intimidation, stalking, following, harassing photography or recording, sustained disruption of talks or other events, inappropriate physical contact, and unwelcome sexual attention.
Sponsors: Sponsors are also subject to the anti-harassment policy.
Virtual events: Attendees, Speakers, Trainers and Event Organisers are required to keep all e communications — emails, online presentations, webinar chat/Q&A sessions etc — professional and respectful. As with the physical events, at online seminars/​workshops/​courses and associated correspondence, sexual language/​imagery and harassment are not appropriate and will not be tolerated.
Action: Attendees asked to stop any harassing behaviour are expected to comply immediately. If an attendee engages in behaviour that violates this code of conduct, the conference organisers may take any action they deem appropriate, including warning the offender, expelling him or her from the premises with no refund or expelling them from the virtual event (i.e. webinar, workshop, course etc).
Conference staff members are there to help participants contact appropriate authorities, provide escorts, or otherwise assist those experiencing harassment to feel safe for the duration of the conference. We value your attendance.
Contact: If you are harassed, have noticed that someone else is being harassed, or have any other concerns, please contact: ryim@​indiabioscience.​org
License: This Conference Code of Conduct was modified from the Code of Conduct for JSFOO 2014 and Code of Conduct for YIM 2015, available under a Creative Commons Attribution 3.0 Unported License, and the Geek Feminism Wiki, created by the Ada Initiative and volunteers, available under a Creative Commons Zero license.
The Conference Code of Conduct for IndiaBioscience events is licensed under a Creative Commons Attribution 3.0 Unported License.