Regional Young Investigators' Meetings (RYIM) aim to build local networks of scientists and science professionals with an aim to promote regional collaborations and change. The RYIMs are intended to be Young Investigator (YI) driven endeavours that promote networking in local scientific communities and foster collaborative leadership among YIs in the region.
Importantly, RYIMs are expected to be ​'no-garland' events, optimized towards a supportive and collaborative environment for the participants, resource personnel and organisers. RYIMs will ensure diversity and representation across gender and other demographics for participants, speakers, panellists and resource personnel.
The Regional Young Investigators' Meeting (2023−2024), Bhubaneswar will be organized at the DBT-Institute of Life Sciences, Bhubaneswar as a multi-institutional effort with the organizers from DBT-Institute of Life Sciences and CSIR-Institute of Minerals and Materials Technology, which will be conducted across two days (04 December — 05 December 2023), followed by a Crafting Your Career (CYC) workshop on 06 December 2023.

RYIM Bhubaneswar 2023
On behalf of IndiaBioscience and the local organising committee, RYIM Bhubaneswar would like to invite researchers (young investigators, mid-career and senior scientists), postdoctoral fellows and early career researchers, educators, clinicians, science professionals and entrepreneurs in the region to engage and create collaborative platforms where cutting-edge technologies and translational goals can be achieved.
The eastern part of the country has a unique culture in terms of work
environment, climate, social dogmas, and scientific perspective. This brings questions when a new PI is planning relocation or starting a research group in this region, especially after spending an extended period working abroad or in other parts of India.
With the RYIM Bhubaneswar, we want new PI's to have a common platform where such discussions related to policies and issues on relocation can be taken up. The RYIM Bhubaneswar will include sessions on general queries and viewpoints as well subjects with technical specialties, as well as be an opportunity to develop questionnaires, data banks and information for anyone interested in accessing them.

Bhubaneswar enjoys a unique geography with a DBT institute, CSIR institute, Utkal University, IIT, NISER, AIIMS, and Private Universities like KIIT and SOA in the region. These institutes host several new PIs as well as aspiring researchers (advanced Postdoctoral fellows and PhD researchers) who would directly benefit from this meeting.
Meeting Details
Regional Young Investigators' Meeting: 04 — 05 December 2023
Crafting Your Career (CYC) workshop: 06 December 2023
Meeting Outcomes
The experts/​peers from various disciplines will get a platform to share their research experiences/​queries/​limitations.
Several challenges in the field will be discussed in an interactive way to enable solutions.
The participants will be able to have one-to-one discussions with the guest speakers/​panelists and suitable feedback and suggestions will be compiled to develop a database for incoming fellows/​PIs from abroad.
What's more in RYIM Bhubaneswar?
Grant writing tips
Panel discussion on faculty recruitment
Talks on career opportunities in the Eastern region of India
Discussions on scientific/​research ethics
Networking sessions
Meeting Format
Keynote address
Plenary talk
Mentor talks
Special invited talks
Panel discussions
Journey of YIs
Breakout sessions
Meeting workshop
An IndiaBioscience-led Crafting Your Career (CYC) workshop

Programme
Day 1: 4 December 2023

Venue: DBT-Institute of Life Sciences, Bhubaneswar
---

Opening remarks

Mamoni Dash, DBT-ILS

---

Welcome Address

Director, DBT-ILS

---

Academic Career Paths in Biosciences

Amaresh Panda

---

Overview of the RYIM Bhubaneswar

Debabrata Biswas, DBT-ILS

---

Session 1: Sustenance in research

---

B Ravindran

DBT-ILS, Bhubaneswar

---

LS Shashidhara

NCBS, Bangalore

---

Nagraj Balasubramanian

IISER Pune

---

---

Session 2: Panel Discussion on 'Recruiters Perspective'

Debasis Dash, DBT-ILS, Sanghamitra Pati, RMRC, Pankaj Alone, NISER, Saroj Naik, IIT Bhubaneswar, Suryakant Mishra, Odisha Public Service Commission

---

---

Session 3: Career opportunities in the Eastern region in academia and industry

---

Gautam Banerjee

TATA Chemicals

---

Ramray Bhat

IISc, Bangalore

---

Nidhi Gulati

Springer Nature

---

---

Session 4: Gender Bias in Academia: a myth? The way forward…

---

---

Sanghamitra Pati

RMRC, Bhubaneswar

---

Sujata Mohanty

AIIMS, New Delhi

---

Session 5: Competitions for Pre-PhDs and Postdocs

---

SciArt: Convey your idea through sketch

For science graduates and PhD's

---

Pitch your thesis in 3 minutes

For Postdocs and PhD's

---

Starts from 19:15 onwards
Day 2: 5 December 2023
Venue: DBT-Institute of Life Sciences, Bhubaneswar
Session 6: Ethics in Science

---

Engaging Communities, Enabling Change, IndiaBioscience

Karishma Kaushik

---

---

Session 7: Bioentrepreneurship: Prospects & Challenges

---

V Premnath

NCL-Innovation Park, Pune

---

Praveen Vemula

inStem, Bangalore

---

Nivedita Jena

DBT-ILS, Bhubaneswar

---

---

Networking & Bhubaneswar Sightseeing

---
Day 3: 6 December 2023
Venue: DBT-Institute of Life Sciences, Bhubaneswar
Session 6: For Pre-PhDs and Post-Docs/India Bioscience

Crafting Your Career (CYC) Workshop

---

---

Valedictory session

Namisha Sharma, DBT-ILS
Applications are invited from scientists, postdoctoral and early career fellows, teachers, and science professionals actively involved in research and education in the allied field of life sciences, preferably from the Eastern and North-Eastern regions of India.

Registration is open to:
1. Young Investigators (YIs) or Group leaders (preferably within 10 years of independent research), mid-career and senior scientists, faculty fellows, independent investigators (Ramalingaswami fellows, India Alliance fellows, Ramanujan Fellows, DST-Inspire, IYBA awardees, WOS scientists or similar)
2. Educators in colleges and universities
3. Clinicians
4. Postdoctoral fellows (Research Associates, Early career fellows, NPDFs, MK Bhan Fellows)
5. Industry professionals, research and grants managers, science communicators, public engagement professionals, incubation centres and start-up associated researchers, and entrepreneurs
Please note that it is not necessary to be a YIM alumnus to participate in this meeting and there is no age bar for registration. Seats are limited, so please hurry up.

To register:
Please register using this Google form (the form requires registration payment details).
Registration fees:
Postgraduates: INR 1500
PhD's & Post-docs: INR 2500
Scientists, Faculty, Educators, Start ups: INR 3000
The registration fee covers ONLY the conference kit, food, attendee certificates and resource materials. The registration fee does not cover travel or accommodation for the meeting.

The link for the payment is as below:
https://​easy​pay​.axis​bank​.co​.in/​e​a​s​y​P​a​y​/​m​a​k​e​P​a​y​m​e​n​t​?​m​i​d​=​N​D​IwODY=
The last date of registration has been EXTENDED to 1 December 2023.
Invited speakers and panelists are not required to register for RYIM.

If you have questions, regarding registration or eligibility, please email us at ryim.​ils.​2023@​gmail.​com

CYC workshop by IndiaBioscience
The Crafting Your Career (CYC) workshop will be held from 10:00 – 13:00 on 6 December 2023 at the DBT-Institute of Life Sciences, Bhubaneswar.
For PhD researchers, Postdoctoral fellows and MSc students in life sciences and allied subjects.

To register for the CYC workshop at RYIM Bhubaneswar, please fill this form.
CYC workshop trainers: Karishma S Kaushik + TBA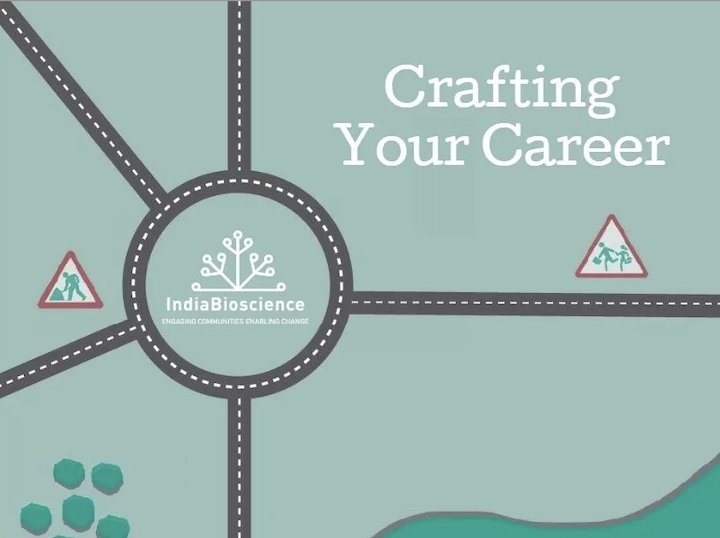 If you are interesting in attending the CYC workshop, please indicate this in the registration form for the meeting. Participants will be selected on a first-come, first-serve basis. IndiaBioscience will aim to include as many participants as possible.
More information on CYC can be found here.

All IndiaBioscience Meetings, Workshops, and Conferences are subject to a Conference Code of Conduct.
IndiaBioscience is dedicated to providing an inclusive and harassment-free experience for everyone, regardless of gender, gender identity and expression, sexual orientation, disability, physical appearance, body size, race, caste, or religion. We do not tolerate harassment of event participants in any form. All communication should be appropriate for a professional audience including people of many different backgrounds. We expect participants to follow these rules at all event venues (virtual or physical) and event-related social events.
Speakers and Presenters: Sexual language and imagery are not appropriate for the event venue, including talks and posters. Sexist, racist or exclusionary jokes are not acceptable.
Participants: Harassment includes offensive verbal comments related to gender, sexual orientation, disability, physical appearance, body size, race, caste, religion, sexual images in public spaces, deliberate intimidation, stalking, following, harassing photography or recording, sustained disruption of talks or other events, inappropriate physical contact, and unwelcome sexual attention.
Sponsors: Sponsors are also subject to the anti-harassment policy.
Virtual events: Attendees, Speakers, Trainers and Event Organisers are required to keep all e communications — emails, online presentations, webinar chat/Q&A sessions etc — professional and respectful. As with the physical events, at online seminars/​workshops/​courses and associated correspondence, sexual language/​imagery and harassment are not appropriate and will not be tolerated.
Action: Attendees asked to stop any harassing behaviour are expected to comply immediately. If an attendee engages in behaviour that violates this code of conduct, the conference organisers may take any action they deem appropriate, including warning the offender, expelling him or her from the premises with no refund or expelling them from the virtual event (i.e. webinar, workshop, course etc).
Conference staff members are there to help participants contact appropriate authorities, provide escorts, or otherwise assist those experiencing harassment to feel safe for the duration of the conference. We value your attendance.
Contact: If you are harassed, have noticed that someone else is being harassed, or have any other concerns, please contact: ryim@​indiabioscience.​org
License: This Conference Code of Conduct was modified from the Code of Conduct for JSFOO 2014 and Code of Conduct for YIM 2015, available under a Creative Commons Attribution 3.0 Unported License, and the Geek Feminism Wiki, created by the Ada Initiative and volunteers, available under a Creative Commons Zero license.
The Conference Code of Conduct for IndiaBioscience events is licensed under a Creative Commons Attribution 3.0 Unported License.