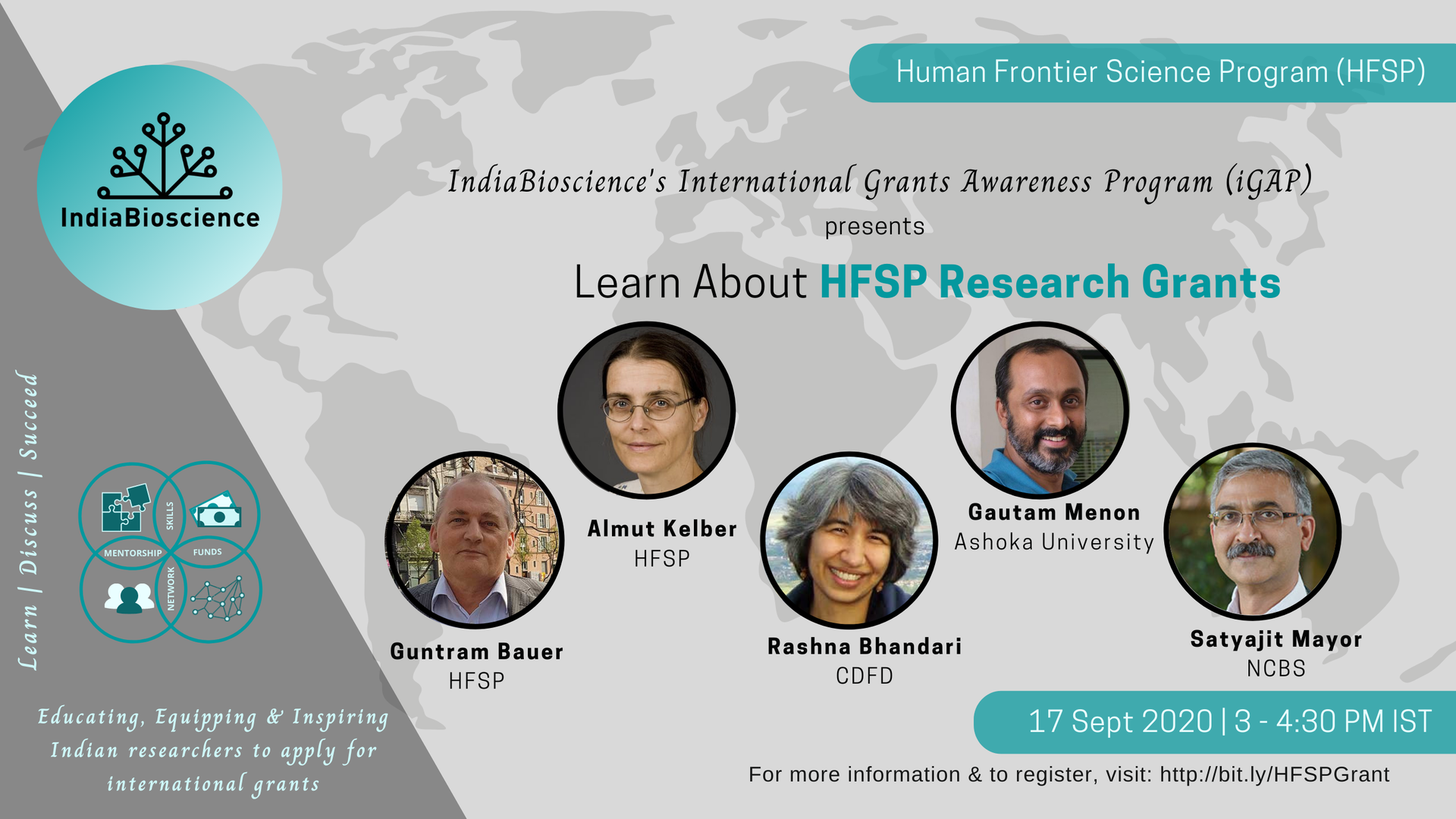 As research is progressively occurring in the international arena, India is keen to align with international funding agencies that reflect this shift. This has opened the doors for Indian researchers, working in the field of life sciences, to a large number of international funding schemes.


IndiaBioscience brings to you the International Grants Awareness Program (iGAP) which aims to improve the success rate for Indian applications at international funding opportunities- for some of which India even contributes towards. The objective of this project series is to spread awareness of international funding schemes, impart skills to craft a successful application and inculcate the confidence to apply by sharing access to a network of Indian mentors. Here we explore the Human Frontier Science Program (HFSP) Research Grants.

Join us for an informational webinar that brings to you multiple perspectives. Hear from Almut Kelber (Director of Research Grants, HFSP), Guntram Bauer ( Director of Science, Policy and Communications, HFSP), Rashna Bhandari ( Group Leader, CDFD and HFSP Awardee), Gautam Menon (Prof. of Biology & Physics, Ashoka University and previous HFSP Review Committee member) and Satyajit Mayor (Centre Director, NCBS and HFSP Awardee).
This webinar will include:
Introduction to HFSP and their mandates
Details of HFSP Research Grants open to young Investigators in the India Life Science community.
Insights into what the review committee looks for in a successful application
Advice for prospective applicants
Why apply?- what having an HFSP Research Grant has meant for an awardee's scientific career
Long Q

&

A session
Learn | Discuss | Succeed
Rashna Bhandari

Gautam Menon

Almut Kelber

Guntram Bauer