Registration
This live online event will be hosted on Zoom.
Join the conversation!
Click here to register.

There is no registration fee to attend this online event.
Date: 18 January 2023

Time: 18:00 — 19.00 IST | 7:30 — 8:30 EST

Ignite Life Science Foundation, Cactus Communications, and IndiaBioscience have come together to co-host this live online event. In a relaxed and conversational format, the interlocutor for each session will uncover the background story of the work and life of an eminent scientist. This will not only afford students, young scientists, and the science-curious in India a first-hand/ringside view of what it takes to become successful in science but also give them an opportunity to direct questions to the invited scientist. This is a platform for students, young scientists, and the science-curious in India to connect with the stories behind the work of eminent scientists, in preparation for their own journey in science.
This series of online live events will explore the lives and work of scientists in an informal chat session. The 6th conversation of this series is with a well-known American researcher, author, speaker, and consultant James J. Collins who is considered the ​"Father of Synthetic Biology".

The ​'IN CONVERSATION with IGNITE' sessions are public events meant for the science-curious early and mid-career faculty, senior scientists, students, and the broader society. We would especially like to invite undergraduate, Master, and Ph.D. students from across India to attend these sessions to hear some remarkable stories behind some equally remarkable science and interact with the speakers.
Up to eight audience members will be awarded a prize for actively participating during the sessions and asking interesting question/​s.

Note: You may also submit your questions via the registration form. So stay curious and keep asking questions!
All are welcome. Come to discuss and celebrate science!

Welcome & Housekeeping rules

---

In conversation with James J. Collins

James J. Collins + Shahid Jameel

---

---
James J. Collins is considered the ​"Father of Synthetic Biology". He is a Termeer Professor of Bioengineering in the Department of Biological Engineering and Institute for Medical Engineering & Science at MIT, USA, and is also affiliated with the Broad Institute and the Wyss Institute. He is an elected member of the National Academy of Sciences, the National Academy of Engineering, the National Academy of Medicine, and the American Academy of Arts & Sciences, and a charter fellow of the National Academy of Inventors. Collins works in synthetic biology and systems biology, with a particular focus on using network biology approaches to study antibiotic action, bacterial defense mechanisms, and the emergence of resistance. He has pioneered the development and use of nonlinear dynamical approaches to study, mimic and improve biological function and helped to transform biology into an engineering science. His current research interests include synthetic biology and systems biology and the reverse engineering of naturally occurring gene regulatory networks. He recently used AI/ML approaches to develop a new class of antibiotics – a global first.
Lab website: https://​www​.collinslab​.mit​.edu/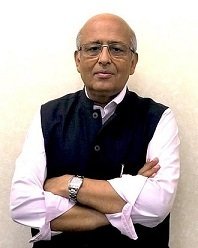 Shahid Jameel is a Fellow at OCIS and Green Templeton College, Oxford, UK. He set up and led the Virology Group at ICGEB, India, for 25 years, researching human viruses. In 2013 he was appointed Chief Executive Officer of the Wellcome Trust/​DBT India Alliance and in 2020 as Founding Director of the Trivedi School of Biosciences at Ashoka University, India.

For any queries related to this online event and also to share your ideas ahead of the event, write to swamis[at]ignitelsf[dot]in.