Himanshu Shekhar is an Assistant Professor at the Indian Institute of Technology (IIT), Gandhinagar. He was one of the Young Investigators selected to attend YIM 2020 in Mahabalipuram. In this invited article, he talks about the importance of learning and applying strategic management skills when a researcher is first setting up their independent lab.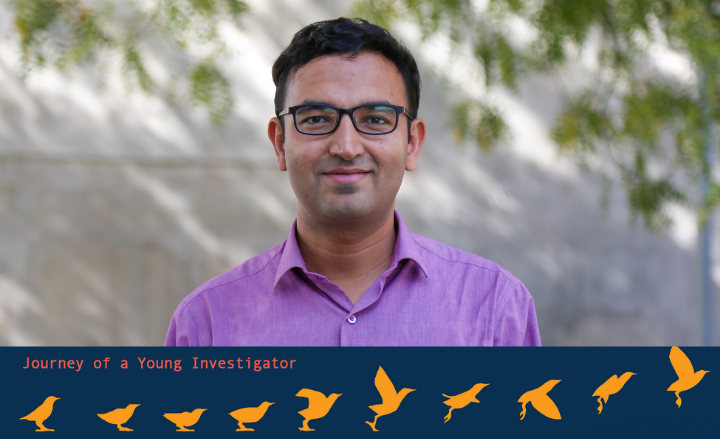 I obtained a PhD from the University of Rochester and received postdoctoral training at the University of Cincinnati College of Medicine in the USA. My time in the USA was a great learning experience and my mentors, colleagues, and friends supported me throughout. However, towards the end of our postdoctoral tenure, my wife Karla Mercado-Shekhar and I were excited by the opportunity to embark on a new endeavour back home in India.
Interviewing for faculty positions while travelling across India was exciting, and we had positive experiences at multiple institutions in India. After considering opportunities for our professional and personal lives, we both decided to join the Indian Institute of Technology, Gandhinagar (IITGN) in April 2019. Since then, I have been working towards establishing my laboratory. Through this article, I would like to share my experiences in setting up a research laboratory in India.
The training of academic scientists typically focuses on research with extremely limited exposure to administration. However, setting up a lab requires a PI to budget, procure equipment, and recruit personnel. Further, developing a laboratory may require designing the space from scratch and considering electricity and water supply, air circulation, venting, and safety. These tasks can be considerably intimidating for a new PI.
One of the best experiences during my training was the opportunity to contribute to setting up the laboratory during my PhD in Marvin Doyley's group at Rochester. Moreover, my postdoctoral mentor Christy Holland at Cincinnati had an extremely systematic approach towards lab management. Throughout her independent career spanning three decades, she chose not to hire lab managers and instead, involved trainees in running the lab. Although it felt tedious at the time, gaining experience in lab management proved extremely useful when setting up my own research laboratory, particularly in the Indian scenario.
I joined IITGN towards the end of the spring semester and did not have any teaching commitments for the following three months. I focused on utilizing this time for laboratory design and development. I submitted a proposal for laboratory space allotment and initiated the process of procuring instruments and consumables for my laboratory. I was awarded a modest research initiation grant after joining and received more generous internal funding within the next few months. In parallel, I worked on designing projects to apply for external funding and could submit two proposals while things were shaping up.
A new principal investigator (PI) typically arrives with a comprehensive research plan. Unfortunately, some planned projects take time to get started because of the delay in developing adequate facilities. A new PI can consider pursuing research questions that can help leverage both their own expertise and their environment. Collaborating with colleagues not only provides the necessary momentum and productivity in the short-term, but also leads to novel ideas and impactful research in the long-term.
Most institutions provide a start-up grant to new faculty, which helps launch their research program and provides sustenance until extramural funding is obtained. Although the quantum of funding may vary across institutions, some general observations apply. For deciding the budget, the immediate requirements of the research program must be considered. Reasonable detail should be provided to justify the funding while keeping the budget heads as flexible as possible within the institute norms to buffer future cost escalations or changes in research focus. In addition to equipment, personnel and supplies, the budget may include costs incurred from freight, customs duty, contingency, and travel.
When budgeting for equipment, consider getting specific quotes from vendors rather than employing guesswork. The costs may be significantly higher for imported equipment due to customs duty, shipping expenses, and commissions of local vendors who facilitate import. I recommend including an extended warranty or an annual maintenance contract in the quote, whenever possible. Lastly, budget conservatively to account for any fluctuations in currency values, which has seen drastic changes in recent times, to avoid challenges in procurement later.
Budgetary limits need not always be a constraint in setting up a functional lab. A new PI can start purchasing equipment needed for research projects in the short-to-medium term. Procuring instruments with fewer features may reduce cost significantly. For a variety of equipment, alternate make and models may be available, which may be sufficient for research needs. While specialized equipment may need to be imported, standard laboratory equipment can be purchased from reputable Indian manufacturers.
I can cite my own example here. While setting up an experiment on ultrasound sensing and detection, I was able to buy an inexpensive device on Amazon, which worked well and helped me bypass the protracted paperwork for procurement. Further, the precision needed for laboratory measurements should be carefully considered. A simplistic notion of ​"the more precise, the better" may be counterproductive, given that cost escalates sharply with precision.
A couple of other options to circumvent a limited budget are to buy modular/​upgradable equipment or to build equipment in-house. Access to equipment that is used sparingly can be obtained through collaborations or by visiting national research facilities. Seeking advice from a colleague who has set up a lab like what you envision can be enlightening in this regard.
Purchase procedures in India typically require an intricate understanding of the process. If you are planning to purchase an instrument through a tender, be extremely careful with the specifications and paperwork to avoid delays in procurement. Consider seeking help from experienced faculty and purchase staff for strategies in negotiating with vendors if the terms or the prices quoted are not reasonable. Prioritize the purchase of instruments that are needed immediately to initiate your first few projects.
In some cases, I was not strategic in prioritizing purchases and ended up in situations such as having the main equipment delivered, but not being able to do experiments because I had forgotten to order necessary accessories. Whenever possible, I recommend arranging demos or seeking feedback from present users before finalizing a purchase. Additionally, seek feedback on the professionalism of the vendors from your colleagues and purchase section staff, considering future needs for equipment maintenance and repair.
While requesting lab space, provide the exact details of electrical, venting/​biosafety, water supply, and similar requirements to accelerate the allotment process. Ensure that you have adequate space to house all the equipment that is being procured. Space must be made ready for the installation of high-valued equipment before it is ordered. Consider whether proximity to another lab is preferable for sharing resources. If your laboratory space allotment is delayed, you may request a temporary space. I started my preliminary experiments in a temporary space in a teaching lab, which helped my initial research efforts.
Maintaining equipment effectively is also critical to avoid derailment of research plans. In India, surges in the power supply are common, which can damage sensitive equipment. Uninterrupted Power Supply (UPS) devices or a specialized emergency power line should be used to protect these devices. Whenever possible, UPS can be bought along with the device. Similarly, if the equipment requires a computer, procure the two items together from one vendor to ensure compatibility. Institutes such as IITs may provide adequate support to maintain batteries, UPS, and power backups, but the resources vary from place to place.
The most important aspect of a lab is its people. A new PI may feel the pressure to accept trainees immediately to get work started. However, hiring trainees carefully is critical, and new PIs should do their best to ensure that the candidates are genuinely interested, motivated, and responsible. New PIs can publicize their work by visiting other institutions, attending national and international conferences, creating informative and appealing laboratory websites, and harnessing networking resources, including social media. Conducting national and international workshops may also help initiate new collaborations and attract promising students and postdoctoral fellows.