N Rajendra Prasad is an Assistant Professor at Department of Biochemistry & Biotechnology, Annamalai University. He attended YIM 2012 as a YI. In this guest post, he shares his thoughts on the open-laboratory system.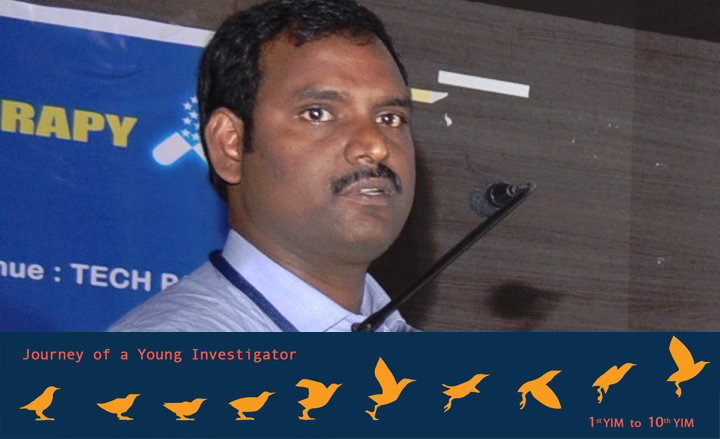 During my postdoctoral stint at the Laboratory of Cell Biology (LCB), National Cancer Institute, NIH, and at the Armed Forces Radiobiology Research Institute, USA, I got my first experience of an open lab. Having worked in Indian universities and research institutions, I had only seen laboratories that were independent and often closed to each other. So, this came as a pleasant surprise. The LCB of NCI was designed in a way to share its dark room facility, cold rooms, major equipment and biosafety cabinets with the adjacent Laboratory of Cell and Molecular Biology (LCMB). By pooling these facilities on each floor floor of building, the NCI was able to minimise the number of duplicated resources and reduce the cost of operation considerably. The researchers used common facilities without any overlap by planning their work schedule meticulously and booking a facility well in advance.
The concept of open-lab emerged in the mid-1990s in the Western countries, when funding levels fluctuated rapidly and several Principal Investigators (PI) decided to freely share their equipment and facilities. Since then, an increasing number of research institutions have adopted ​"open" labs to support team-based work. The open lab concept is significantly different from that of the ​"closed" lab of the past, which was based on accommodating the individual PI. An open laboratory has a single unpartitioned laboratory space larger than the average size of a two-to-four module laboratory. The layout often consists of wet lab, biosafety cabinet, cell culture lab, cold room, major equipment room, autoclave room, conference room and a corridor with areas demarcated for gatherings and lunch. There can also be two or more open labs on a floor, encouraging multiple teams to focus on separate research projects. A wide variety of labs ‑from wet biology and chemistry labs, to engineering labs, to dry computer science facilities — are now being designed as open labs.
I strongly believe that the open lab system can, not only reduce the costs of running research facilities but also open avenues for collaboration among PIs. This is especially good for young PIs who are implementing new research projects. Getting researchers to talk to each other is the only truly effective way to transfer technical knowledge and advancing the process of information. I am pretty sure that the open lab concept within an organisation can create working communities, facilitate collaboration and may create tangible outcomes. It is obvious that closed research environments will not fulfil the PIs research requirements completely for long periods as their goals and priorities have to be updated regularly, in accordance with current trends, institutional vision and technological changes.
Further, running a research lab is a complex endeavour and it requires meticulous management skills. An open lab allows a young PI in his/​her initial phase of career to concentrate more on doing science rather than on management aspects of running a research lab. Further, I have regularly seen young Indian PIs struggling to meet the cost of reagents and kits for their research needs. In India, most of the reagents and kits for cell and molecular biological experiments are imported and are almost double in cost when compared to the country from which they were imported. An Indian PI has to invest a lot for the consumable part of their project. In this scenario, the open-lab concept can considerably reduce the cost of their research projects by avoiding huge investments in capital equipment. Moreover, the open-lab system gives a modern and stylish appearance to the research laboratories.
The open lab concept does have some drawbacks too, such as, its inability to provide researchers with a lab setting customised for their specific research needs. There are also concerns about confidentiality of the research and physical security of the facility. Also, some researchers find it hard to work in a lab that is open to everyone. They may require a dedicated space for their research in an individual closed lab. In such situations, individual closed labs that have a direct access to a larger, shared open lab, can be designed. When a researcher requires a separate space, an individual closed lab can meet his or her needs; when it is necessary and beneficial to work as a team, the main open lab is used.
Open labs will find more acceptance if researchers, policy makers, experienced lab managers and designers work together, right at the time of planning or renovating a research laboratory. This way we can design open-labs that give utmost importance to concerns about confidentiality and physical security. However, before starting to work in an open lab, PIs have to be mentally prepared for sharing their facilities, fostering trust, strengthening teamwork and resolving conflicts, if they arise.