Arpita Mukhopadhyay is an Associate Professor at the Division of Nutrition, St. John's Research Institute, Bangalore. She attended YIM 2017 as a YI. In this guest post, she writes about why she got back to a full-time research career after having quit it earlier.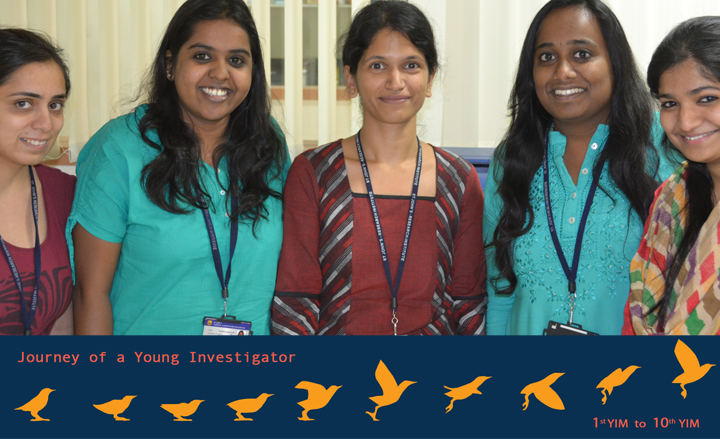 I was curious enough in school to pluck off the primary shoot apex of the marigold plant in my garden, when we were taught about the suppressive action of auxin produced by the primary shoot apex on the growth of secondary axillary buds. Repeat action ensured an extremely bushy plant that later bloomed beautifully.
Despite my curiosity and interest in finding why things behave the way they do, my entry into biomedical research was not a straightforward one. My father had hoped for me to get into medicine. However, I did not qualify in the entrance exams owing to a lack of interest and ended up in the biomedical research track.
As the first PhD student of Maneesha Inamdar at Jawaharlal Nehru Centre for Advanced Scientific Research (JNCASR), Bangalore, I learnt valuable lessons in not just designing, conducting and interpreting experiments but also in overcoming the obstacles involved in setting up of a lab. This entrepreneurial zeal also helped me in applying to the Council of Scientific and Industrial Research (CSIR), Govt. of India for a Foreign Travel Grant to attend the Mouse embryo microinjection workshop at Penn State University and the Society of Developmental Biology- Mid Atlantic regional meeting at University of Pennsylvania in 2003. During that trip, a chance encounter with a postdoctoral researcher in Boston introduced me to Zebrafish, a developmental model I got completely sold on. Therefore, I started applying exclusively to Zebrafish labs for my postdoctoral research. Since I had no previous experience in working with Zebrafish, it took me almost 9 months of search to finally get accepted in the lab of Prof. Randall T. Peterson at the Cardiovascular Research Center, Harvard Medical School/​Massachusetts General Hospital, Boston where I used small molecules to probe into cardiovascular development of Zebrafish.
Unfortunately, I had to prematurely resign from my position 2.5 years later to take care of my 8‑month-old son. I moved back to Bangalore with my family with no intentions of getting back to research. I had made up my mind to focus on my family, quite like a large number of once would-be women scientists. Little did I know at that time how difficult it would be to be a stay-at-home mom after being in the lab forever. However, my daughter was born about a year later forcing me to extend my away-from-research break.
Though my in-laws were staying with us, I still assumed that balancing a research career with two young kids was beyond me. As a result, I started to look for so-called alternate/work-from-home careers and when my daughter turned two, I joined a Knowledge Process Outsourcing company in Bangalore that had the primary job of creating supplements (=question banks) on books they received from international publishers on subjects ranging from management to law to chemistry. When the management there finally let me start working from home about 9 months after joining, I realised within a week how difficult it can be for a mother of 2 young kids to extract ~7 hours worth of work from home. With that realisation, I started looking for teaching/​industry R&D jobs. I hit a wall with both, due to lack of teaching experience and an accumulated gap of 3.5 years by then.
As I then started looking for ways to get back to research, I came to know that Dr. Anura V. Kurpad, Head of the Division of Nutrition, St. John's Research Institute, was looking for a developmental biologist to carry forward the human placental work that had been started as an off-shoot of the St. John's birth cohort established about a decade and half earlier. I joined as a lecturer in 2012 and have since then established the Molecular Physiology Lab, secured funding and started getting our findings published.
I started a modular course in Fundamentals of molecular and cellular biology for the first year medical undergraduate students during the academic year of 2015 – 2016 that I have continued every year since. I am also the co-coordinator of the Molecular biology course for postgraduate medical students started this academic year (2017−18).
Despite the successes, my stint at St. John's Hospital was peppered with challenges. My foremost challenge was to align my research interests with the division's on-going research themes. This balancing act has been a rewarding and enriching experience as the Division of Nutrition has an eclectic mix of physiologists, nutritionists and public health experts. Another equally daunting adaptation that I had to make was to learn to apply my training in developmental, cell and molecular biology to the model organism Homo sapiens, one I had never worked with before. A few lessons I learnt on the way: one, the art of explaining your research questions to subjects and clinicians for getting them enthused is perhaps the first step in being able to do human research; two, working with human subjects made me learn and appreciate the nuances in research ethics like never before; three, the variability involved in data from human subjects and the factors influencing that variability is something I am still coming to terms with and finally, the experimental limitations of the Homo sapiens model makes me appreciate the power of animal models, or better, the power of a complimentary approach.
In a society where research is falling behind in attracting the best students and talent, I continue to find my motivation for a research career in the clichéd yet relevant hope of being able to come up with original findings that make a difference in the life of a patient. The other source of motivation is, of course, my long-time friend curiosity!