Rama Krishna Kancha is an Assistant Professor at the Centre for Plant Molecular Biology (CPMB), Osmania University, Hyderabad. In this invited piece, he speaks about the influence and importance of research techniques in aiding the education of undergraduate and postgraduate students in Universities.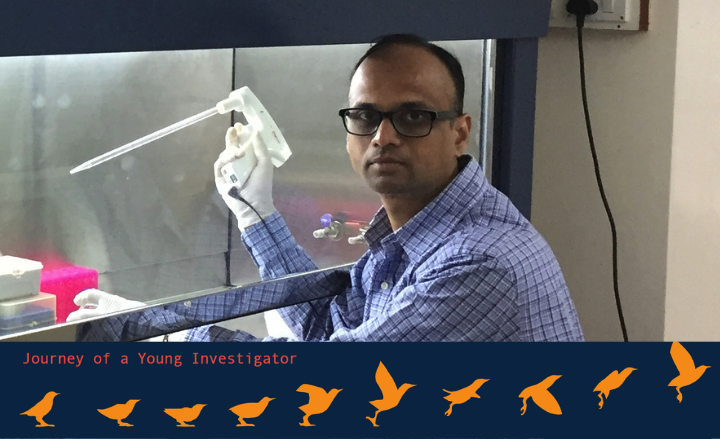 The transition from Postdoc in Heidelberg to Assistant professor in Hyderabad was joyful but had a lot of surprises in store. Interestingly, my cancer biology lab is located at the Centre for Plant Molecular Biology (CPMB). I teach MSc and Pre-PhD courses in the Department of Genetics and Biotechnology. We actively collaborate with the Department of Chemistry and frequently visit them. Even though I work in Osmania University, my salary is paid by the University Grants Commission (UGC). Thus, I am both an insider and an outsider at multiple locations, which demands a lot of flexibility.
This is not possible without active support from senior professors in the University, directors who facilitated smooth access to resources, heads of departments who are welcoming, supportive administrators and friendly colleagues. Sharing lab space with the then-director of CPMB was very helpful in starting the work immediately and a couple of grants from UGC and DST were crucial to conduct research work at a decent pace. In the early stages of your career, associating with the right people is the key.
Importance of research in universities
Universities provide the majority of the manpower that caters to the needs of national research institutes and private companies. The quality of education received at the universities determines the overall performance of scientific enterprise in the country. An up-to-date training in theoretical knowledge and practical expertise makes students employable in the industry and also lessens the burden on research institutes to conduct graduate programs.
Conscious of the importance of training skilled scientific workforce, I take a special interest in training MSc students for their dissertation, in addition to supervising PhD students. A decade-long experience at the Technical University of Munich in training medical and biotechnology students equipped me to guide masters' students towards dissertations with tangible outcomes within the short duration of their stay. Conducting quality research in a university setting is thus very important for training postgraduate students with adequate technical and scientific skills.
Classroom vs Practicals vs Dissertation
Our teaching basically is of three forms: theory, practical and project work. I employ a story-telling approach to teach theory in which an initial overview and context are presented followed by explaining the topic with the help of relevant experiments that helped at arriving at those concepts. In addition, I share relevant information with students via email and social media.
For teaching practicals, I present an elaborate theoretical background before training students to perform experiments. In addition to conducting practicals in the Department laboratory, I also conduct some practicals in my own lab so that the students experience a research laboratory setting first-hand and also gain awareness about a PhD students' life by interacting with them.
The MSc dissertation students in my lab are trained in multiple aspects of scientific exercise on par with PhD students, including designing a project, defining objectives, theoretical and practical methodology, data analysis and presentation. I assign students to present a topic each semester to improve their language and presentation skills. It is, however, a very difficult task to achieve all this due to a huge diversity in student community with respect to the socio-economic background, subjects studied at undergraduate level, language skills and personality traits. Attending the Wellcome Trust-DBT sponsored EMBO scientific leadership workshop was very helpful in dealing with many of the issues we encounter on a daily basis.
Networking — an essential component of teaching/​learning
I make sure that any friend from India or abroad visiting Hyderabad also gives a lecture at our institute, facilitating our students gaining deeper insights into various disciplines. We also arrange informal meetings with visiting scientists so that our students have first-hand knowledge regarding the work culture and expectations of potential future employers. Given the multi-disciplinary nature of our work, the students often have an opportunity to interact with chemists and physicians both on campus as well as at hospitals.
Attending orientation and refresher courses helped me network with many faculty friends in the region. The Regional YIM organized at the University of Hyderabad and the Wellcome Trust-DBT annual fellows meeting were very helpful in networking with researchers of the region and country, respectively. I also frequently share my experiences with faculty friends and constantly learn from their perspective regarding teaching and research in India.
I believe that a teacher with a lot of dedication and sound research background combined with excellent communication skills can impart knowledge to university students in a meaningful way to meet the current demands of the country. Upon graduating, some students may take up various non-scientific roles such as teaching or management for decades to come; a brief but decent research experience that cultivates scientific temper is essential for them to easily update their knowledge in the future and stay relevant in their respective jobs. It is thus important to conduct high-quality research in universities to give students a valuable learning experience combined with a taste of laboratory research.
---
Did you enjoy this article? Please let us know in the comments below.