Shilpak Chatterjee is a Senior Scientist at the CSIR-Indian Institute for Chemical Biology. In this invited article, he writes about how one can best utilize the post-doctoral training period to have a head start when it is time to set up one's own independent laboratory.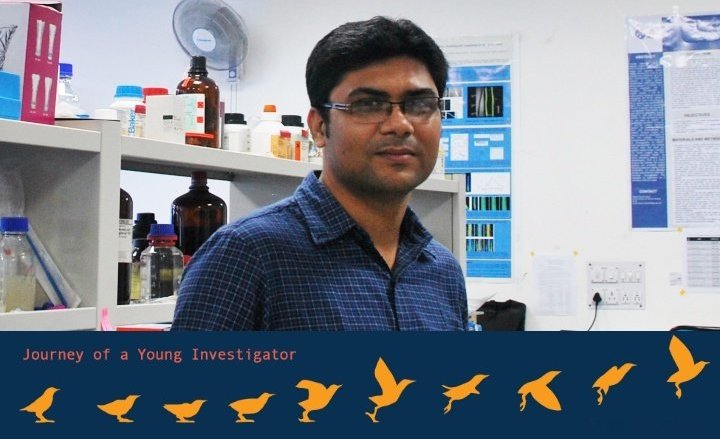 It is said that a house becomes a home not by the bricks, the doors, or the windows it is made up of, but by the people living in it and the bonds they share. Similarly, a laboratory with all its instruments and chemicals never comes to life without the PI, the scholars and the efforts they put in. Thus, it becomes their abode of creation — the creation of new information.

Last year I was offered the position of Senior Scientist and assigned a lab at CSIR-Indian Institute of Chemical Biology (IICB), Kolkata. This gave me the pleasure of setting up my own lab and a chance to lead four young minds – four future fore-runners of basic sciences – to embark upon their voyage through the ocean of science, by virtue of my experience and guidance.
The post-doctoral tenure that I spent in the Medical University of South Carolina (MUSC), USA has unequivocally helped a lot in shaping my career as a scientist. An enormous amount of inspiration, motivation and advice was provided by my PI while I was starting this journey from scratch.
I still remember my first day at MUSC when my post-doc mentor and I had an hour-long discussion regarding my work, projects and goals. As I was leaving his office, he called me back and said ​"Your goal should be to reach this end of the table and sit in this chair I am on today. This might be the toughest journey you ever had, but plan your journey judiciously and you surely will succeed."
Now that I am on such a chair, his wise words still appear as a ray of motivation in every step. Since postdoctoral tenure is an important transition phase from being a research scholar to a PI, a postdoc should consider a few things to put himself/​herself ahead of others.
First, ​"write, write and write". There should be a continuous effort of writing small research proposals which immensely helps in selling scientific ideas to funding agencies. I attended many grant-writing workshops and seminars during my post-doc that have given me an advantage for obtaining grants today. Another crucial point that I learnt from these workshops is that an idea must be nurtured well before being shaped into a proposal. If one is clearly convinced about his/​her own idea, then only can he/​she put it forward in the form of a proposal that is convincing enough for others as well.
Secondly, interactions with eminent scientists and sharing ideas with them was an experience from my post-doctoral life that has helped in shaping my scientific ideas as well as in acting as a source of inspiration for a budding scientist.
I remember a particular incident in this regard. During my postdoc, I was driving a particular project. Everything was going well initially, but suddenly, at some point, I got stuck. The experiments failed repeatedly. I was so frustrated by this repeated failure that I was about to quit the whole project. At that point, in a research meeting, I approached a professor, one of the big shots in our field, and discussed my problem. He simply suggested that I add one extra group along with my other experimental groups. That idea clicked and finally I got that work published in a reputed journal. This professor advised me to always start by answering small questions keeping the bigger picture in mind. When such experiments yield results, it can boost one's confidence towards solving the bigger problem.
Thirdly, at my MUSC lab, I was assigned internship candidates whom I was to mentor and help prepare for a life in science. This experience has been fruitful in mentoring my own PhD scholars. Graduate students also used to approach me frequently with their problems. Listening to their discussions helped a lot in untangling the knots and advancing steadily towards the solutions. I try to practise this open discussion policy with my scholars too, and this helps us to clarify our problems to a great extent.
Last but not the least of the lessons that I learnt during my post-doctoral tenure was that building and maintaining good, cordial relationships with my fellow post-doctoral students from different disciplines, many of whom will also become PIs one day, can be very beneficial in long term by promoting a collaborative culture.
Adventures in setting up a scientific laboratory
Setting up the lab has not been an easy task. It came with tons of challenges which are still ongoing: the funding crunches, the administrative hassles, the standardisation of protocols and the huge responsibility of leading my scholars on the right track. The best part of being the PI has been the chance to infuse a scientific framework into the minds of my scholars, to motivate them to practise science more & more, to impart my knowledge to train them and set up their lab pro-actively, to encourage them to question, to wonder, to think logically, to do research, to fail, to learn from it, to try again and never give up.
I have never been an adventurous person but I must say that setting up my lab has been nothing less than an adventure. The day we ran our very first experiment successfully was a memorable day for our immuno-metabolism lab family.
This roller-coaster ride through science will bring its many ups and downs. But as a PI, I will definitely try to make the journey worth the effort and lead the lab and its members towards achieving our ultimate goal – to contribute in our own way for the welfare of mankind through our scientific explorations. Also, the bond that I share with my students, our joint ventures and struggles in this initial phase, is something that I will cherish and treasure in my heart for a lifetime.
Fernando T. Maestre writes in an article in Nature titled, ​'Seven steps towards health and happiness in the lab' – ​"The key to running a healthy and productive lab can be summarized in a single word: happiness." I believe the same and aspire to make our journey a happy, exciting and a successful one.
---
Did you enjoy this article? Please let us know in the comments below