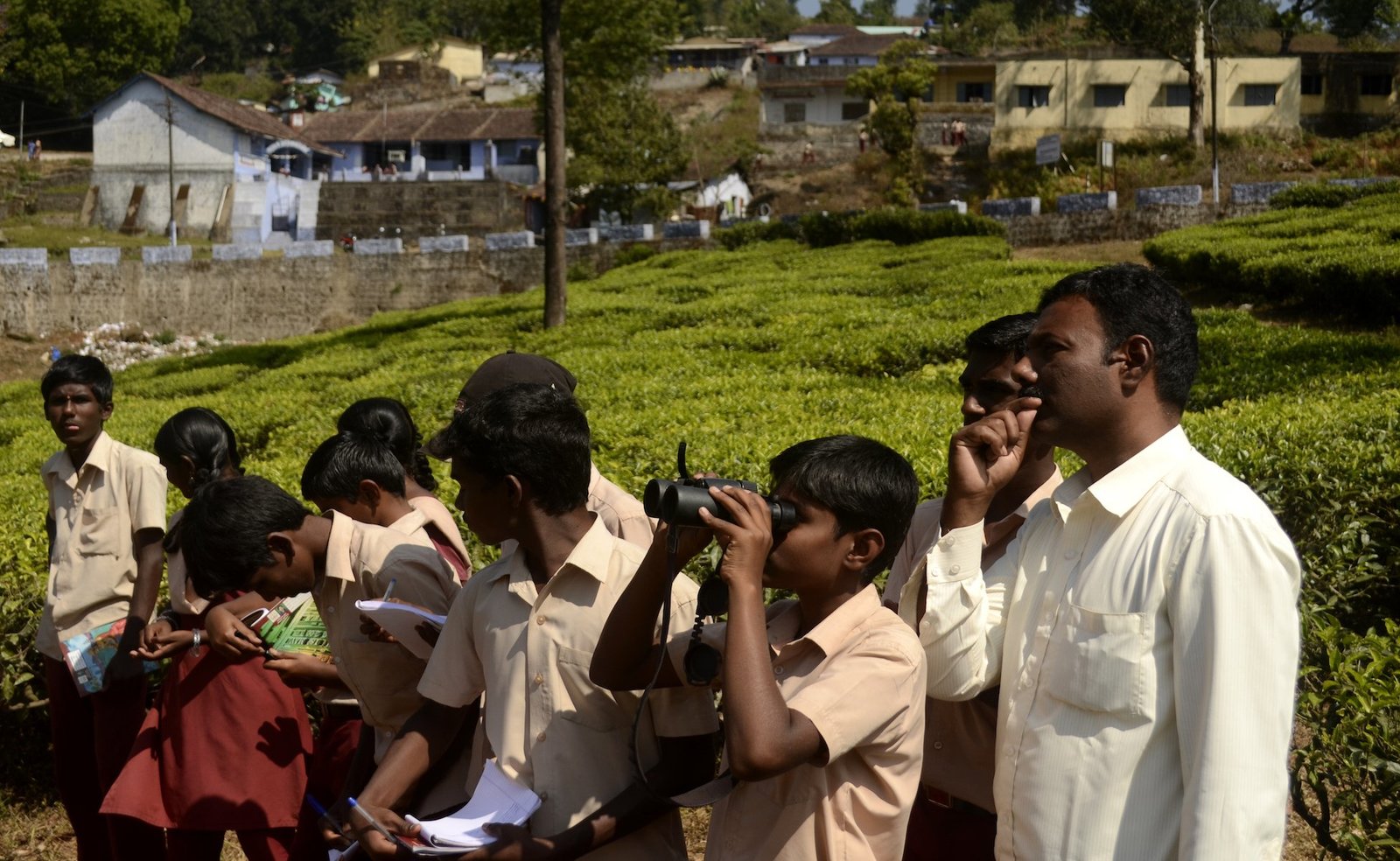 On 5th June the usually beige lobby of our apartment complex looked green, with over fifty small tulsi plants neatly stacked in rows. The receptionist urged us to take one home to mark World Environment Day.

We brought a plant back to our very non-green home, and my six-year old insisted we pot it right then. Then, he asked me why they were giving away plants. I gave him the whole spiel about saving the environment to which he simply said that it looked very pretty and that we should pot some more plants.
"Once someone plants, they'll plant for life," I remembered Malali Gowda saying. Gowda is one of the founders of the Biodiversity Conservation and Research Trust, Anuganalu village, Karnataka, and a professor at the Transdisciplinary University (TDU), Bangalore.
"We had a forest, we lost it," he had said, talking about his village Anuganalu, in Hassan district of Karnataka at the foot of the Western Ghats. Because of the indiscriminate cutting down of trees, the hills near his village became barren. These hills are important as the trees there help seed clouds and act as a gateway for the monsoons from the Western Ghats to move eastward in that region. Deciding he had to do something about it, he motivated his family, friends, and other villagers to start planting fast-growing trees on the rocky, barren lands around his village. This was in 2000. Within 5 years, their efforts paid off and the brown land was green with grass and small trees. Another result of the greening was that the groundwater level increased.
Community-led activities like these are labelled as citizen science. In other words, non-scientists participating in and furthering scientific endeavours by collecting and analysing data.
Although it has attracted great attention in the last few years, most scientists in recorded history, until perhaps the early 20th century, were ordinary citizens, who usually had other day jobs and dabbled in science simply out of curiosity. Leonardo da Vinci earned a living as an artist, performing scientific experiments in his spare time. Asking a network of people to record their observations of the natural world and collecting specimens was a common method that early naturalists such as Carl Linnaeus used to understand the world around them.
At home, in India, wildlife conservation with the participation of people has been going on for more than 25 years, according to Krithi Karanth, a conservation biologist and executive director at the Center for Wildlife Studies, Bangalore. Her father, eminent conservation biologist Ullas Karanth, started citizen science programs in Karnataka with just a few hundred people, she said. Now, these initiatives have spread to various parts of the country with several thousand citizen scientists volunteering in the last two decades.
Participants from different walks of life have come together to do their bit in protecting wildlife. They have walked the jungles to report animal sightings, conducted bird surveys, butterfly surveys, monitored camera traps, and surveyed hundreds of villagers to understand the effect of human-wildlife conflict. Such massive projects if done alone would take years, but with the help of volunteers it can be done in a couple of months, she added.
Because of the surveys on human-wildlife conflict, the results of which were shared with the government, Krithi developed a project that helped thousands of families in Bandipur and Nagarhole file claims with the government and receive compensation much faster than before. In addition, the study showed that no one preventive measure was useful for minimising loss of crops or livestock. ​"So, it's science that led to a conservation intervention that is having real-world impact on the lives of thousands of people," she said.
Another successful example of citizen science is the Seeds for Needs program by Bioversity International that started in 2009 in Ethiopia. Aimed at making farmers resilient to climate change, the program helps volunteer farmers test out different varieties of crops in their own fields and they provide feedback on which varieties have higher yields. Spread across 13 countries globally, the program has 15000 volunteers from India alone, and farmers from Bihar, Uttar Pradesh, Chhattisgarh, and Madhya Pradesh are participating.
A study published last month tried to understand why farmers do this. Motivations vary across the globe, they found, and for Indian farmers, it was the idea of contributing to scientific progress and welfare of all that drove them.
Sometimes there are questions that can be answered perhaps only using citizen science. In India, people believe that the pied cuckoo or the chatak bird, a summer visitor to northern India from Africa, arrives before the rains, yearning for water, and if the bird arrives, the rains can't be far behind.
Whether this is actually true was answered by a program started almost a decade ago. Called MigrantWatch, birdwatchers from all over the country reported sightings of various migratory birds and uploaded the data onto a website. When the data of first sightings of the pied cuckoo over various locations over several years were collated and analysed along with the dates of the arrival of the monsoons, the answer was clear. The pied cuckoo does indeed arrive before the monsoons although how long before varies based on the location and year.
The MigrantWatch program ran for 8 years starting in 2007, with more than 2000 birdwatchers reporting in. For some, it was simply a continuation of an old hobby, for some watching birds was something new. Be it watching birds, planting trees or watching wildlife, all the volunteers are motivated by the desire to do something beyond their daily life and contribute to the environment in some way.
"I do think that it's fair to say that when people see what difference their participation makes, they become both more regular and committed participants as well as become ​'ambassadors' by reaching out to other people and audiences about the project or activity," said Suhel Quader, a scientist with the Nature Conservation Foundation and an avid proponent of citizen science.
Internationally too, public engagement in science has become an important part of public policy. The American Association for the Advancement of Science (AAAS) has established a center for public engagement. Similarly, the European Commission has listed public engagement as an essential part of responsible research and innovation. Several of India's environmental problems, be it being prepared to weather climate change or saving our forests and wildlife, can benefit by adopting this participatory approach, as decades of work has shown.
Back in Anuganalu, the barren land is now green, except for one hill that has been left barren, a reminder of what was. Left to itself, the forest would have taken about 50 years to come back, but with the help of people, it took five. As Gowda remarked, ​"everybody participates, everybody grows."