From the IBS Desk
Dear Reader,
We hope 2021 is off to a great start for each one of you. Here are some glimpses of the previous year at IndiaBioscience. We are pleased with what we could accomplish in spite of the unique and unprecedented challenges of 2020, and the support of our community has played a big role in keeping us motivated and driven.
Going forward, we have a lot of exciting projects lined up in 2021, and we decided to dedicate this newsletter to providing a quick glance through such projects. We hope for your continued engagement and support in carrying these forward. Do let us know what you would like to see from us in the future and if you have ideas about how we can further serve the community. As always, you can write to us anytime at hello@indiabioscience.org, or connect with us on Twitter, Facebook, LinkedIn or Instagram. We love hearing from you!
Stay Safe | Stay Connected | Stay Engaged
13th Young Investigators' Meeting 2021

17-19 Mar 2021
The annual Young Investigators' Meeting (YIM) brings together exceptional young and senior scientists, heads of institutions, and representatives from funding agencies for interactions focusing on science careers, mentoring and networking. YIM 2021, which will be held in an online mode. will feature illuminating talks by renowned scientists, networking sessions, and panel discussions that focus on a wide variety of topics, including mentorship, setting up a research group, navigating the post-COVID world, funding opportunities and research assessment.
If you are a young (independent) investigator (YI) in India or a postdoctoral fellow (PDF) intending to set up a research group in India, this meeting is for you. Please complete the application process by 7 February, 8 PM IST.
This year, instead of a PDF Satellite Meeting immediately following the YIM, we are organizing a (separate) Postdoctoral Fellows' Meeting in mid-May. This will be a virtual meeting that will recapitulate the essence and format of the in-person PDF Satellite Meeting as best as possible in a virtual format. Stay tuned for updates!

Apply here (For YIs)
Sign up here (For PDFs)
Curious about the Young Investigators' Meetings, and why you should attend one? Check out the articles below. You can also find videos of talks from YIM 2015-2019 here.

How has YIM impacted your scientific journey?
Shreya Ghosh
Impact of Young Investigators' Meetings on life sciences research in India
Smita Jain, Thomas Pucadyil, Sachin Kotak, Rashna Bhandari & Roop Mallik
YIM2020 – Musings from Mahabalipuram
Shreya Ghosh
YIM2019: Glimpses from Guwahati
Shreya Ghosh
IndiaBiostreams: Webinar on Crafting your Career - Session 5

29 Jan 2021 | 3:30 PM IST
The scientific ecosystem in India is ever-expanding, and more opportunities than ever are present today for those who wish to build their careers in science. This new series of webinars by IndiaBioscience discusses several such career paths as well as provide the requisite knowledge, tools and techniques for science graduates to navigate and craft their career paths.
For our fifth session, join us to learn more about professionalism, role models & mentors, and careers in scientific facility management. This session is suitable for students who are currently pursuing or have recently completed a BSc, MSc, or a PhD in any life science field, as well as postdoctoral fellows and research scholars.
The sixth and final session in this series will be held in February, wherein we will put together our learnings from the entire series, as well as exchange views on career development in the context of the Indian scientific ecosystem, in the form of an extended panel discussion. We hope to see you there!
Register here
Want to learn more about how to craft a career in science? Check out our resources below.
Disha: A Career Resource Book for Life Science and Biotechnology Students
Suman Govil
Crafting your Career - Podcast Series
IndiaBiospeaks - Podcasts by IndiaBioscience
Crafting your Career - Webinar series
IndiaBiostreams - Webinars by IndiaBioscience
More Career Resources
IUBS Centenary Webinar Series - Lecture 2
10 Mar 2021 | 6:30 PM IST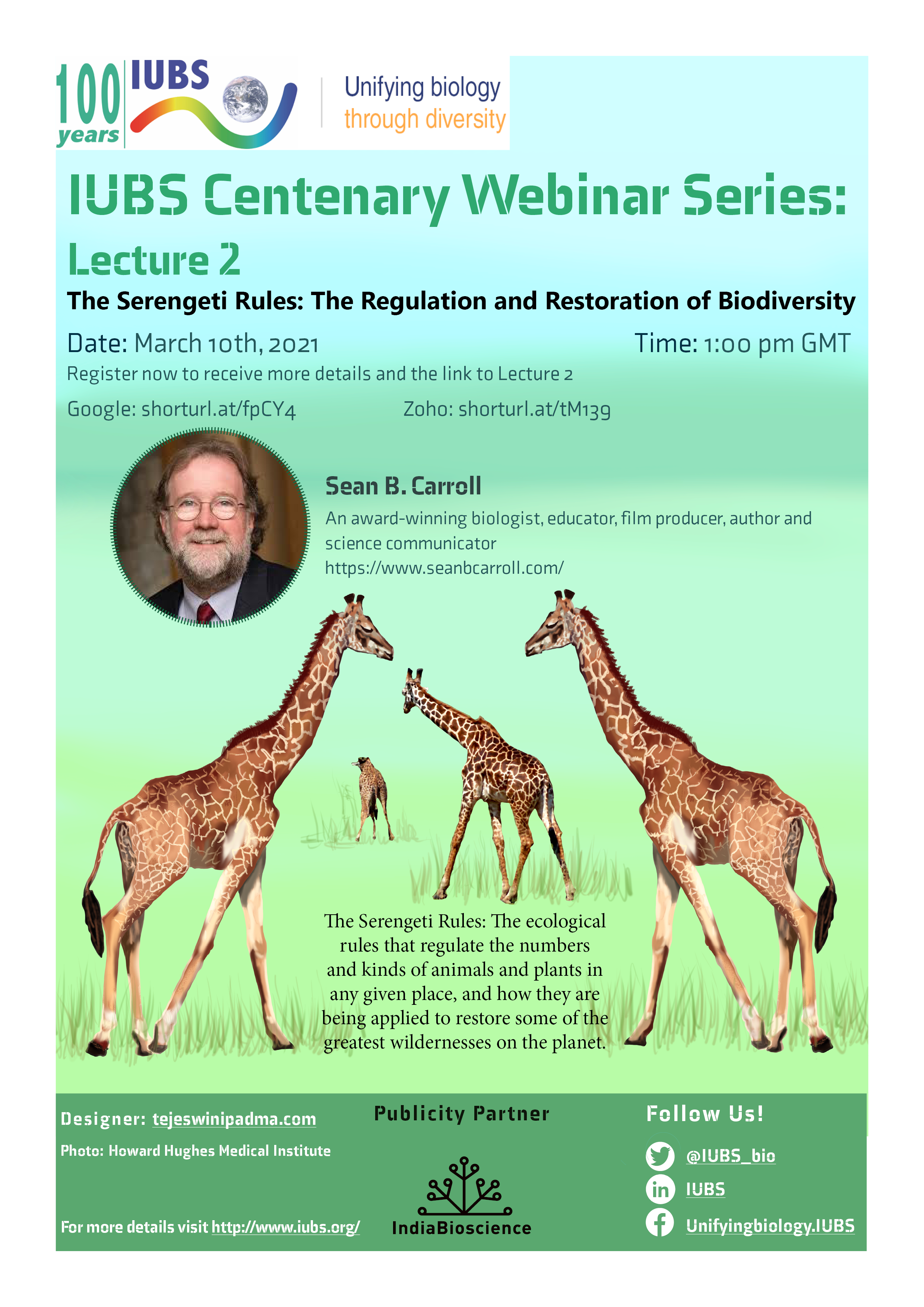 To commemorate the completion of 100 years of promoting excellence in biological sciences, the International Union of Biological Sciences (IUBS) has launched a webinar series. The second lecture in this series is by award-winning evolutionary biologist, Sean B. Carroll titled "The Serengeti Rules: The Regulation and Restoration of Biodiversity". IndiaBioscience is the official publicity partner for this series. For more details about the lecture and about IUBS, please visit the event website.
Register here to receive updates
On Grants and Funding
Lack of accessible information related to grants and funding opportunities often serves as a roadblock in the path of quality research. Here are some of our projects that are aimed at addressing this gap and enabling Indian researchers to obtain funding for research as well as for their professional development.
International Grants Awareness Program (iGAP)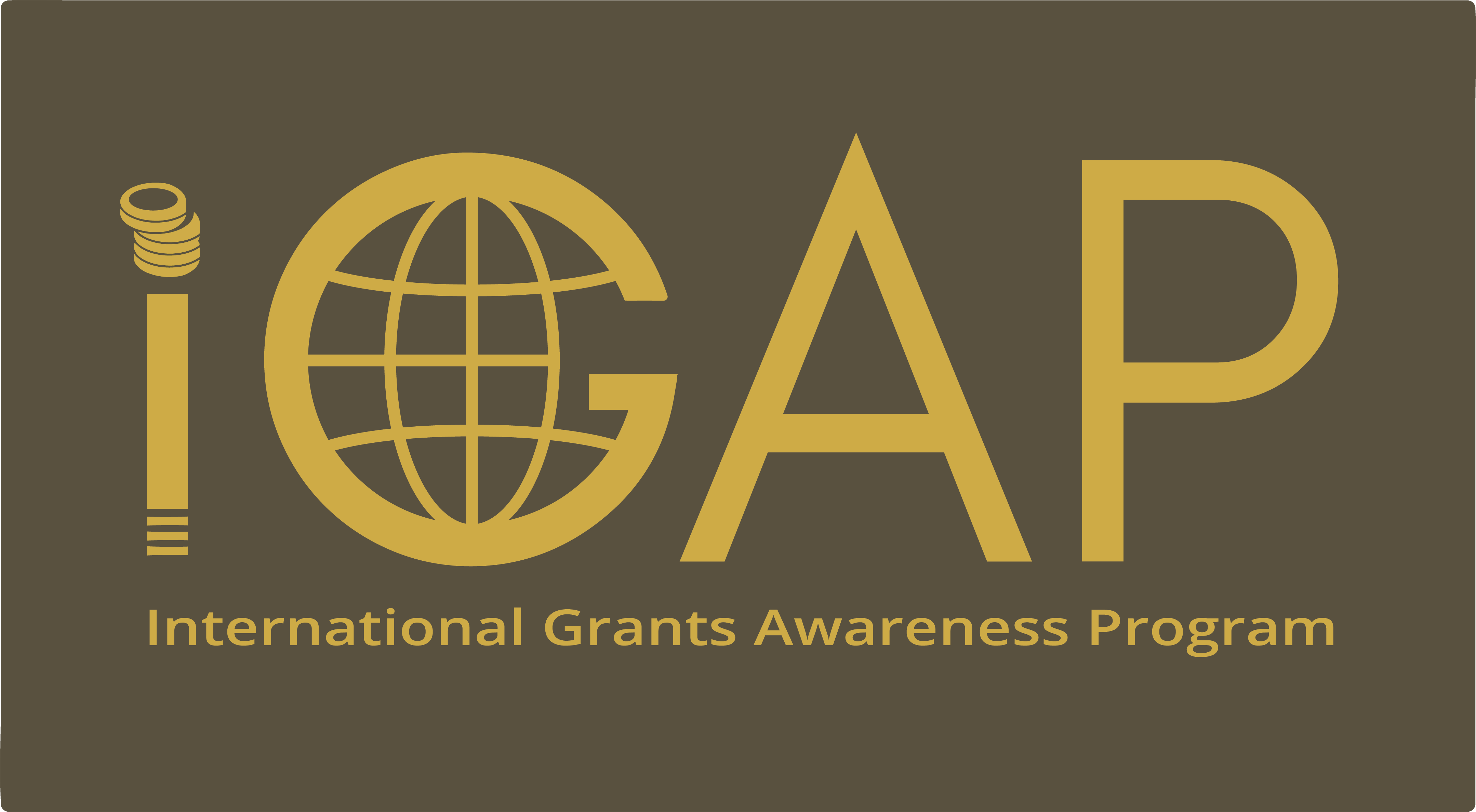 The International Grants Awareness Program (iGAP) aims to improve the success rate for Indian applications at international funding opportunities, some of which India even contributes towards. The objective of this project series is to spread awareness of international funding schemes, impart skills to craft a successful application and inculcate the confidence to apply by sharing access to a network of Indian mentors. In 2021, we will continue to generate resources towards this end. In the meantime, we welcome you to check out some of the webinars, podcasts, and articles that we have already published as part of this project.
Means to a Beginning - Funding opportunities for PhD Students and Postdocs in India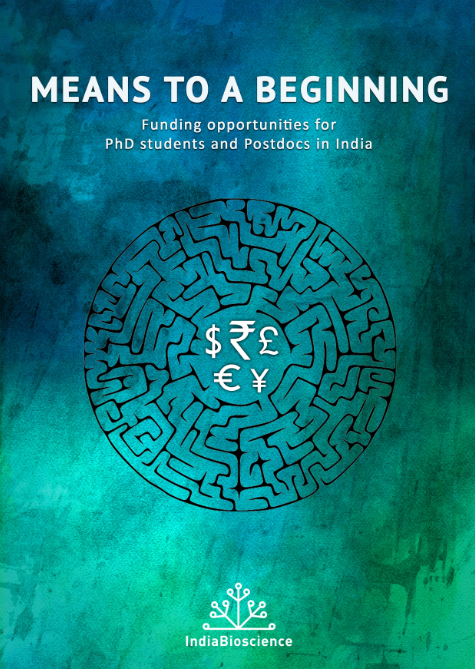 In an effort to improve the accessibility of information related to research grants and fellowships in India, we plan to bring out a series of booklets curating and compiling funding opportunities available to Indian researchers. Means to a Beginning - Funding opportunities for PhD Students and Postdocs in India is the first booklet in this series, which focuses on the funding opportunities available for pursuing PhD and postdoctoral research in different areas of life sciences. It aims to highlight the requirements, benefits, and timelines of these fellowships and award schemes and provides relevant links for easy access to up-to-date information. You can download a free copy of the booklet here.
In 2021, we plan to publish the second booklet in this series, which will compile funding opportunities available to young investigators who have already set up their independent labs.
We also maintain an up-to-date listing of jobs, grants, and events on our website. You can check out some recent listings below.
Call for proposal in Fundamental Research under the bilateral program with Germany
Department of Biotechnology (DBT); Deutsche Forschungsgemeinschaft (DFG, German Research Foundation)
Deadline 28 February
The Markandaiah Small Grants Program
Centre for Wildlife Studies
Deadline 15 February
More grants
Rejuvenating biology education in India
We regularly publish articles of interest to undergraduate biology educators. These articles are based on innovative and research-based teaching, interviews with educators, event reports, the latest research in the country and so on. We started a new article series last year, called "Common Misconceptions in Biology", that covers topics that are often misunderstood by undergraduate students, and describes 'tried-and-tested' ways with which educators can approach these topics. Look out for more articles from this series this year.
We also provide a comment section under each article, where educators can share their opinions and feedback on the article and its topic. We manage moderated discussion forums where educators, students, scientists, policymakers and the general public can have discussions with each other on any topic related to the life science ecosystem in India.
Some of our recent articles, discussions, and resources can be found below.
Common Misconceptions in Biology – Species Richness and Diversity are the same?
Abhijeet Bayani
Undergraduates in Lockdown – Sustaining Research Projects with CUBE Home Labs and chatShaala
Meena Kharatmal, Nagarjuna G & Kiran Yadav
Teaching Graduate Biology
A compendium of articles on higher education (Various)
"Are semester system, 'smart' classrooms and online teaching serving the purpose?"
Discussion (Various)
Explore - Education
On Mental Health and Beyond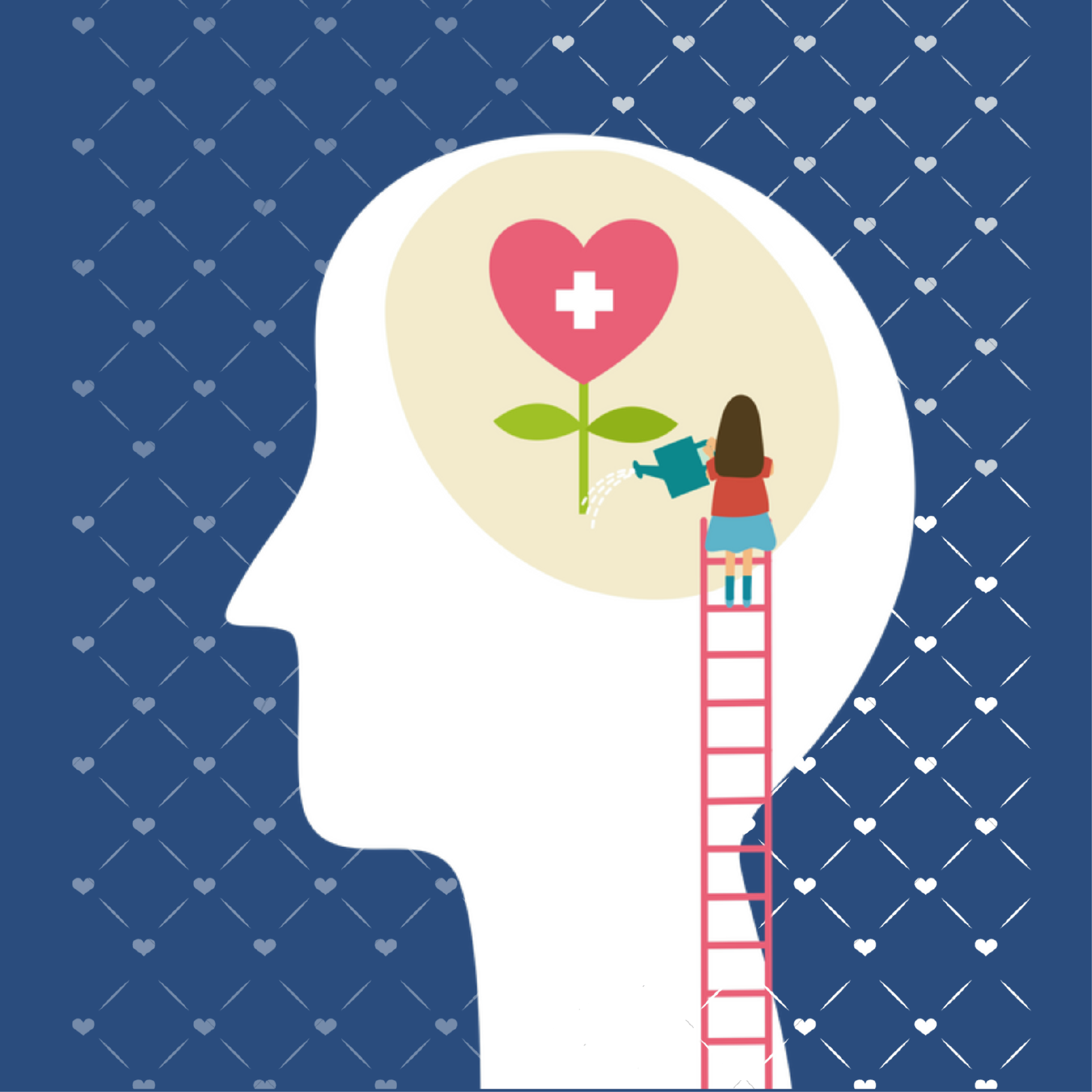 We are progressively seeing the signs of a burgeoning mental health crisis in academia. There is an increasing global push to acknowledge and bring discussions on mental health to the forefront and seek and share individual and collective solutions to support and promote the mental well-being of professionals in science. In 2020, we published articles, podcasts, infographics, and webinars that dealt with this important issue, and we plan to continue this discussion in the coming year. You can find some of our past initiatives as well as some resources linked below.
Hidden in plain sight: A mental health crisis in academia
Debdutta Paul, Annapoorna P K & Shreya Ghosh
COVID-19 and Mental Health: ​"It is important to bring in a sense of cohesiveness"
Shreya Ghosh
Mind Matters in Academia - A Podcast Series
IndiaBiospeaks - Podcasts by IndiaBioscience
CACTUS Mental Health Survey Report 2020
Cactus Communications
Explore - Mental Health
Looking ahead
In the coming year, we look forward to seeing you at our webinars on IndiaBiostreams, talking to you through our podcasts on IndiaBiospeaks, bringing you new and exciting research stories, discussing issues relevant to Indian science, conducting surveys to understand the pulse of the community, organizing events to facilitate networking, mentorship, and capacity building, and continuing to bring you updated information on Jobs, Grants, andEvents within the Indian science ecosystem through our website.

Through this all, we hope to continue following our motto of "Engaging Communities, Enabling Change". We look forward to your support and encouragement. Wishing you all a safe, happy, productive and science-filled new year ahead.