From the IBS Desk
Dear Reader,
At IndiaBioscience, we have always strived to bring you relevant and timely resources that would aid your scientific and professional journeys. In our latest step in this endeavour, it is our pleasure to present Means to a Beginning - Funding opportunities for PhD Students and Postdocs in India - a booklet that compiles funding opportunities available for pursuing PhD and postdoctoral research in different areas of life sciences. You will find more information about the booklet, as well as instructions on downloading a free copy, linked below.
While you are there, don't forget to check out our other publications and resources, including Disha: A career resource book for life science and biotechnology students, Spoorthi, an e-booklet celebrating Indian women in science, and curated resources on COVID-19, mental health, and research ethics.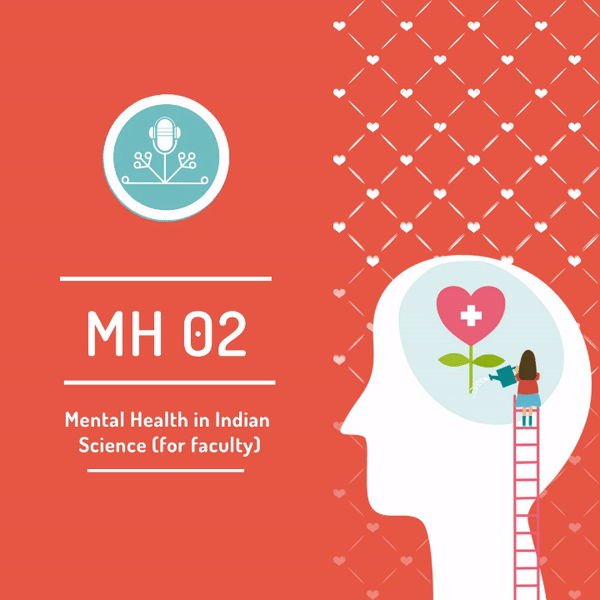 In October, we conducted a webinar on mental health focusing on early and mid-career faculty. We are happy to share that we have captured the discussion in the webinar in the form of a four-part podcast under the series 'Mind Matters in Academia' on the IndiaBioscience website, YouTube as well as android and iOS apps such as apple podcasts and google podcasts. Please feel free to share it with your friends, family and personal and professional networks. We are certain that this conversation will endure as a valuable resource to the community.
Finally, if you have ever wondered about the scope of IndiaBioscience's activities and the different ways in which you could engage with us, we invite you to check out this short video, which summarizes some of our key initiatives.
As you know, we always love hearing from you. You can write to us anytime at hello@indiabioscience.org, or connect with us on Twitter, Facebook, LinkedIn or Instagram.
Stay tuned | Stay connected | Stay safe
Means to a Beginning - Funding opportunities for PhD Students and Postdocs in India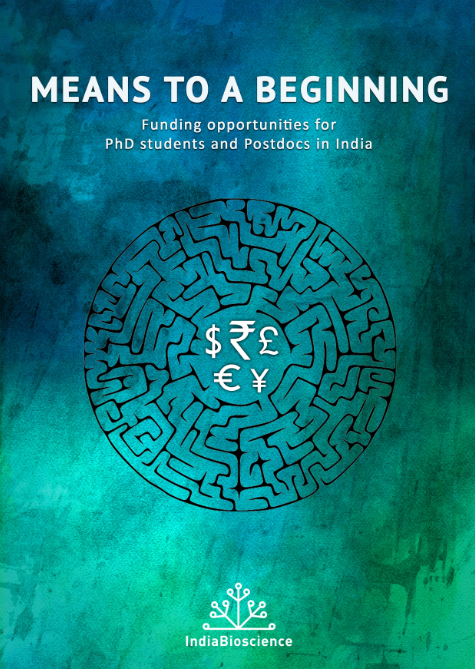 Means to a Beginning - Funding opportunities for PhD Students and Postdocs in India is a booklet that focuses on the funding opportunities available for pursuing PhD and postdoctoral research in different areas of life sciences. It covers national and international fellowships in addition to travel and skill-building awards. It aims to highlight the requirements, benefits, and timelines of these fellowships and award schemes and provides relevant links for easy access to up-to-date information. The booklet has collated relevant information from multiple reliable sources. You can download a copy of the booklet here.
Download here
Upcoming Events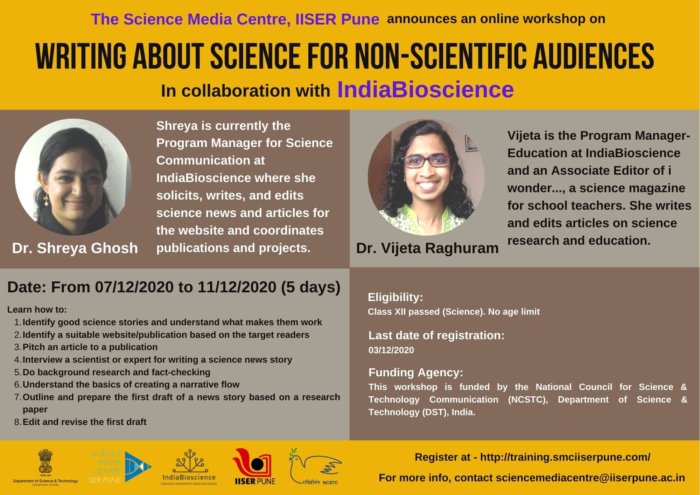 Writing about Science for Non-Scientific Audiences
7-11 December, 2020
We are happy to announce an online workshop on 'Writing about Science for Non-Scientific Audiences', in collaboration with The Science Media Centre, IISER Pune. This workshop aims to train students and researchers in writing about science in a way that is accessible, engaging, and effective. It is funded by the National Council for Science & Technology Communication, Department of Science & Technology, Govt. of India and organized by the Science Media Centre, Indian Institute of Science Education and Research, Pune in collaboration with IndiaBioscience. Register by TODAY (3 Dec) to learn more about finding engaging science stories, pitching them to an editor, writing your first draft, and more.
Register here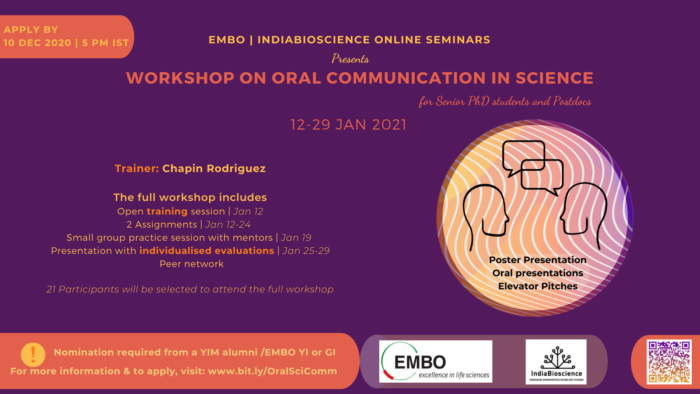 EMBO | IndiaBioscience Workshop on Oral Communication of Science
12-29 Jan 2021
IndiaBioscience is excited to announce the third workshop under the aegis of the EMBO | India Bioscience Online Seminars. The hallmark of these workshops is high-quality training, extensive interaction with the trainer and individualised feedback for life science researchers on a digital platform. Our next initiative is the Workshop on Oral Communication in Science for senior PhDs and Postdocs to be conducted in January 2021. Here you will learn the skills needed for poster/oral presentations and elevator pitches. The full workshop includes a training session, a small group practice session with a mentor, final presentation + individual evaluation, peer network.
This workshop is meant for senior-PhD students and postdocs in the life sciences domain in India. Applicants need to be nominated by a YIM alumnus or EMBO Young Investigator or Global Investigator. The deadline to apply is 10th December 2020. For more information, visit our workshop homepage.
Learn more
News
Protecting the unprotected in the Bhagirathi basin
Rupsy Khurana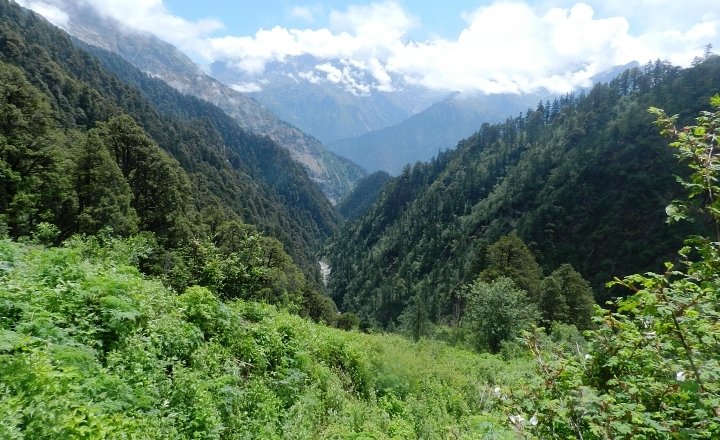 Protecting India's rich biodiversity has usually taken the form of designating protected areas like national parks and wildlife sanctuaries. Several of these are contiguous with larger landscapes that lack such protection status and that form continuous habitat ranges for many animals. In a recent study, a team of Indian researchers have highlighted the need for more focused conservation strategies in the Bhagirathi basin in Uttarakhand.
Columns
Deconstructing hierarchies: A way to address mental health challenges in academia?
Madhuri Srinivasan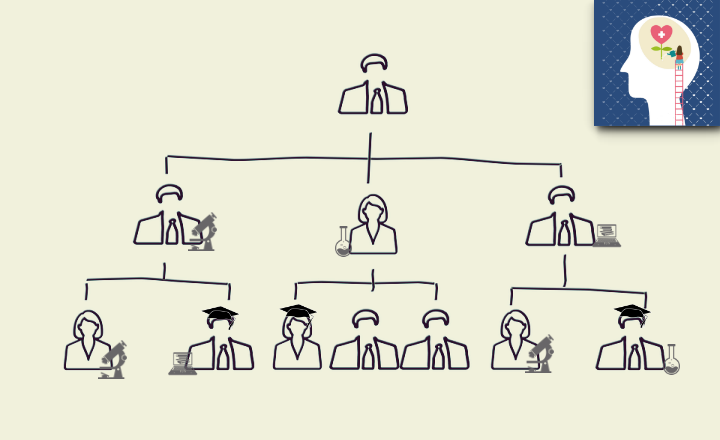 Academic hierarchies have existed in more or less the same form since the beginning of modern scientific exploration, with students often constituting the bottommost rung of the ladder. In this article, Madhuri examines how such hierarchies can induce and exacerbate mental distress, as well as perpetuate a culture of bullying and silence, especially for those lower down in the hierarchy.
Mental health and COVID-19: Better living amidst the pandemic
Raddur Samaddar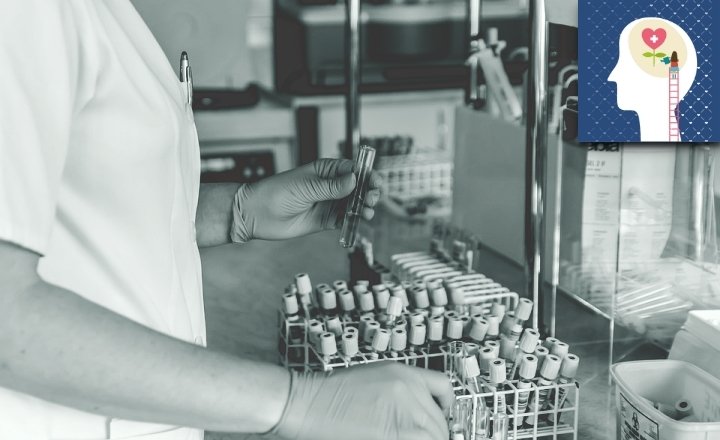 Some of those most active in fighting the COVID-19 pandemic are also the ones most vulnerable to its devastating consequences on mental well-being. In this article, Raddur, an undergraduate student who volunteered at the frontline during the pandemic, writes about the effect of this unprecedented crisis on our mental health and a few small steps we can take to protect ourselves and our loved ones.
Why do we have so many different tests for COVID-19?
Somdatta Karak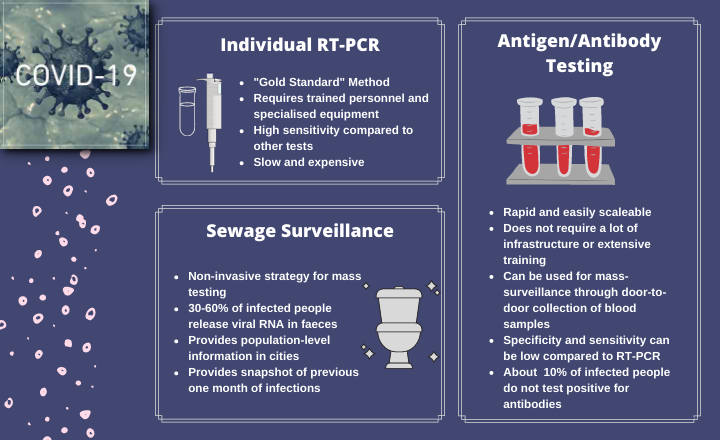 From RT-PCR to rapid antibody kits to sewage surveillance — It is easy to become confused by the variety of different tests currently available for COVID-19. In this article, Somdatta explains the different ways in which each of these tests work, the pros and cons of each method, and the nuances involved in interpreting the results obtained from each of these tests.
From lab to market: the journey of an innovation
Susheela Srinivas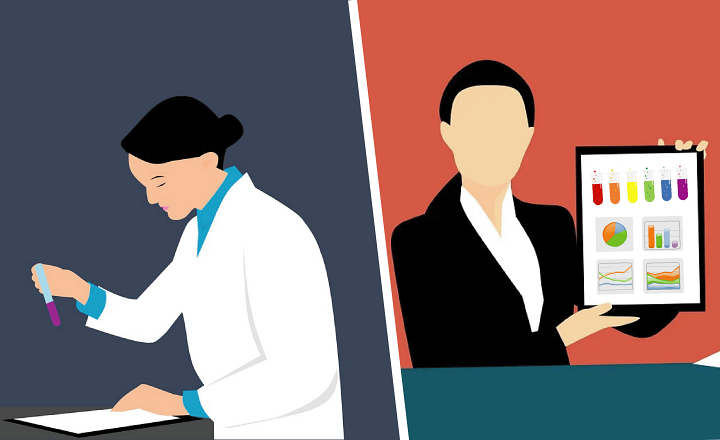 It is a well-known fact that many of innovations made within academic labs fail to make the leap into the market and general circulation. We approached Praveen Vemula, a researcher-entrepreneur whose team has recently developed a face mask with germicidal properties, to learn about some of the key factors that influence successful translation of a technology developed in the lab.
Education
Common Misconceptions in Biology — Alleles at a locus and the number of alleles in a population
Sushama Yermal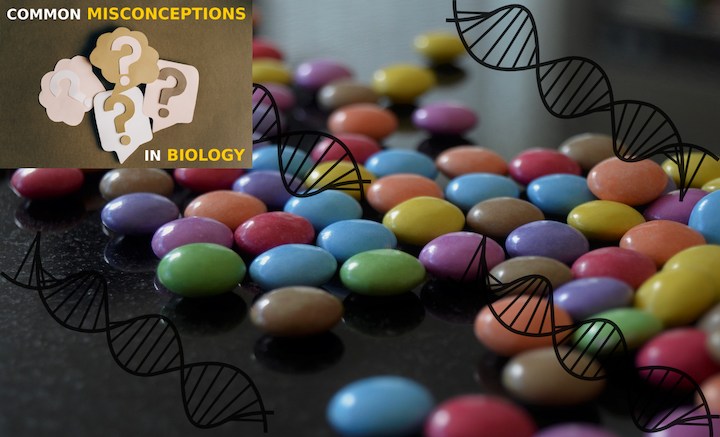 This is the first article of the brand new series, the ​"Common Misconceptions in Biology". In this article, author Sushama Yermal delves into one of the topics in biology that often confounds undergraduate students — the difference in allele numbers between individuals and population. She provides insightful ways to identify misconceptions in students around this topic and offers solutions to resolve them. Yermal is an independent advisor in teacher education. She was formerly a faculty of the undergraduate programme at the Indian Institute of Science, Bengaluru.
i Wonder - Special issue on COVID-19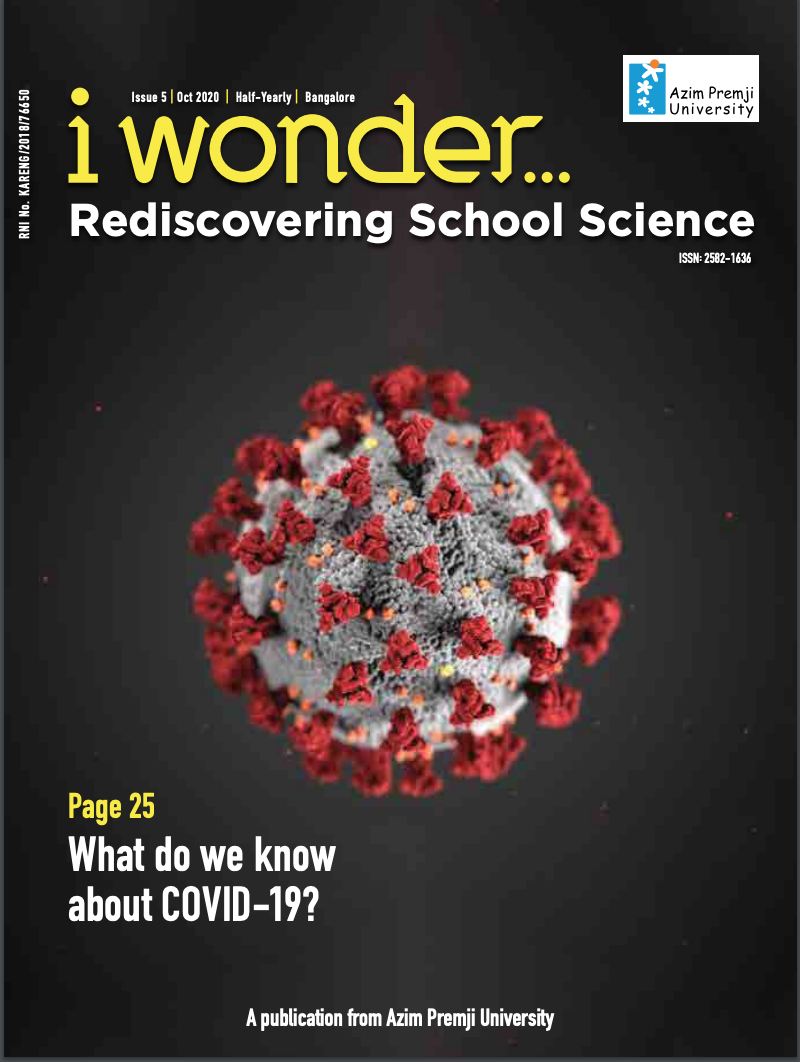 i wonder... is a science magazine for middle and high school teachers. It features writings about the many dimensions of teaching and learning of science in class and outside it. It is published twice a year in English, Hindi & Kannada. Visit the website to view, download, and subscribe to the magazine, for free. The magazine also invites its authors for an interactive discussion with its readers on the 2nd Wednesday of every month. To view all the past discussions, click here.
The October 2020 issue of the magazine is a special issue focused on the Pandemic. It has 13 articles - each of which was written to answer questions posed by science teachers and teacher educators from Azim Premji Foundation. It also has 21 snippets that look at the evidence behind common myths around COVID-19, 2 posters and one booklet.
Jobs
DBT/​Wellcome Trust funded Postdoctoral Scientist Position
Ashoka University
Deadline 06 December
Grants Manager
Indian Institute of Science
Deadline 11 December
More Jobs
Grants
M K Bhan – Young Researcher Fellowship Programme
Department of Biotechnology
Deadline 31 December
Deakin India Undergraduate 20% Scholarship
Deakin University
Deadline 15 December 2021
More Grants
Events
Re-run Annual Refresher Programme in Teaching (ARPIT)-2020
Online
Deadline 10 December
2nd TCGA Conference in India
Online
Deadline 05 December
More Events