From the IBS desk
Dear readers,
Despite the important role publishing plays in furthering scientific careers, it is so mired in ambiguities and prejudices. Think of the prohibitive submission fee charged by top tier journals that automatically stop researchers with lesser resources to submit their papers to them or the paywalls that restrict access to articles or even peer review process, the bedrock of scientific publishing– aren't they all deserving of a reassessment? As part of our next month's theme we will address publishing and some of the perils that follow it. Our stories will look at impact factor, open access and plagiarism. Do read them and discuss them online.
This month marked the launch of our special series, journey of a YI (JOYI). This series is hosted on the YIM 2018 webpage and will feature articles written by young scientists of India, about issues that are important to them.
And now, a roundup of the stories we have chased all August . Enjoy.

Team IndiaBioscience
News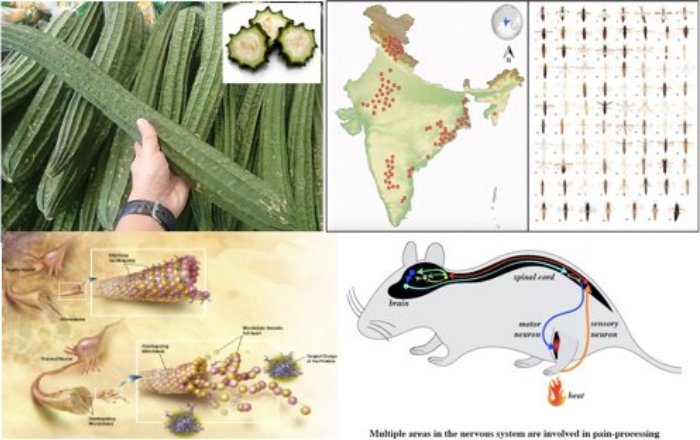 Unraveling the tangles in Drosophila head
Divya Vishwanath
Pathways involved in the development of neurodegenerative diseases are evolutionarily conserved in humans and fruit flies.
Bringing precision into pest identification
Bhavya Khullar
Scientists develop DNA barcodes to distinguish between and accurately identify over three hundred varieties of Thrips.
Nanoparticles from ridge-gourd lignin
Bidisha Ghosh
Scientists use enzymes to convert lignin fibres from ridge-gourd into nanoparticles to be used in a variety of bio-products.
Columns
Untangling the mesh: Emerging field of circuit neuroscience and India
Arnab Barik
India has tremendous potential and can contribute in a variety of ways to research in circuit neuroscience, writes Arnab Barik, postdoctoral researcher at the National Institutes of Health (NIH), Bethesda, USA.
Seeking the independence to be a mother and a researcher
Asmita Sengupta
Kim R. McConkey is an independent researcher based in Hyderabad. She is engaged in research on plant-animal interactions, in particular on seed dispersal.
The part-time scientist
Asmita Sengupta
Janmejaya Samal is a part-time independent researcher based in Chhattisgarh. His research examines the penetration and effectiveness of Government of India's TB control measures in Chhattisgarh.
Hanging out with the Lions
Asmita Sengupta
Meena Venkataraman is a wildlife biologist based in Mumbai. Her research focuses on developing strategies for conservation and management of Asiatic Lions.
A career tailor-made to suit personal preferences
Asmita Sengupta
Sunita Sheel is an independent researcher based in Pune. Her work explores the realms of ethics in biological research. She is also interested in public health.
India marches for science
Reeteka Sud
Carrying banners like 'Don't bury your conscience under con science', and 'Always ask for evidence', on August 9th, 2017, science supporters marched in cities across the country.
Upcoming deadlines
Grants
National Bio Entrepreneurship Competition 2017
Biotechnology Industry Research Assistance Council, Centre for Cellular and Molecular Platforms
16 September 2017
Women Scientist Scheme-B (WOS-B)
Department of Science and Technology
15 September 2017
More grants.
Jobs
Scientist -G
National Institute of Animal Biotechnology
23 September 2017
Research Associate
National Centre for Biological Sciences
21 September 2017
More jobs.
Events
National Conference of Plant Physiology
Indira Gandhi Krishi Vishwavidyalaya, Raipur (Chhattisgarh)
30 September 2017
International Symposium on Systems, Synthetic & Chemical Biology
Bose Institute (Main Campus)
15 October 2017
More events.