From the IBS Desk
Dear readers,
Last month, IndiaBioscience organised a workshop on 'Careers in Science' at the Division of Biological Science, IISc. Our attempt was to familiarise the students with career options apart from regular academia. The speakers, who came from diverse backgrounds, talked about the dilemmas that students face in building a career in science and shared tips on overcoming them. A report on the workshop is available below, in the news section.

We have enjoyed doing our last month's series on publishing. Thank you for reading the articles in the series. If you still haven't read them, find them below in the column section.
This month we will bring to you a series of interviews with med-tech entrepreneurs. Working on the interface of medicine and engineering, these innovators are hoping to change the way India has traditionally looked at solving healthcare challenges. Do read and share their stories.
And now, a roundup of articles from September. Enjoy.

Team IndiaBioscience
News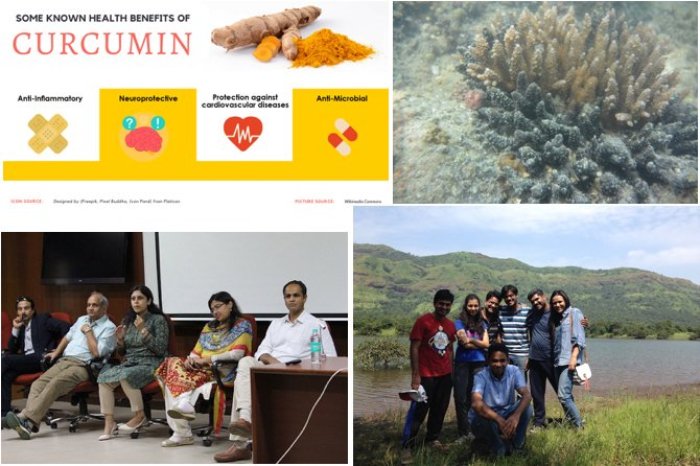 Thomas Pucadyil, HHMI International Research Fellow 2017
Reeteka Sud
Thomas Pucadyil, faculty from IISER, Pune, spoke to IndiaBioscience about his research, selection for HHMI Fellowship, and the role of education in inculcating enthusiasm for science.
Humble Haldi – can the solution to India's fight against drug-resistant TB be in our kitchens?
Divya Vishwanath
Unfazed by opposition from international community, Indian scientists propose a new use for nano-sized curcumin in reducing toxicity caused by anti-tuberculosis drugs and in preventing reinfection of tuberculosis.
Choosing new careers in science - nothing "alternative" about it!
Kavitha Sarvepalli
IndiaBioscience and Division of Biological Science, IISc co-organised a workshop on careers in science. A report from the workshop.
Under the hood: cure for a deathly infection in sponge
Sarah Iqbal
Scientists study feasibility of physical barriers- in this case a cotton sheet supported on four steel rods- in stopping coral decay in Palk Bay.
Columns
What if you choose to ignore IF (impact factor)?
Manupriya
Subhash Chandra Lakhotia urges young scientists to stop worrying about impact factor and be confident about the quality of their published work.
Retractions: what do the data say?
Manupriya
Fuelled by plagiarism and other forms of scientific misconduct, rate of retraction shows a sharp increase in India.
Making Indian science more open and accessible
Manupriya
Sridhar Gutam, Convenor of Open Access India, talks about what will it take to make Indian science truly accessible for anyone interested in it.
Show your research, and your scicomm skills, at EURAXESS Science Slam India 2017
Reeteka Sud
Try out your communication skills and apply to EURAXESS Science Slam 2017. Entries can be submitted till October 10, 2017
Grants
Fellowship Programme on Climate, Energy and Earth System Research
Franco-German Fellowship programme
13 October 2017
Call for Pre-proposal on "Creation of Bio-banking facility for Inherited Disorders" Under Human Genetics and Genome Analysis- UMMID
Department of Biotechnology
30 October 2017
More grants.
Jobs
Faculty Positions: Climate Change Mitigation and Development
Ashoka Trust for Research in Ecology and the Environment
28 October 2017
Project Scientist
Indian Institute of Science Education and Research, Pune
31 October 2017
More jobs.
Events
Planning Your Scientific Journey
iBiology
16 October 2017
Developing Indian Physician Scientist (DIPS) workshop
The Wellcome-DBT India Alliance
2 January 2018
Marie Curie Sesquicentennial Conference
Indian National Young Academy of Science (INYAS) intends
31 October 2017
More events.