From the IBS desk
Dear readers,
Its been a while since we shared our last newsletter. The last three months at IndiaBioscience have been action-packed.
YIM 2018 just got concluded. If you'd like to know more about how did it go, here's our report from the event. At the start of the year, we organised a session on careers in science at CCMB, Hyderabad. This session was organised in collaboration with India Alliance and was very well received by the students. More details are available in this report. Our science career sessions are becoming quite sought-after and we've been involved with two more such sessions, one in Guntur and the other in Tezpur. We've also come up with an e-booklet on careers in science. Its freely available on our website. Do take a look and share.
Our special series, JOYI– chronicling the life of young researchers in India, has been receiving a lot of viewership. If you haven't yet read these articles, catch them here. Better still, if you would like to contribute to this series, write to us with your idea.
And now, here are the stories we've been chasing these past months. Enjoy.
Team IndiaBioscience
News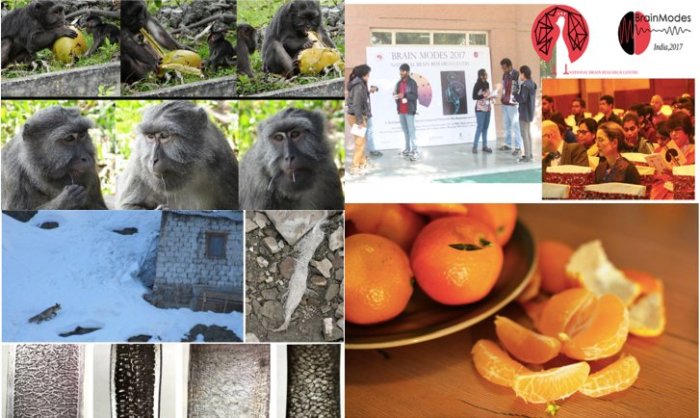 The macaques who care about dental hygiene
Manupriya
First-ever study on Nicobar long-tailed macaques finds they have high levels of sensorimotor skills.They are experts at eating hard-to-open fruits like coconut and even floss their teeth after eating.
At BrainModes 2017 neuroscientists explore the interface of math and medicine
Anagh Pathak
The tenth edition of BrainModes, an annual meeting for computational and experimental neuroscientists, was held at National Brain Research Centre, Manesar.
Proof in the Poop
Priyanka Runwal
What can Red Fox faeces tell us about their diet and occurrence in the Trans-Himalayas?
Vitamin C - a cost effective weapon against the tuberculosis challenge
Jeenisha Dabreo
Scientists show vitamin C can improve efficacy of TB medication and reduce the time needed for recovery.
Columns
In conversation with Arun Shukla
Urvashi Bhattacharyya
The European Molecular Biology Organisation has inducted Arun Shukla as one of the researchers in its Young Investigators Program, 2017. He talks to IndiaBioscience about the award and the research opportunities that it opens up.
The brain scientist who enjoys speaking about her work to non-specialists
Manupriya
Shubha Tole is a Professor of Neurobiology at Tata Institute of Fundamental Research. She spoke to IndiaBioscience about her research and her interest in science outreach.
YIM at 10 years: and thoughts on why India's research program should follow a different path from the USA
Ron Vale
IndiaBioscience board member Ron Vale shares how the Young Investigator Meeting came into being and some thoughts on why India should adopt a research model different from the west to be able to do research that is truly relevant to India.
Grants
International Travel Support Scheme
Science and Engineering Research Board
19 April 2018
2019-2020 Fulbright-Nehru Academic and Professional Excellence Fellowships
United States-India Educational Foundation
16 June 2018
More grants.
Jobs
Research Fellow in Immunology
Tata Institute of Fundamental Research
Open deadline
Research Associate
Symbiosis School of Biological Sciences
Open deadline
More jobs.
Events
Conference on Recent Trends in Applied Forest Ecology
Society for Application of Forest Ecological Research
15 April 2018
International Conference on Microbiome Research
National Centre for Cell Science & National Centre for Microbial Resource
2 September 2018
More events.