From the IBS desk
Dear readers,
We have begun working on our publishing calendar for the second half of 2018. Some of the ideas we plan to dive into in the coming months are: ethical guidelines in scientific research, building fruitful collaborations, effective scientific networking, history of science in India and popularising science, particularly in Indian languages.
If you have any suggestions about something we should explore through our stories, or if you would like to contribute to the above themes, please write to us at hello[at]indiabioscience[dot]org. We are hoping to get flooded by your emails.
If you find any of the articles on the website interesting or relevant, please give your feedback below the article. We and our authors would love to hear from you.

We are very excited to announce the next Young Investigators Meeting, to be held in Guwahati from 6 - 10 March, 2019. Over the past ten years, YIMs have brought together exceptional young scientific minds from a broad range of biological disciplines for interactive discussions focusing on science and careers. We expect YIM 2019 to be no different.
Applications will open on 16 July, 2018. If you are a young investigator based in India or a postdoctoral researcher, we warmly welcome your application.

The 10th edition of YIM, held in Thiruvananthapuram earlier this year, saw the return of several YIM alumni from the previous years for various interactive sessions, panel discussions and scientific exchanges. During this meeting, a need was felt for encouraging stronger scientific networking and collaborations at the local level in cities with a significant concentration of biological research institutes and industries.
As a direct outcome of this, we are pleased to announce that the first ever Regional Young Investigators Meetingwill be held next month in Hyderabad. We would like to invite all active PIs across the life-science sector (industry and academia) from Hyderabad to sign up and attend this two-day meeting to "Congregate - Collate - Collaborate" on the common cause of scientific advancement.

Another highlight from YIM 2018 was an impromptu session on sexual harassment in the workplace. A report on "Gender-sensitization in Indian science: attitudes and action items" emerging from this session, written by Shubha Tole (TIFR, Mumbai) and L.S. Shashidhara (IISER Pune) and supported by YIM2018 participants from 47 different institutions, was published in Current Science earlier this month and can be found here. We hope this will prompt relevant discussions in both academic and non-academic settings across the country. Please give it a read and share widely.
And now finally, here are the stories we have been chasing over the last few months.
News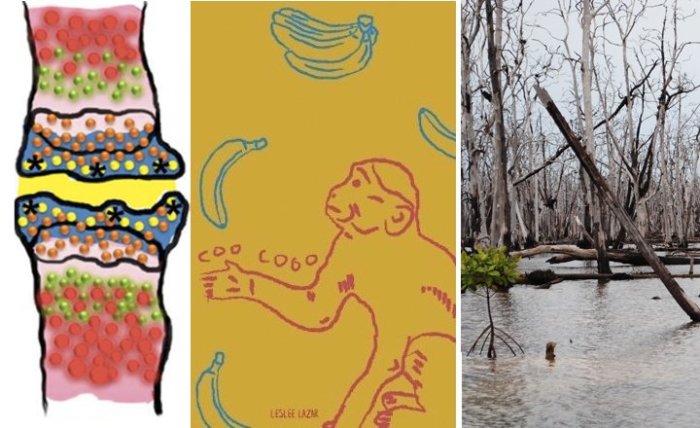 Physical activity is important- even in the womb!
Divya Vishwanath
Scientists find molecular pathways that tie mechanical movement in embryos with cartilage growth and show that more mechanical movement means better-formed cartilages
Monkeys evolve a new way to communicate with humans
Leslee Lazar
Study shows wild untrained monkeys can communicate with unfamiliar humans to request for food.
Surviving nature's wrath: Mangroves of Nicobar
Chandrima Home
The 2004 Tsunami wreaked havoc on the rich mangroves of the Nicobar islands. In a new study, scientists from the Salim Ali Centre for Ornithology and Natural History, Wildlife Institute of India and Leibniz Center for Tropical Marine Research (Germany) investigate the current recovery status of these crucial ecological niches.
Adding to the cellular ubiquitylation toolkit
Fathima Athar
Researchers from the Centre for DNA Fingerprinting and Diagnostics (CDFD), Hyderabad have identified a novel protein complex which is essential for proper segregation of chromosomes during cell division.
Event Reports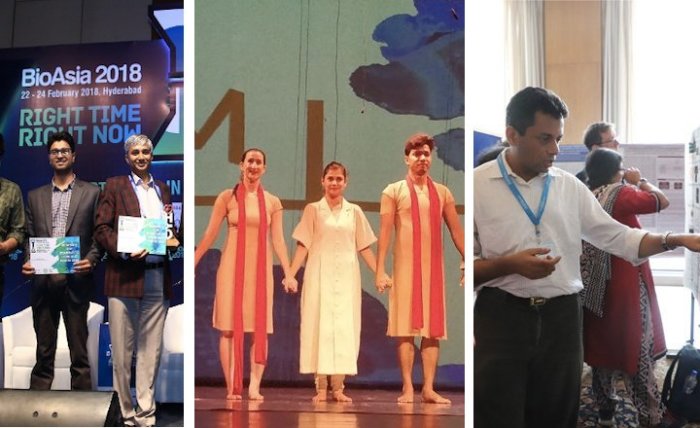 BioAsia 2018- Asia's largest biotechnology conference
Divya Sriram & Sujoy Deb
At BioAsia 2018, scientists, entrepreneurs and politicians come together to discuss the future of biotechnology in India.
HIV vaccine awareness day: Art and science join hands to spread hope
Aditi Jain
The International AIDS Vaccine Initiative (IAVI) collaborated with Delhi Dance Theater and PULSE to raise awareness about HIV vaccine development and highlight the struggles of HIV-positive individuals.
8th India Alliance fellows' meeting at New Delhi
Hina Lateef Nizami
At the 8th annual India Alliance fellows' meeting, scientists spanning several disciplines and career stages came together to discuss innovative findings and to share their experience about the practical side of doing research in India.
Book Review
Celebrating the successes of science in post-independence India
Urvashi Bhattacharyya
Earlier this year, Indian National Science Academy (INSA) released a book that offers a glimpse into the impact of science in independent India. This book chronicles the role of India's prowess in science and technology in revolutionising several aspects of day to day life. An e-copy of this book is a freely available for download here.
Grants
Senior and Intermediate Fellowships in Biomedical Research
The Wellcome Trust/DBT India Alliance
25 July 2018
Newton Bhabha PhD Placements Programme
British Council
Department of Science and Technology
Department of Biotechnology
4 August 2018
Jobs
CSIR Distinguished Scientist 2018
Council of Scientific & Industrial Research
10 July 2018
Chief Scientific Officer and Group Leaders in Mosquito and Fly Biology, Active Genetics, & Mol. Biology and Genomics: TIGS, Bengaluru, India
Tata Institute for Genetics and Society
20 July 2018
Events
India-EMBO Symposium
Manesar, Gurgaon, Haryana
Deadline 15 July 2018
International Conference on Microbiome Research (ICMR 2018)
Pune, Maharashtra
Deadline 2 September 2018