From the IBS desk
As promised, we are here with our special year-end edition. We've gone back to look at all the stories we published this year to find the ones that generated highest viewership for our website. We sincerely hope that you've enjoyed reading these stories and will have fun revisiting them. It will be great if you can share them with your colleagues and friends in the life-sciences community.
Going ahead in 2018, we will continue to bring more engaging content for you. So, stay with us and do get in touch if you have something to share.
We hope each one of you will have an exciting, science-filled and fun 2018. Happy new year, dear readers!
Team IndiaBioscience
Columns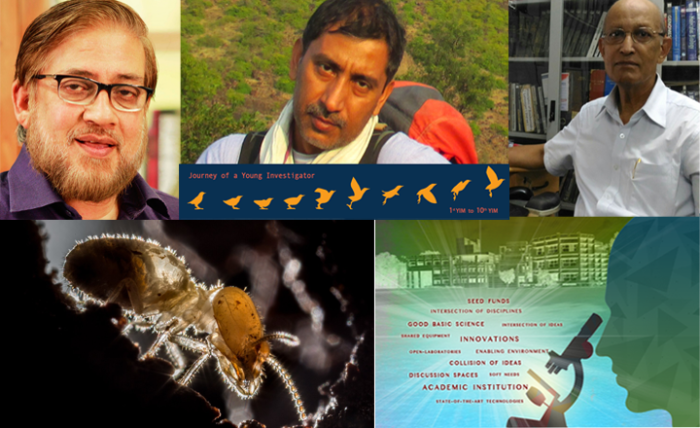 What if you choose to ignore IF (impact factor)?
Manupriya
Subhash Chandra Lakhotia urges young scientists to stop worrying about impact factor and be confident about the quality of their published work.
Self-doubt as a Principal Investigator
Roop Mallik
Roop Mallik of TIFR, Mumbai writes about dealing with self-doubt as a young PI, for our new series- JOYI (Journey of a Young Investigator).
Standing Conventional wisdom on its head.
Hari Sridhar
From how to choose the right research problem to ways of fostering creativity in the lab, Raghavendra Gadagkar tackles a gamut of questions faced by young researchers across India.
Through the lens: using photography to tell science stories
Harini Barath
Sixteen researchers, eight days, four stories, two instructors; the Shoot for Science workshop aimed to enable scientists to tell the story of their science to a wide audience using photography.
Nurturing innovation in science institutes
S Ramaswamy
S Ramaswamy of inStem writes about the role of institutional support and enabling ecosystem in establishing successful science-entrepreneurship.
News
Choosing new careers in science - nothing "alternative" about it!
Kavitha Sarvepalli
IndiaBioscience and Division of Biological Science, IISc co-organised a workshop on careers in science. A report from the workshop.
Natural saffron molecules inhibit cancer cell growth
Jeenisha Dabreo
Crocin, the active component of saffron spice, stops cancer cells from dividing and shows promise as a new anti-cancer drug-in-the-making.
Of wildlife and women
Vanshika Singh
A young biologist pursues two young tiger siblings to understand how tigers disperse and define their territory as forest cover dwindles.
How do bacteria become resistant to lethal antibiotics?
Bidisha Ghosh
In a collaborative project between IISc Bangalore and IISER Pune, scientists uncover a mechanism of antibiotic tolerance involving H2S gas.
Autophagy – on the road to curing neurodegenerative diseases
Divya Khatter
Inducing autophagy can provide respite from Parkinson's-like symptoms by not allowing misfolded proteins to accumulate in cells.
Education
"One teaching technique that made a difference in my class…"
Sarita Kumar & Sushama Yermal
First instalment in our new series aimed at sharing experiences of new teaching techniques our readers have tried in their classrooms.
UG Teachers' workshop on Research-Based Pedagogical Tools: a participant's perspective
Manohar G M
This workshop offered UG teachers practical tips on how to incorporate principles of research in classroom teaching.
Teachers weigh in...
Reeteka Sud
Second article in our series of interviews with undergraduate teachers across India
Discussions on our educators' articles
New Topics for College Biology
Seeding ideas and harvesting knowledge: Story of an educator