From the IBS Desk
Dear Readers,
Last month, we examined a diverse range of subjects through our columns and news articles, with discussions on science outreach, research evaluation, misuse of indigenous preparations, and many others. You can find these articles linked below. Please leave a comment if you find any of these stories interesting or engaging - it encourages our authors and helps us identify new areas to look into.
This month, we plan to explore the theme of ethics in scientific research. We have published on this subject previously, and you can find some of these articles here. In August, we plan to delve deeper and bring you articles on the role of ethics in scientific publishing, biomedical research, clinical trials, image processing and much more. We hope for your active participation in this process - you can reach out to us on Twitter, Facebook or LinkedIn or email us directly at hello[at]indiabioscience [dot]org.

Enabling effective science communication in India
Scientific outreach, communication and engagement with the general public are some of the major forces that help build scientific temper in our country, and we at IndiaBioscience would like to facilitate it in any way possible. We recently created a forum on our website, where budding as well as experienced science writers, illustrators, photographers etc. can congregate and freely share ideas, resources, experiences and suggestions. If you would like to participate, please sign up here and then log in using the link on the upper right-hand side on our Discourse page. Do spread the word to any science communicators you know.
We are also pleased to announce a workshop for women in science journalism, to be held in NCBS, Bangalore from 12 - 15 November, 2018. This workshop is organised by the British Council, IISER Pune and IndiaBioscience through the Newton-Bhabha Fund. This would be an excellent opportunity for anyone interested in pursuing a career in science communication, so apply soon!

Applications are now open for the 11th Young Investigators Meeting - YIM 2019, to be held in Guwahati from 6-10 March, 2019. If you are a young investigator or a post-doctoral fellow planning to start your lab in India, this meeting is for you.
And now, here are our stories from July.
News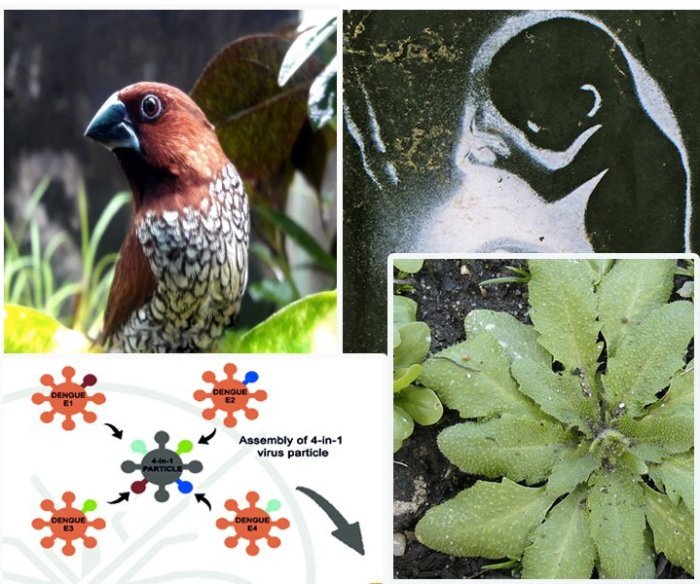 A "4-in-1" approach for a dengue vaccine
Sujoy Deb
Dengue is an ongoing major public health concern in India, with 1,88,401 new cases being reported in 2017 alone. New research from the International Centre for Genetic Engineering and Biotechnology (ICGEB), New Delhi, describes a novel strategy towards developing a vaccine for this disease that circumvents the risk of the deadly dengue shock syndrome.
How do plants decide whether to fight or to grow?
P Surat
For plants, choosing to fight against a pathogen often comes at the cost of compromised growth and development. Now, scientists from Jawaharlal Nehru University (JNU), Delhi and the Indian Institute of Science, Education & Research, Thiruvananthapuram (IISER-TVM) find a new molecular player that helps maintain this delicate balance.
Discrimination via Drugs: The dark side of India's indigenous preparations
Navodita Jain
Sex-selection drugs are indigenous herbal concoctions sold to expectant mothers with the claim of favouring the birth of a male child. Research from the Indian Institute of Public Health (IIPH), Delhi - Public Health Foundation of India (PHFI) reveals the presence of heavy metals and harmful chemicals in these preparations, which pose a severe risk to the health of both newborns and mothers.
Seasonal love and spotted munias: A peek inside a bird's brain
Anusha Krishnan
Many birds use seasonal cues to regulate their reproductive cycles. They do this by sensing day-lengths (photoperiods) or night-lengths (scotoperiods). Researchers from the Indo–US Center for Biological Timing, University of Delhi and University of Lucknowinvestigated the neurobiological pathways that mediate this process in one such bird - the spotted munia (Lonchura punctulata).
Columns

Are we reaching the 'public' with our public outreach programs?
Shreya Ghosh
Dipyaman Ganguly is an immunologist and currently a senior scientist at the Indian Institute of Chemical Biology (IICB), Kolkata. In this interview with IndiaBioscience, he talks about how public science outreach efforts in India need to expand beyond already engaged audiences in big cities and towns and make forays into remote geographical locations to reach children and adults who lack previous scientific exposure.
Should we rethink the way we evaluate research?
Shreya Ghosh
The Indian National Science Academy recently released a policy statement which proposes changes and provides recommendations for effective dissemination and fair evaluation of scientific contributions by the Indian research community.
Grants
The SERB-Early Career Research (ECR) Award
Science and Engineering Research Board
Deadline 14 August 2018
DBT-BIRAC Biotechnology Ignition Grant (BIG)
Biotechnology Industry Research Assistance Council (BIRAC)
Deadline 16 August 2018
Jobs
Faculty Positions
Jawaharlal Nehru Centre for Advanced Scientific Research
Open Deadline
Research Associate
Central University of Punjab
Deadline 13 August 2018
Events
Pedagogy Workshops for Teachers of Under/Postgraduate Science Courses: Level 1
Kolkata, West Bengal
Open Deadline
Ninth Bangalore Benny Shilo Course on Developmental Biology
Bengaluru, Karnataka
Deadline 15 September 2018