From the IBS desk
Dear Readers,
It has been a while since our last newsletter pertaining to the interest of educators came out. We have published on the pedagogy and experiences of science teaching, and would continue to do so. Please write to us if the teaching experiences of your peers motivate you to tell your story. Also, it is encouraging for the authors to hear from you, so do drop in your feedback below the article.
In the spirit of sharing, we are revamping our "Resources" section to host educational videos and copies of books and manuals. You can find matter on scientific subjects, pedagogy and career guidance. We hope it would be useful to you and your students.
Teachers can use their superpowers to sensitise the mindset of their wards to climate change. With this agenda in mind, TROP ICSU, a project funded by International Council of Science is creating pedagogical toolkits to integrate climate studies into the core curriculum of Science and Mathematics. They need your inputs on the same, kindly participate by filling this survey.
Here is a digest of our most read articles.

Recent articles at IndiaBioscience
The triangle connect: the three levels to teaching meiosis
Anusha Krishnan
The concept of meiosis can be taught at multiple levels for a holistic understanding. Wright et al discuss three such levels, forming the vertices of the Johnstone's triangle.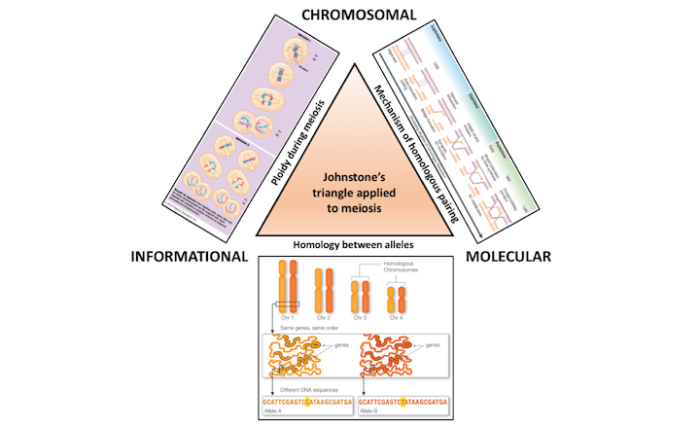 What is research?
Vidya Jonnalagadda
Vidya, an educator at Bhavan's Vivekanand College, Hyderabad presents a fresh perspective on what activities constitute "research". She conducted an elaborate set of thought experiments and concluded that not all research requires lab work, expensive reagents and high end instruments.
Making laboratory practicals engaging, relevant and effective
Anil Kumar Challa
Undergraduate research could move from being mundane cookbook experiments to question-based learning, providing a glimpse to professional research.
Educational Resources
Life sciences protocol manual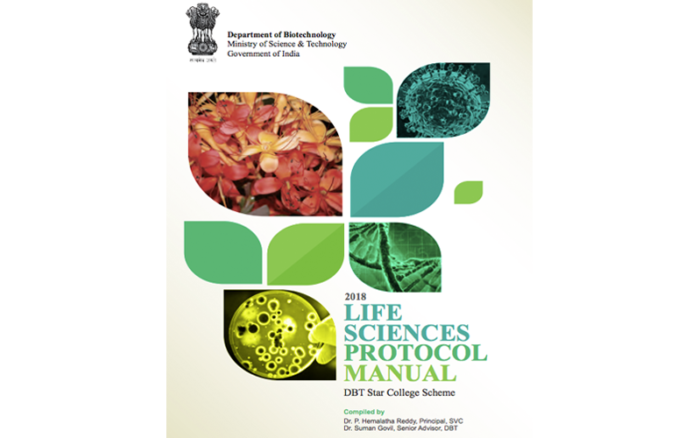 Department of Biotechnology published a uniform collection of standardised laboratory protocols that has been reviewed by eminent scientists. A handy tool for the teaching of undergraduate biology.
Impact of science in independent India
Indian National Science Academy (INSA) releases a book that offers a look into the impact of science in independent India.
Booklet on careers in Indian science
An e-booklet introducing a whole range of career options available to students of science in India, published by IndiaBioscience.
Grants for Teachers and students
Gandhian Young Technological Innovation Awards 2019
SRISTI (Society for Research and Initiatives for Sustainable Technologies and Institutions) has established three national awards for innovative student projects in engineering, biotechnology, agriculture, pharmacy, material science and other applied technological domains.
30th October 2019
DST - Augmenting Writing Skills for Articulating Research Scheme
Department of Science & Technology aims to reward young PhD Scholars and Post-Doctoral Fellows to reward for popularising & communicating science. The award carries a monetary incentive of Rs.10,000/- each for 100 best entries in a year along with a Certificate of Appreciation, besides getting the story published/projected in mass media.
upcoming workshops for teachers
Regional pedagogy workshop for college science teachers at Nainital
This is a part of a workshop series, designed to introduce teachers to Research-based Pedagogical Tools (RBPTs), that focus on process of science, and help students develop critical thinking and problem-solving abilities.The participants trained in previous national-level workshops bwill be trainers in this workshop. Teachers from all science disciplines, teaching UG or PG level courses in and around Uttarakhand are eligible to participate.
Contact:coesme@iiserpune.ac.in