Events from IndiaBioscience this June
Dear Reader,
We bring you a line-up of events this June on wide-ranging topics, like humour in science communication, recognition for pre-prints in research assessment, bioethics in the Indian context, and a conversation with a scientist on their research and career.
Register today!
FundaySunday feat. Mohit K Jolly
5 June 2022 | 6:00 PM - 7:00 PM IST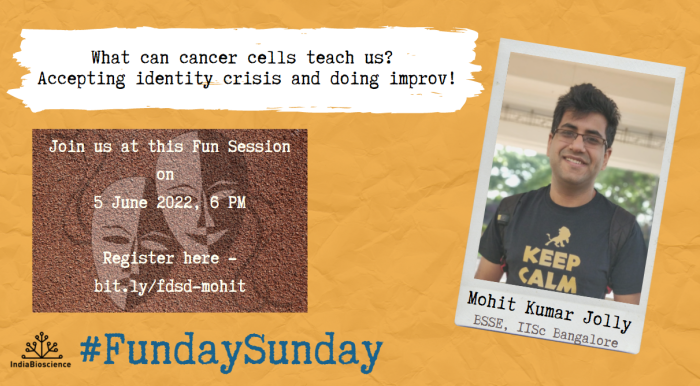 FundaySunday (FDSD) is an initiative to bring interesting/funny/self-descriptive ways of science communication to our audiences.
The Season 2 of FDSD kickstarts with a talk by Mohit Kumar Jolly, Assistant Professor at the Centre for BioSystems Science and Engineering (BSSE) at IISc Bangalore, where he will use memes to talk about his research. Anyone in need of a hearty laugh is welcome to join.
Register
Research assessment and preprints in India
7 June 2022 | 5:00 PM - 6:30 PM IST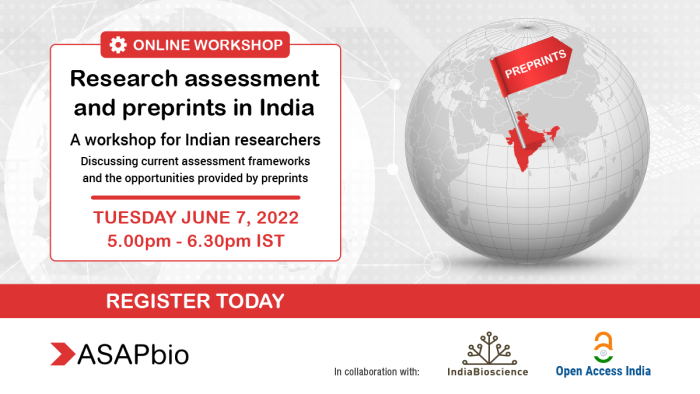 Preprints facilitate wide and free dissemination of research and are an important open science tool, but they are not broadly recognized as part of research assessment frameworks in India. ASAPbio, Open Access India, and IndiaBioscience are hosting a workshop for Indian researchers to explore challenges associated with current assessment frameworks and how preprints can fit within research assessment in the country. We invite Indian researchers to join our workshop on June 7 to learn more about preprints and inform our next steps to support greater recognition of preprints in India.

Register
In Conversation with Ignite | Event 3
16 June 2022 | 6:30 PM - 7:30 PM IST | 6:00 AM - 7:00 AM PST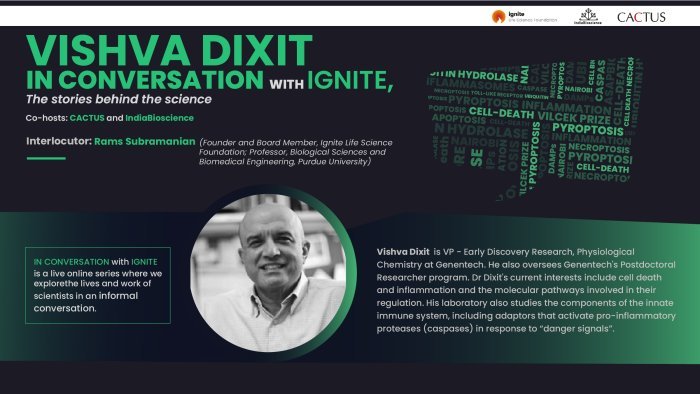 The ​'IN CONVERSATION with IGNITE' sessions are a series of online live events that explore the lives and work of scientists in an informal chat. The 3rd conversation of this series is with a well-known physician-researcher Vishva Mitra Dixit who is the current Vice President of Early Discovery Research at Genentech. The series is co-hosted by Ignite Life Science Foundation, Cactus Communications, and IndiaBioscience.

Register
Explore 'Bioethics' in the Indian Context
28 June 2022 | 4:30 PM - 5:30 PM IST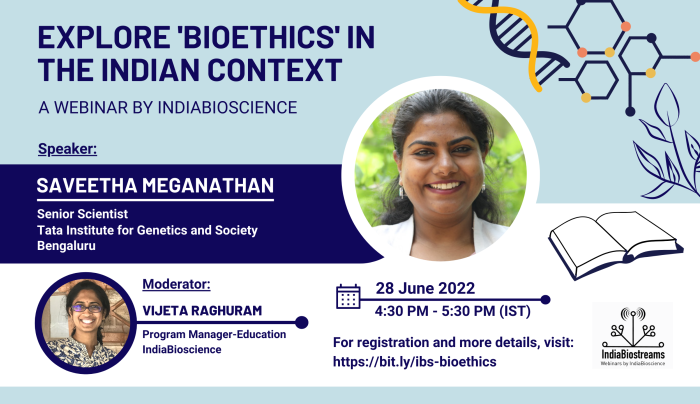 In this webinar, sociologist Saveetha Meganathan will showcase the value of bioethics to the practice of science in India, drawing real life examples from her work in the public health realm in the country. We strongly encourage students and educators (at undergraduate level and above), research scientists, clinicians, science policymakers, and science enthusiasts to join the webinar.
Register