Dear Reader,
Outreach and science communication is a responsibility that scientists, science professionals, and educators across career stages and disciplines have towards society. IndiaBioscience strives to promote outreach especially amongst talented Indian scientists at the early stages of their career via the IndiaBioscience Outreach Grants (IOG). The call for 2nd IOG is out. We invite Young Investigators* from the life science community in India to carry to outreach activities. We encourage Young Investigators to collaborate with educators, students, science communicators, or other scientists on these projects. YIM Alumni, Regional YIM Alumni are strongly encouraged to apply.
The deadline to apply is 30th September, 2021.
Grants are available under the following two schemes: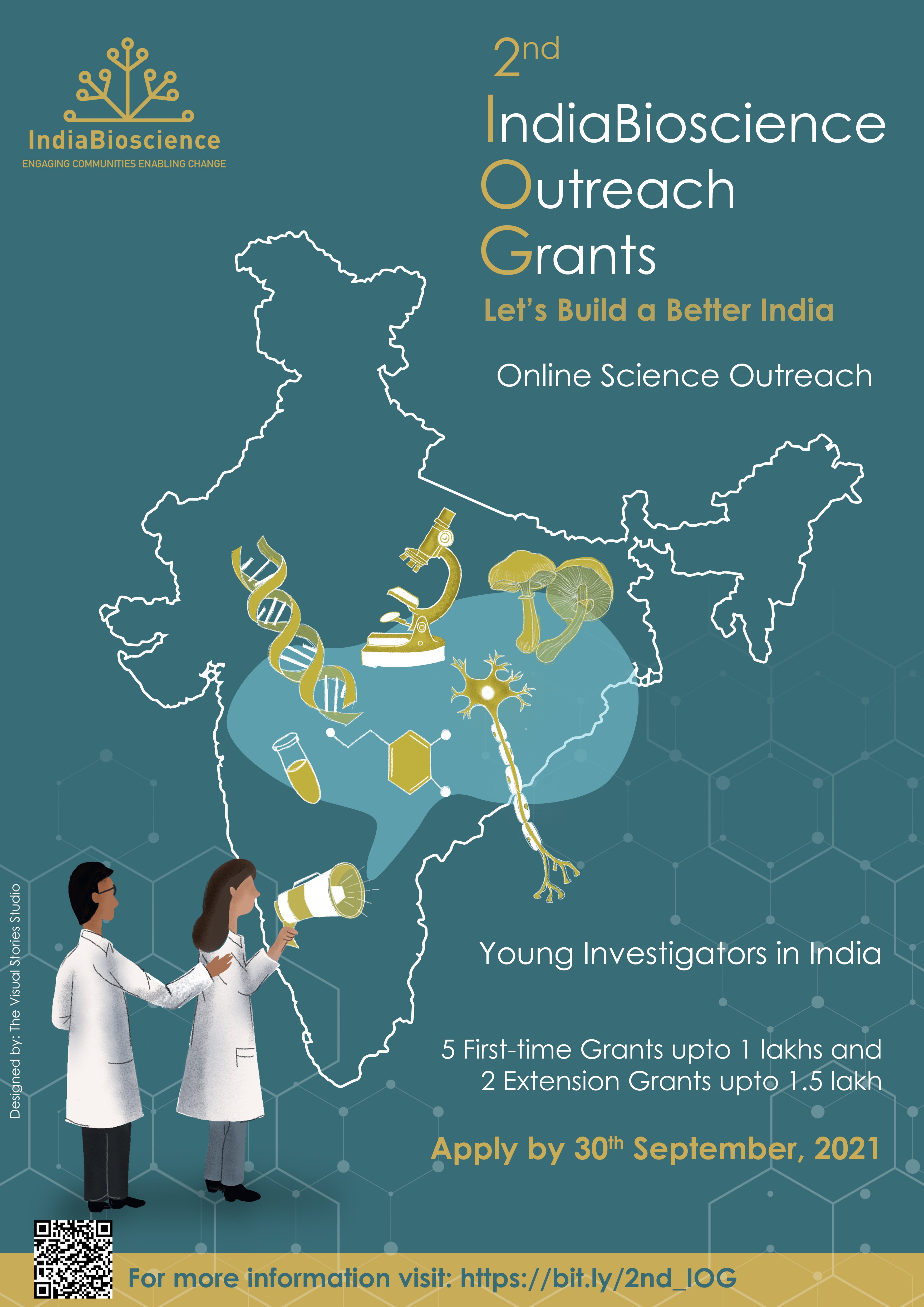 First-time Grants: This scheme is for first-time applicants. Here we will award a maximum of INR 1 lakh for a duration of 1 year. A total of five grants will be offered — to a team lead by a Young Investigator in India. We strongly encourage YIM and Regional YIM alumni to apply. Although there is no specific guideline for the nature of work to be done, we are looking for innovative ideas with broad societal benefits related to life sciences.
Extension Grants: This scheme is for past IOG awardees. Here we will award a maximum of INR 1.5 lakhs for 1 year to a maximum of two previous IOG awardee teams. This round 2 funding is intended to enable meritorious projects to become sustainable in the long term i.e. set up permanent structures, seek funding and partnerships from other agencies. The request for the second round of funding should be well justified in the application. Note: Each team will only be eligible to attain this grant once.
Note: Given the current restrictions of travel and meetings, we will focus on projects that have the potential to be conducted in a digital space/​via e‑resources.
Look up the ideas to begin with to help get started on the brainstorming.
Do share this announcement with your scientific network.