From the IBS Desk
Dear Readers,
We hope that you have all had an amazing October. This month, we highlighted exciting research stories from throughout the length and breadth of India. Scientists came up with new insights on how the cholera virus survives to give rise to epidemics, how disturbed sleep during pregnancy affects offspring brain development, how sunlight can be used as an invisible ink to write secret messages, and how coral bleaching in the Lakshwadeep islands has affected the behaviour of local marine species. You can find all of these stories linked below.
We hope to bring you more such research stories in November, alongside our new column series on Interdisciplinary science in India. Do let us know if there are any other topics that you would like us to cover in future articles. You can reach us through our social media pages on Twitter, Facebook and LinkedIn, or directly write to us at hello@indiabioscience.org.

In the coming months, we also plan to write about science outreach in regional languages, as well as the culture and practice of scientific networking in India, for which we would love to hear your views and inputs. Please fill up this short survey about your networking experience in India and abroad. The results from this survey will be published as a column on IndiaBioscience.org.

This month also saw The National Post Doc symposium, which brought together post-doctoral fellows from across multiple life science disciplines to discuss their science and careers in the presence of mentors from research institutes throughout the country. You can find the report on this meeting as well as some others linked below.
And now, here are the stories we have been chasing throughout October.
News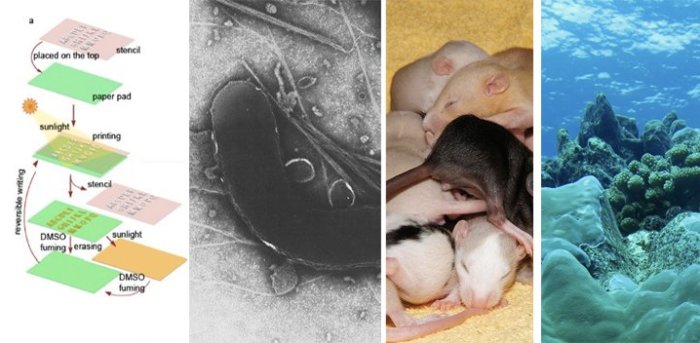 The next-generational effects of disturbed sleep
Jeenisha Dabreo
The quality of sleep a mother gets during pregnancy may be linked intimately with the health and development of the child, even after birth. In a new study using rats as model systems, researchers show that disturbances in sleep during the final trimester of pregnancy results in altered sleep profiles and delayed brain maturation in the offspring.
Decoding cholera: How a comma-shaped bacterium creates an epidemic
P Surat
The last two hundred years have seen seven cholera pandemics and multiple regional outbreaks. Now, a new study from researchers at Vidyasagar University, West Bengal, explores how Vibrio cholerae, the comma-shaped bacterium which causes cholera, uses flagella and quorum sensing mechanisms to survive and form biofilms, which increase disease spread and enhance the potential for epidemics.
Creating a self-destructible invisible code
Navodita Jain
Whether it be in a spy movie or a romantic novel, secret coded messages have captured our imagination for ages. Now, a new chemical synthesized by researchers at the CSIR-National Institute for Interdisciplinary Science and Technology (NIIST), Thiruvananthapuram allows invisible messages to be imprinted by sunlight on cellulose paper. The messages can only be read under UV light, and self-destruct within days.
Adapting to bleached reefs: The story of a corallivore
Chandrima Home
Rising global sea temperatures have had a devastating effect on coral reefs throughout the world. A new study by researchers from the National Center for Biological Sciences, Wildlife Conservation Society - India Program, and the Nature Conservation Foundation explores how marine species, in particular Melon butterflyfish, have adapted to the phenomenon of coral 'bleaching' in the Lakshwadeep islands
Reports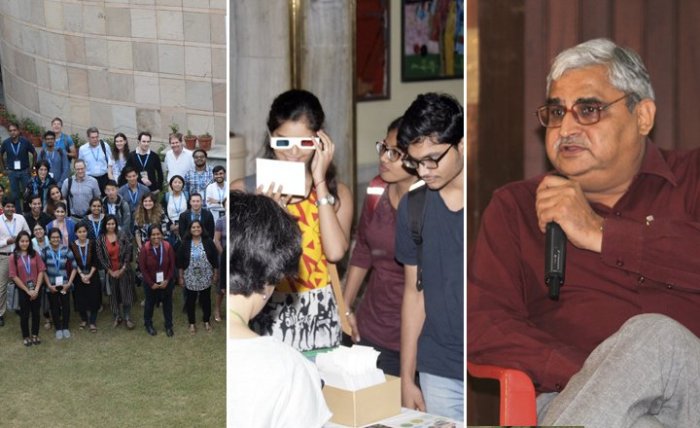 Communicating science in a changing India
Shreya Ghosh
What is the role of science journalism in the rapidly transforming India of the 21st century? What challenges does it face, and how secure is its future? On August 20 - 21, 2018, scientists, journalists and communicators gathered together in the Institute of Mathematical Sciences, Chennai, to discuss and hash out some key points on the subject of "Science, Journalism, Media: Communicating Science in a Changing India".
From synapses to memory: An India-EMBO symposium
Vanshika Singh
The Wellcome Trust/DBT India Alliance and the European Molecular Biology Organisation (EMBO) jointly facilitated the India-EMBO Symposium titled 'From synapses to memory: RNA based regulatory mechanisms' recently held at the National Brain Research Centre (NBRC), Manesar. The symposium spanned across four days (15 - 18 October) and witnessed the coming together of luminaries in the field of molecular neuroscience, both national and international.

2nd National Post Doc Symposium – A Self-initiated platform for India's postdoctoral community
Shambhavi Naik
The Post Doc Symposium is an effort initiated by postdoctoral fellows to bring visibility to their community and to provide a platform to collaborate and share valuable experiences. The symposium embodies the talent, issues and expectations of the young and emerging postdoctoral community in India.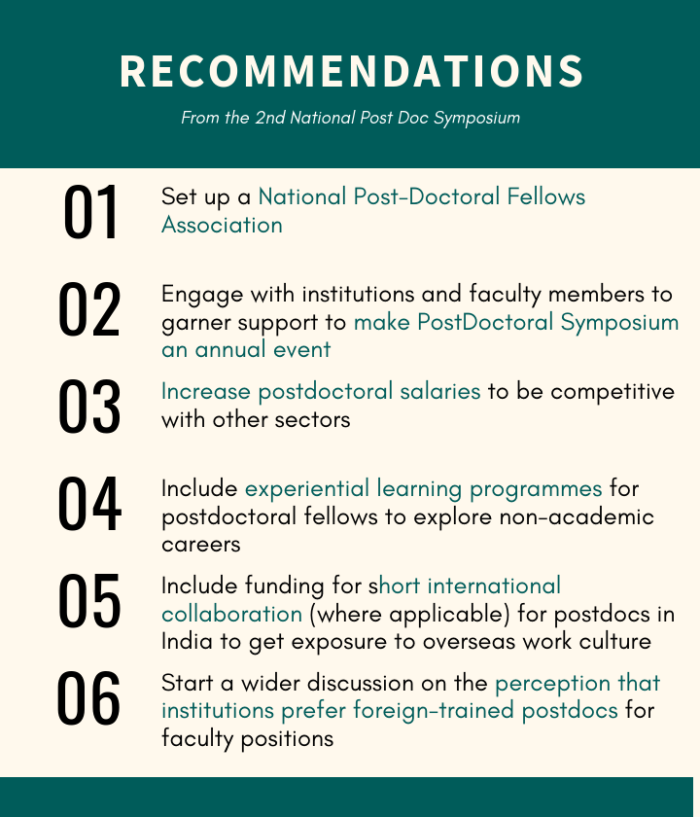 Grants
Young Scientist Seminars Competition
iBiology
Deadline: 17 December 2018
Terry Hennessey Microbiology Fellowship
British Society for Antimicrobial Chemotherapy
Deadline: 12 April 2019
Jobs
Junior Research Fellow
Yenepoya (Deemed to be University)
Deadline: 25 November 2018
PhD position in Biological Sciences
Ashoka University
Deadline: 15 December 2018
Events
7th International Symposium on "Current Trends In Drug Discovery & Research"
Lucknow, Uttar Pradesh
Deadline: 31 December 2018
8th Training on Next Generation Sequencing and Analysis (Genomics, Transcriptome and Transposons)
Bengaluru, Karnataka
Deadline: 12 November 2018