IUBS Centenary Webinar Series
"Forgetting How to Tend the Soil"
Lecture by Rattan Lal
2 Oct, 2020 | 1:00 PM GMT
The International Union of Biological Sciences (IUBS), along with publicity partner IndiaBioscience, is pleased to present the IUBS centenary webinar series, which commemorates the completion of 100 years of IUBS's activities in promoting excellence in biological sciences.
The lectures in this series will cover evolution, taxonomy, ecology, biodiversity, and other topics that represent unified biology and the topics of prime importance to address contemporary problems such as climate change, endangered species, food & nutrition, health etc.

We welcome you to join us for the inaugural lecture in this series by Rattan Lal, Distinguished University Professor and Director of the Carbon Management and Sequestration Centre at The Ohio State University, whose accolades include the 2018 GCHERA World Agriculture Prize, 2018 Glinka World Soil Prize, 2019 Japan Prize, 2019 U.S. Awasthi IFFCO Award, 2020 IICA Chair in Soil Science and Goodwill Ambassador, and the 2020 World Food Prize.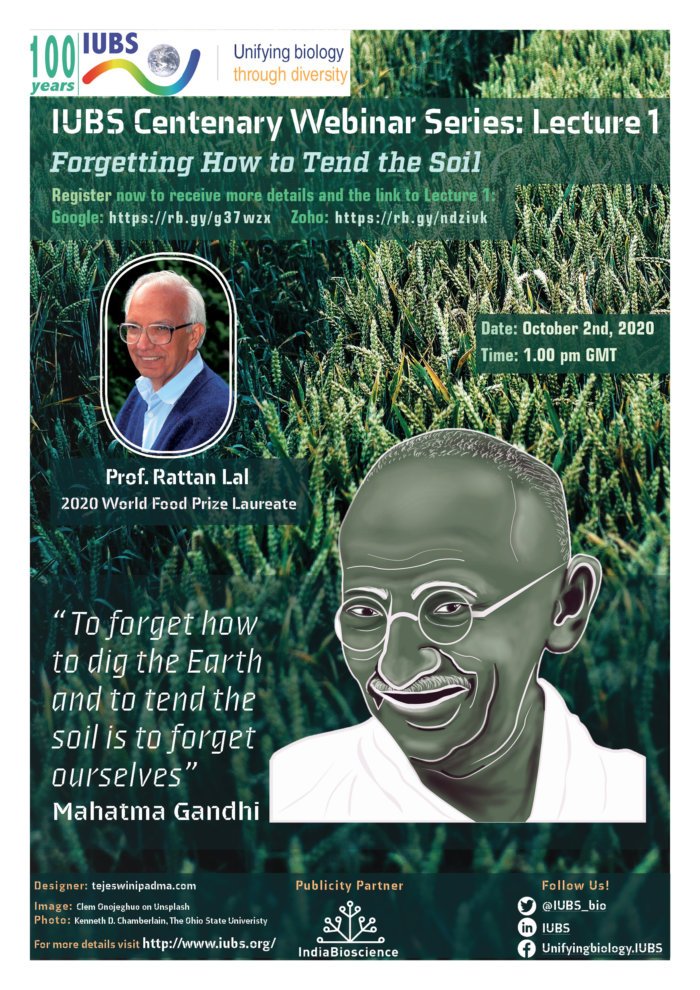 For more details about the lecture, please visit the IUBS or IndiaBioscience websites. We will also be grateful if you could share this communication with your colleagues or friends who may be interested in learning more about this webinar series. You can also reach out to us through our social media channels: Facebook, Twitter, and LinkedIn.

We look forward to seeing you on 2 October!