IndiaBiostreams: Two Webinars this November
1 - Science, Technology and Innovation Policies - A Flashback
Wednesday, Nov 27, 2019 | 3 - 4 PM IST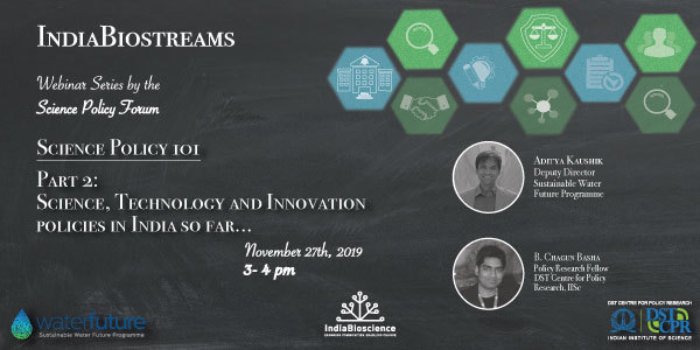 The Science Policy Forum (SPF) presents the second webinar of the 'Science Policy 101' series. Here, Aditya Kaushik and Chagun Basha will walk us through the history of Science, Technology and Innovation Policies in India so far. We will also learn about each of their motivation, salient features and significant outcomes.
Register
---
2- Promoting Translational & Industrial Research
Friday, Nov 29, 2019 | 3 - 4 PM IST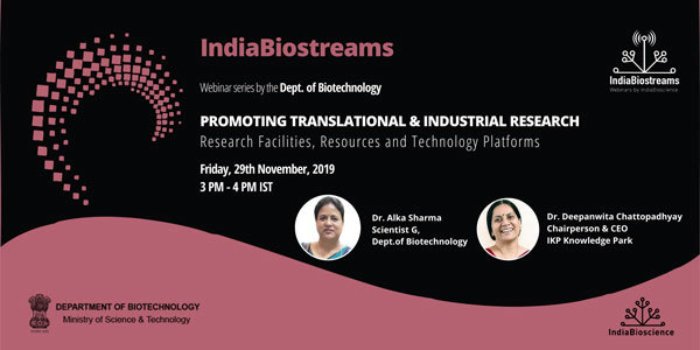 Dr. Alka Sharma (Scientist G, DBT) and Dr. Depanwita Chattopadhyay, (Chairperson & CEO, IKP Knowledge Park), join us on the fifth instalment of the interactive webinar series from the Department of Biotechnology, Ministry of Science & Technology, Government of India. This webinar will be on promoting translational and industrial research through research facilities, resources and technology platforms.
Register
After registering, you will receive a confirmation email containing information about joining the webinar(s). Please let us know should you have any questions or if we can be of assistance.
Thank you and we look forward to having you on the webinar(s).
Sincerely,
IndiaBioscience Team